At Kozmosz in Budapest, Traditional Hungarian Cuisine Goes Vegan
"Offering the vegan versions of traditional Hungarian dishes was a specific choice we made and one that we're proud of," says co-owner Dóra Böszörményi. "We're happiest when people tell us that these specific dishes brought back childhood memories of their mom's cooking."
Heading out the door? Read this article on the new Outside+ app available now on iOS devices for members! Download the app.
The cuisines of Central and Eastern Europe tend to be stereotyped as brimming with meat. There's some truth here. Outside of vegan-friendly cities like Berlin, where you can find a wide variety of options, vegans are generally relegated to the salad section of restaurant menus. Requests for anything plant-based may be met with sighs and glares or frustrated staff hoping you'll compromise and eat fish. Where you find a purely vegan or vegetarian restaurant, they often lean to a sort of international style of cooking – "vegan" as a genre – rather than embracing local traditions.
On a Sunday afternoon in Budapest, Edit Szaluter – who runs a vegan Hungarian food tour when she's not busy teaching cooking lessons – leads me to Kozmosz, a vegan restaurant that is changing that perception, crafting plant-based takes on classic Hungarian cuisine.
We are here to try their goulash, her favorite. "It is special because it shows how a traditionally meaty dish can be just as hearty and tasty in its vegan form, keeping its purity and whole-food properties," she says.
The restaurant's founders, Dóra Böszörményi and her mother, Ágnes Taskó, have been vegans for the past 10 years or so. Dóra always loved animals, but it took her some time to connect the dots between those animals she loved and the food they became. Health issues in 2012 pushed her to a vegetarian diet before going vegan after some reading she did on the dairy and egg industries. Her mother was right behind her.
"It took only a few months and some delicious meals to convince my mom to give it a try," says Dóra. "We haven't looked back ever since."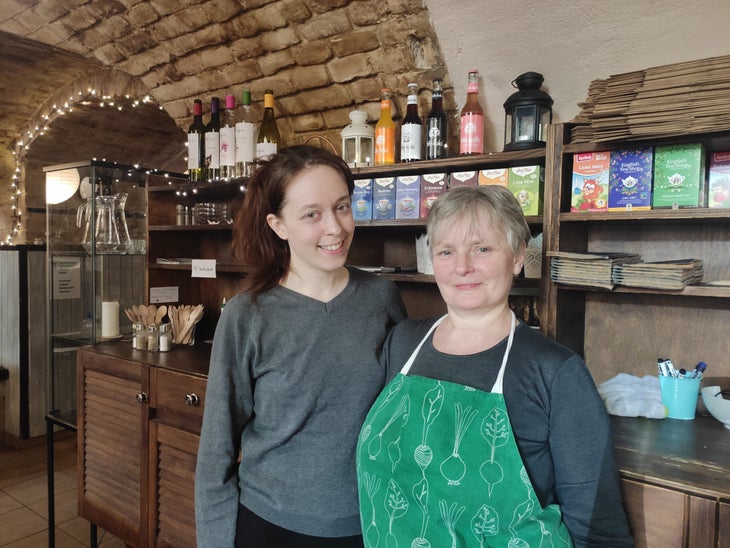 Kozmosz opened just a couple years after Dóra's journey to veganism began. Neither Dóra nor her mother had experience working in a restaurant. They learned everything on the fly.
"My mom has always had a dream of running a small café even before she went vegan," explains Dóra. After the two became vegans, the idea of a café became more about having a place where they could share their love for plant-centric food and show people how delicious it can be.
"Looking back, it was very risky and we could have done so many things better if only we had the experience," says Dóra. "But our passion for veganism was way bigger than our fears."
Szaluter's friendship with the owners goes back to their first meeting at the Vegan Spring Festival of Budapest seven years ago. "I was there to promote my vegan cooking classes and we immediately became friends," she says. "I remember that no one could resist their fantastic bites on offer."
As we enter Kozmosz, I notice there's no overt pizazz to the place, no chalkboard sign on the sidewalk with quirky puns or drawings. I follow Szaluter down concrete steps and duck into a dining room of simple brown wooden tables and chairs under a low ceiling accented with brick arches. It's as cozy as it is rustic. I've walked into places like this a hundred times in different towns and villages over the years. You expect it to be family run with cold beers flowing through the taps and a simple, traditional menu highlighting the national cuisine.
"We're a small family restaurant and we want guests to feel at home here," says Dóra. "Great food, nice people. Nothing fancy. That's really all you need."
Hungarian cuisine is traditionally based on seasonal vegetables, bread, and yes, heavy on dairy and meat. Above all, paprika is strongly linked to Hungarian cuisine. Some estimates suggest that Hungarians eat about a pound of the stuff per year.
Two traditional Hungarian dishes have been on the menu at Kozmosz since the beginning: the paprikash with nokedli noodles and a bean goulash. "They're both my mom's recipes," says Dóra. "She's tweaked and perfected them over the years."
Here they substitute the chicken that would usually come with a paprikash with a smoky, stewed homemade seitan, well-seasoned with, you guessed it, paprika. Dóra says Hungarians themselves are surprised by the vegan nokedli, traditionally an egg noodle.
The goulash, too, is oozing with savory paprika deliciousness, beans, potatoes, and a sprinkling of parsley. "Instead of meat we use smoked tofu," says Dóra. "It really does warm your soul."
She's right. Both dishes are simple, in a wonderful way, and bursting with flavor.
"Offering the vegan versions of traditional Hungarian dishes was a specific choice we made and one that we're proud of," says Dóra. "We're happiest when people tell us that these specific dishes brought back childhood memories of their mom's cooking. It's also lovely to be able to show vegan foreigners traditional Hungarian foods that they otherwise couldn't try."
Dóra says the feedback has been overwhelmingly positive from both vegan guests eager to eat their childhood favorites again and skeptical eaters dragged in by vegan family members. The skeptics who thought they'd leave hungry couldn't believe how good everything tasted.
"I think our mission to spread the love of vegan food is right on track."
---
RELATED: Can Vegans Save the Traditional Jewish Deli?
---
Get more of what you love from VT. Follow us on Instagram, Facebook, and Twitter, and sign up for our email newsletters.