These Sustainable Cannabis Brands Hold Themselves to Higher Standards
Because it's Earth Week *and* 4/20
Photo: Nancy Gallardo on Unsplash
Heading out the door? Read this article on the new Outside+ app available now on iOS devices for members! Download the app.
In many states, recreational cannabis is now a mainstream thing. But not everything on your local dispensary's shelf is equally good for the planet – or, in some cases, for you, either. Even setting aside the significant amount of illicit cannabis production, even licensed companies may use harmful pesticides and solvents or even engage in illegal and wasteful water practices. In honor of 4/20 and Earth Week which just happen to coincide, we've pulled together six sustainable cannabis brands that are putting environment and community front-and-center in how they do business. From organic farming to plastic-free packaging to equity employment and mentorship programs, these companies keep their standards high.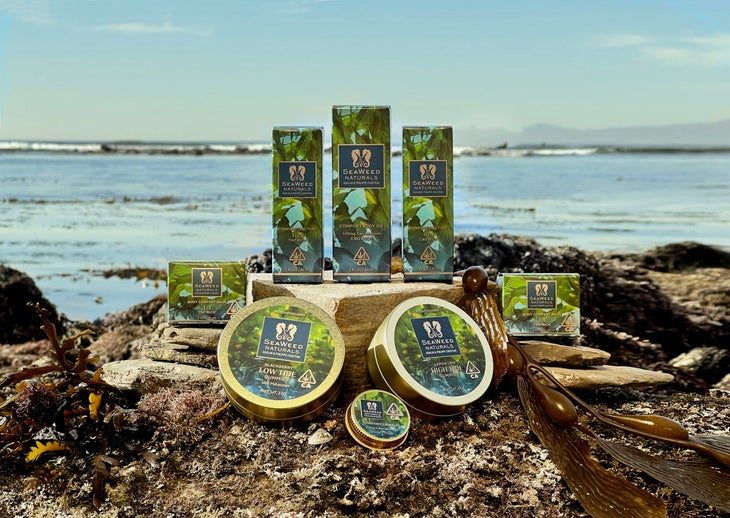 Seaweed Naturals: Can a cannabis brand help save the oceans? Maybe one founded by Ashlan Cousteau and Philippe Cousteau, grandson of the legendary Jacques Cousteau, can. Seaweed Naturals takes the stance that aiming for "sustainable" isn't enough, and that a brand's goal should be to make a net positive impact for the planet. Every sale the brand makes raises funds for marine conservation and the company exclusively works with growers using regenerative practices.
Autumn Brands: Family-run Autumn Brands applies what it calls the PURE approach to cultivation, an acronym standing for "Pesticide-free, User-first, Responsibly grown, and Eco-friendly." The unsprayed plants are grown under sun, not artificial grow-lights, in Santa Barbra County, California, and then picked and hung to dry naturally over 14 to 30 days. The wellness-focused company offers the finished product as whole flower, prerolls, elixirs, and a joint and muscle salve.
Aster Farms: Focusing on plants, planet, and community, Aster Farms relies on outdoor, no-till, regenerative farming for the cannabis it grows, practices responsible water use, and opts for glass packaging rather than plastic. "Sustainability is also about building sustainable communities through inclusive hiring, supporting local organizations focused on equity, and creating career paths," reads the brand's annual sustainability report, which it posts online for consumers to read.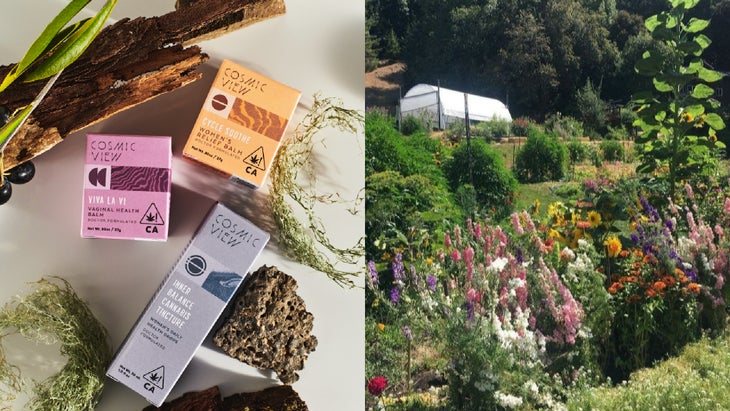 Cosmic View: "In a world of increasingly industrialized food and cannabis, we remain steadfastly dedicated to making beautiful, holistic products with ingredients that are mindfully and ethically sourced," reads a statement on Cosmic View's website. The solvent-free brand sources from small, regenerative farms and is working towards a goal of being 100 percent certified organic.
LEUNE: Female-founded LEUNE bills itself as a "lifestyle brand that's designed by and for the 3.0 cannabis consumer," by which they mean that the mission-oriented company is about using cannabis to enhance the consumer's life – but also using the business and its platform to advocate for restorative justice. Sales raise money for programs including the Last Prisoner Project and Floret Coalition. Try their Gem Drops gummies line, as well as whole flower, preroll, and vape products.
Stone Road: Industrial cannabis growing and processing uses harsh chemicals and wastes a lot of resources. Stone Road rejects all that, growing its own plant at a small family farm that's off-grid and entirely solar-powered. The LGBTQ-run company even sources its own water from an aquifer below the farm and practices biodynamic farming for a result it describes as "beyond organic." Even the packaging is greener; the company uses recycled glass, reclaimed ocean plastic, and a rice-based alternative to traditional plastic shrink wrap to house its products.
---
RELATED: Your Microplastic-Packed Gym Clothes Are Polluting the Oceans. These Sustainable Activewear Brands Want to Help.
---
Get more of what you love from VT. Follow us on Instagram, Facebook, and Twitter, and sign up for our email newsletters.