Discover Online Learning (Via Gluten-Free Cooking!)
Our food editor explains how she fell in love with taking online classes—and how she created VT's first online cooking course: Gluten-Free Vegetarian Cooking.
Heading out the door? Read this article on the new Outside+ app available now on iOS devices for members! Download the app.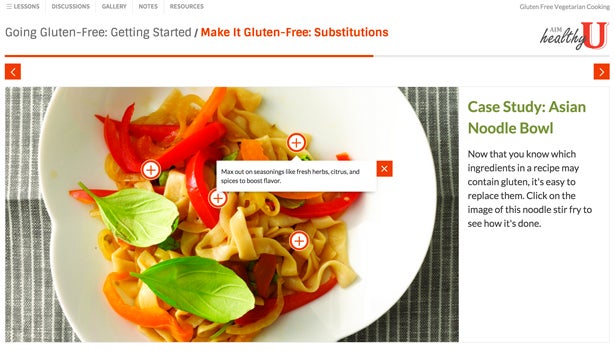 I had no idea what "online learning" meant until about a year ago when my boss asked me to begin looking into the possibility of Vegetarian Times producing cooking courses online. After a few Google searches I was off on an incredible adventure that led (finally!) to the creation of VT's first cooking course: Gluten-Free Vegetarian Cooking.
Along the way, I read course catalogues, I took craft classes (everybody's getting something crocheted this Christmas), I learned how to play Irish jigs on a concertina. I even made a few friends on a bread-making discussion board when I said I hated kneading by hand and asked about the best alternative.
Paying for online education changed the way I look at content online. Instead of wasting my time searching through YouTube for free classes that are thorough and authoritative, I found classes with expert instructors, high-quality video, and all the content I needed in one place. My life is probably as hectic as yours, and I could watch when I wanted, where I wanted. I found affordable classes that were vibrant and engaging and "met" fellow students with similar interests.
In other words, I was hooked. I now keep a list of classes I want to take in the future—and I often go back to the classes (better than a notebook!) if I've forgotten a detail or want to understand a technique. I'm trying to put everything I've seen and enjoyed in the classes I've taken into the classes I've created for VT, which has been almost as much fun as taking classes because I get to hearken back to my teaching days when I was in my 20s, minus the 8 a.m. classes or the papers to grade.
So, join me in Gluten-Free Vegetarian Cooking! See what I'm up to, and get 25% off for a limited time using the code GLUTEN25. There's lots to learn even if you're not worried about wheat.