Make Plant-Based Dishes Served by Met Gala Chefs
"We want to be the future of American food, of plant-based food. That conversation is happening now," says Chef Marcus Samuelson
Heading out the door? Read this article on the new Outside+ app available now on iOS devices for members! Download the app.
UPDATE: SEPTEMBER 13, 2021 – Fashion's biggest night has arrived, and as stars and designers make get ready to walk the red carpet, the collection of chefs tapped to produce a plant-based menu for the Met Gala are hard at work creating their dishes. As you settle in to watch the arrivals (streaming live on Twitter starting at 5:30 ET tonight) you can make yourself a glam meal of your own with recipes from the chefs behind the official menu.
On Vogue's Instagram, each of the chefs has shared a plant-based recipe that is close to their heart and represents their distinct cooking style, which you can find linked below. And, speaking of distinctive style, the chefs themselves will be popping out of the kitchen for long enough to walk the carpet themselves. Lazarus Lynch, known as @sonofasouthernchef – and a musician, activist, and major fashion fan, in addition to chef – told Forbes he has selected a meaning-rich ensemble from Southern designer Christopher Quarterman.
Met Gala Chef Recipes
Sophia Roe, Plant-Based Niçoise Salad
Junghyun Park, Burdock Mini Gimbap
Emma Bengtsson, Vegan Baked Potatoes
Si Tong, Summer Watermelon Salad
Thomas Raquel, Coconut Custard with Tahini-Lime Streusel and Strawberry Jam
Fariyal Abdul, Awaze Jar Noodles
Fabián von Hauske Valtierra, Coconut and Spring Berry Pavlova
Nasim Alikhani, Fresh Eggplant Spread
Lazarus Lynch, Jerk Corn with Coconut Confetti
Erik Ramirez, Harusame Rice Noodle Dish
---
AUGUST 5, 2021 – The Met Gala is more about attendees serving looks than chefs serving meals – but this year even the food will be making a statement. For the 2021 event – which will be held on September 13 rather than the traditional May date due to a pandemic reschedule – the catering of fashion's biggest night will be overseen by a diverse group of 10 New York City-based chefs. Even more significantly, perhaps, everything will be 100 percent plant-based.
"After a difficult two years for the restaurant industry, this will showcase the work and tell the stories of a dynamic group of chefs while presenting an exciting menu of delicious, plant-based dishes," Chef Marcus Samuelson wrote in a statement published by Vogue, the gala's longtime media partner. "The gala offers an incomparable opportunity for emerging talent to elevate their careers and share their perspectives and craft."
Samuelson helped curate the chef panel with assistance from the team at Vogue's food-focused corporate cousin, Bon Appétit. Creating the menu for the event will be Fariyal Abdullahi, Nasim Alikhani, Emma Bengtsson, Lazarus Lynch, Junghyun Park, Erik Ramirez, Thomas Raquel, Sophia Roe, Simone Tong, and Fabian von Hauske.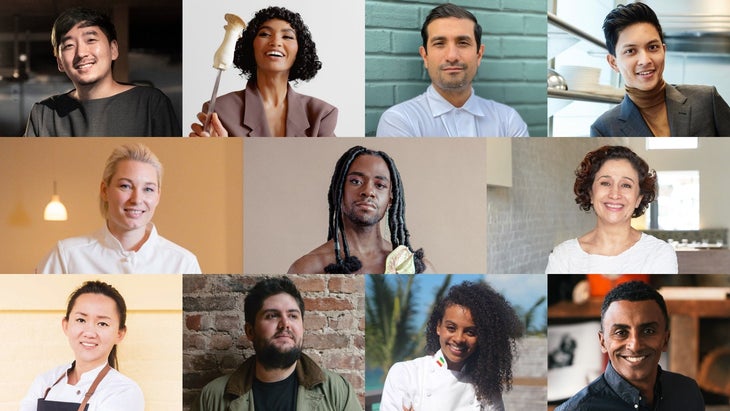 Photo: Courtesy Vogue / Met Gala

Anna Wintour, the grande dame of Vogue, Condé Naste, and all things Met Gala, asked Samuelson to find chefs who could create a plant-based menu with a focus on environmental sustainability that would also reflect the concept of this year's event, inspired by the Costume Institute's exhibition In America: A Lexicon of Fashion. Rather than focusing on a specific designer or era, In America highlights contemporary American dressing, including looking at fashion with a lens of representation and justice. The task put before Samuelson was to find a team to put together a meal showing that the way we eat in America is as complex and evolving as how we dress.
"We thought it was important to really talk about what's present, what's happening — how food is changing in America," Samuelsson told Bon Appétit. "We want to be the future of American food, of plant-based food. That conversation is happening now."
Just as the 2021 Met Gala dress code is "American Independence" – leaving open a lot of room for stylists and fashionistas to go in a myriad of directions with their attire – each chef will be encouraged to represent their personal take on "American" cuisine.
While the chefs are all critically-acclaimed and well-known for their popular restaurants, bestselling cookbooks, and high-profile television appearances, some critics have pointed out on social media that many in the group – prominently Samuelson himself – are not focused exclusively on plant-based food, and that an opportunity to highlight full-time vegan chefs may have been missed. Some have even accused the move as an attempt at "greenwashing," intended to pull focus from environmental concerns linked to the fashion industry.
But for Roe, one of the chefs involved, the troubling history of the fashion industry makes participating all the more important.
"There's nothing to hide behind as we move through a rapidly changing world," she told Vogue. "Climate change, food sovereignty, global value chains, accessibility, species conservation, and industrial accountability must be the driving force in every facet of our lives, and yep, that means fashion too. What better way to integrate these necessary action-forward conversations into the fashion sphere than with the Met Gala?"
The Met Gala announcement is the latest piece of evidence that vegan and plant-based menus are becoming the norm at high-end events. In recent years, both the Screen Actors Guild Awards and Oscars have also entirely dropped animal products.
---
RELATED: Chef Shenarri Freeman is Cooking Vegan Soul Food That Everyone Wants to Eat
---
Get more of what you love from VT. Follow us on Instagram, Facebook, and Twitter, and sign up for our email newsletters.