Become a Turkey Guardian This Thanksgiving and Help Care for Rescued Birds
It's the opposite of a party fowl
Heading out the door? Read this article on the new Outside+ app available now on iOS devices for members! Download the app.
It's ironic that so many people refer to the Thanksgiving holiday as "turkey day" when it's actually a pretty terrible day for turkeys. In 2020, the USDA estimated 46 million of the noble birds were slaughtered just for Thanksgiving celebrations in the U.S. If you're looking for a way to help these fine, feathered friends that goes beyond just not eating them, animal rescue group The Gentle Barn is inviting the public to become "Turkey Guardians" for the season.
While the name might suggest staging some risky actions at a nearby farm, Turkey Guardian is really more of an honorary title. You can support The Gentle Barn's rescue and care operations with a donation of $35 (to become the guardian of one special turkey) or $150 (for patrons of the entire flock).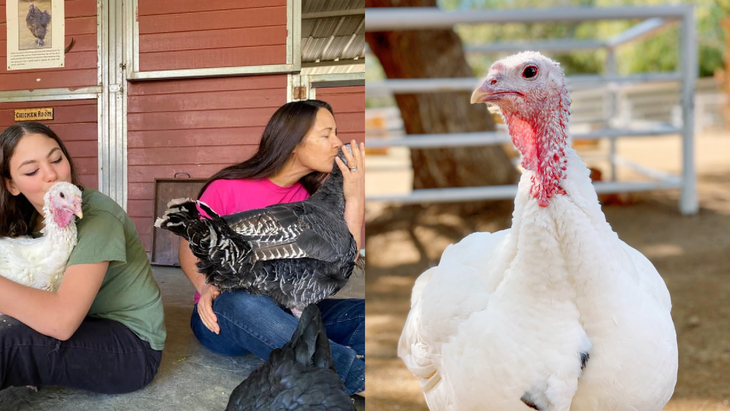 "Turkeys are affectionate, intelligent, and full of personality! They live in big families and the moms carry their babies on their backs. They have a highly developed language and listen deeply to music. Male turkeys love to show off and be told they're handsome, while female turkeys often cuddle or purr when happy, and they even have been known to fall asleep in our laps," reads a statement on the campaign's website. "This year, instead of eating turkeys, we're asking everyone to become Turkey Guardians!"
The site also features profiles on some of the turkeys in residence at The Gentle Barn, including Smudge who "loves to be held and cuddled" and the handsome Luke Skywalker who was saved just as he was set to be slaughtered to become a Thanksgiving dinner in 2015.
---
---
Get more of what you love from VT. Follow us on Instagram, Facebook, and Twitter and sign up for our email newsletters.