Best Nut Mixes
Mixed nuts are a power-packed source of protein, vitamins, and minerals that can help you keep pace with your busy schedule. They are food for the brain and body. No two mixed nuts varieties are the same, and each has its purpose in our lives. From snacking on-the-go to serving as appetizers at a party – we rely on these natural treats for sustenance and delicious flavor. Whatever your reason for enjoying them, nuts are a well-rounded snack. Continue reading to see our favorite nut mixes out there.
Heading out the door? Read this article on the new Outside+ app available now on iOS devices for members! Download the app.
Best Nut Variety
Planters Deluxe Salted Mixed Nuts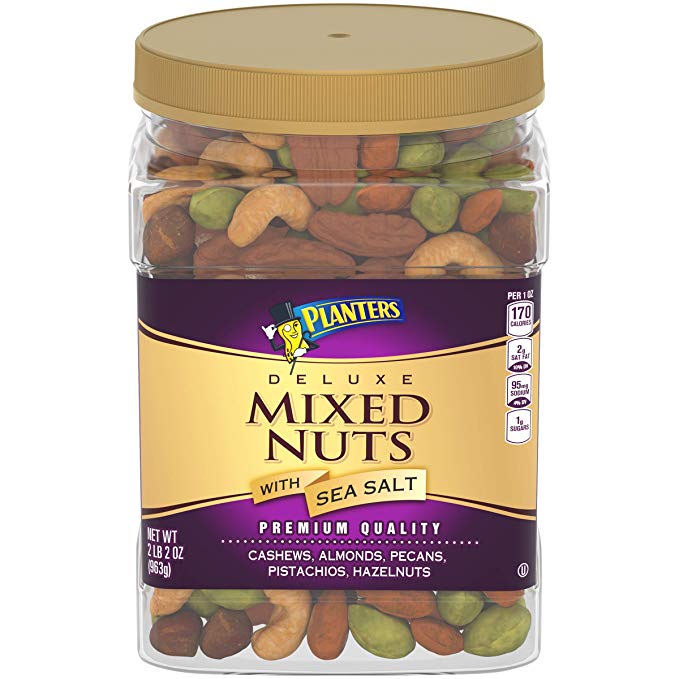 Enjoy Your Snack Time. Take this colorful mix of nuts to work or on a hike, and enjoy your mid-day break for snack time.
What We Liked:
Each 2-pound, 2-ounce resealable jar contains a unique mix of nuts, including cashews, almonds, pecans, hazelnuts, and colorful green pistachios. Enjoy snacking with this mix of nuts that delivers five grams of protein per serving. Sea salt is used instead of table salt, improving both the flavor and health-factor of this snack. Perfect for keeping in the pantry or a desk drawer, this jar can fit in anywhere. Buy it here.
Most Gourmet
Power Up Trail Mix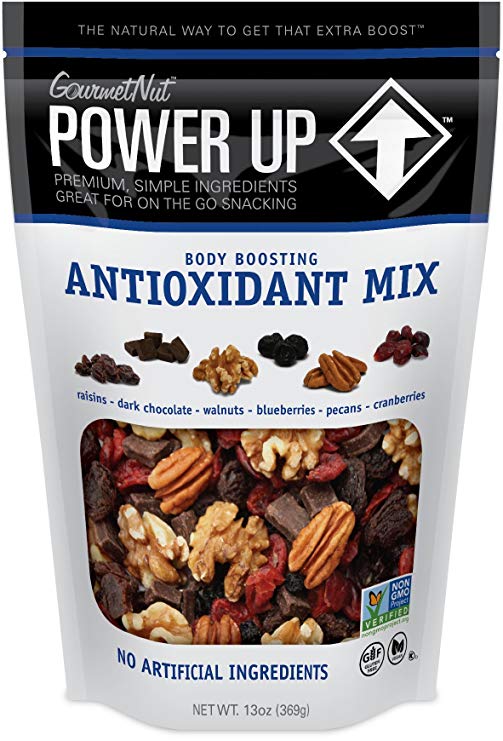 Elevate Your Snacking. Enjoy the best that snacking has to offer with this gourmet mix of fruit, nuts, and a little something sweet.
What We Liked:
This gourmet mix of nuts has everything you'd want in a snack mix, including raisins, dark chocolate, walnuts, blueberries, pecans, and cranberries. It's packed with protein and antioxidants to help you get through the day. Each package is non-GMO and free of gluten, artificial ingredients, and preservatives. Get it here.
Best On-The-Go Snack
Orchard Valley Harvest Honey Roasted Mixed Nuts
Protein When You Need It. Take these packs on the trail, or put them in a lunchbox for easy on-the-go snacking.
What We Liked:
Each individually wrapped package contains one ounce of mixed almonds, peanuts, pecans, and cashews. These are perfect for throwing into a purse, lunchbox, or glove box for snacking when you need it. Every batch is made with real honey and is free of artificial colors, flavors, or preservatives. They are also non-GMO verified.
Best for a Party
Kirkland Signature Fancy Mixed Nuts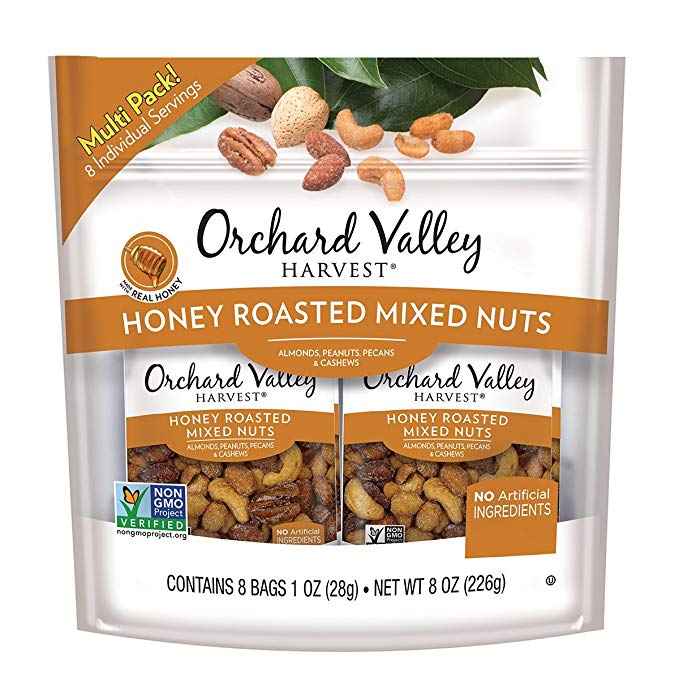 Nuts for a Crowd. This two-and-a-half-pound package provides more than enough nuts to go around for any gathering.
What We Liked:
We appreciated that each container is resealable so that leftovers can be preserved. The package is party-ready with classic nuts everyone loves, including cashews, almonds, Brazil nuts, pecans, and macadamia nuts. Place these in a serving bowl for an entire crowd to snack on during casual or formal gatherings. Put leftovers back in the jar to store in your pantry and enjoy later. Get it now.