Barrio Bread Is Helping to Revive Arizona's Nearly-Forgotten 'Grain Chain'
Although grains have long been part of the region's gastronomic heritage, Arizona grains aren't widely known. Don Guerra is changing that with his community-supported bakery and education programs.
Heading out the door? Read this article on the new Outside+ app available now on iOS devices for members! Download the app.
"As a baker, I'm reviving what's gone extinct," Don Guerra says. He baked sourdough bread in his Tucson, Arizona garage for eight years before launching Barrio Bread, his tiny "community-supported bakery," in 2016. Beyond making great bread, Guerra is working to revitalize ancient production methods and local food sources – and to share what he's learned with his community.
Last year, the coronavirus pandemic highlighted the fragility of our local food systems and the dangers of relying on food supplies that come from far away, says Guerra. As flour, yeast, and baking powder began to disappear from supermarket shelves, people got scared. "All these things, all these commodities that we relied on, that we took for granted, evaporated." 
But at Barrio Bread, Guerra sources flours and grains from farmers within his region. His "grain chain" is tight and local, with very few people involved. When the grocery shortages began, Guerra explains, "I had flour to sell to people. I was giving out sourdough culture. I was giving out baker's yeast. And people were really blown away that this little bakery had these products that people could rely on."
Not only was he able to continue baking from his Tucson storefront, selling loaves made from grains such as white Sonoran wheat, Einkorn, and Khorasan (a wheat marketed commercially as Kamut), but he also tapped into the sourdough baking craze with a series of sourdough video tutorials. With a grant from the U.S. Department of Agriculture, he recently started Barrio Grains to sell whole grains and flours from Arizona farmers. And he partnered with one of Tucson's oldest Mexican restaurant companies to help conceive a fast casual eatery and bake shop, Barrio Charro, which opened in Tucson in January.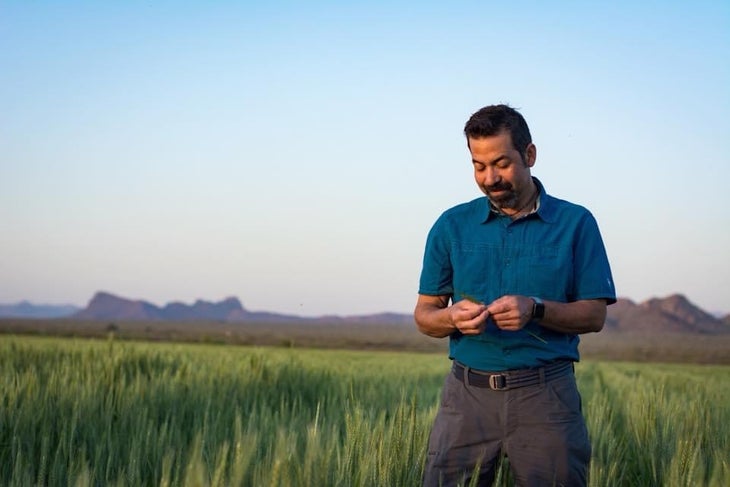 Preserving Gastronomic Heritage
"My mom baked our bread. My nona made tortillas. Oh my gosh, who doesn't love like the smell of tortillas? Walking into your nona's house and there's fresh tortillas going? It's just an intoxicating smell to me," Guerra recalls of his childhood in Arizona. As a university student, Guerra studied anthropology, and while he says he couldn't envision a career in the field, his studies ended up informing his present-day work.
"As a Latino and Indigenous person, I have this really strong interest in preserving cultural heritage," particularly when it comes to gastronomy. His father's roots are in northern Mexico, and Guerra notes that the flours he's currently using in his breads are likely the same grains that his ancestors used to make tortillas. "It's important to me to work to preserve that and also make sure people know where my grains come from."
The Arizona Grain Chain
Even when he was baking bread in his garage, Guerra says customers were asking him about his flour. "People were curious about where my flours were coming from." 
Although grains have long been part of the region's gastronomic heritage, Arizona grains aren't widely known, even within the state, he says. He wants people to know that "using regional grains, Arizona flour – it's not some crazy idea for brewers or bakers or distillers. It's just what we do, because we can."
And he hopes that his new Barrio Grains venture will become a hub that connects everyone in the Arizona grain chain, from seed savers to farmers to bakers to consumers. 
"I want to bring attention to everyone who's participating in that loaf of bread," he insists. It's not right that only "the chef or artisan who makes the final product is the one who's prized for it." It's just as important to applaud the people who planted the seed and grew the grain.
Under the Barrio Grains label, Guerra is currently selling several flours and grains, as well as a pizza kit – a just-add-water mix for making your own pizza dough. 
The flours include the general purpose Precision Blend, a combination of Hard Red wheat and Blue Beard Durum wheat, produced in collaboration with Arizona's Hayden Flour Mills; Barrio Blend, designed for bread-baking, which contains Hard Red Spring wheat and a sifted organic bread flour; and Sonoran Blend, a soft Sonoran white wheat, combined with an organic bread flour, that Guerra suggests using for making pasta, tortillas, cookies, and quick breads. He offers several varieties of wheat berries, too, which you can use as a cereal or side dish or add to soups and salads.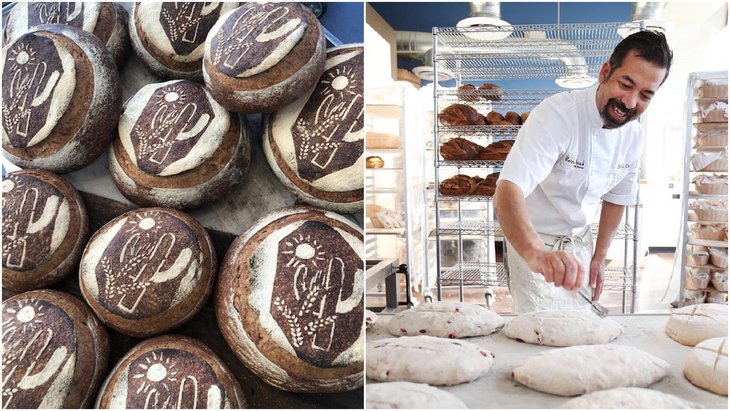 Tucson's "Breaducator"
Before opening Barrio Bread, Guerra, who also earned a degree from the University of Arizona College of Education, taught in the Tucson public schools for seven years. These days, he calls himself a "breaducator."
In 2019, about nine months before COVID hit, Guerra created BreadLessons.com, self-guided video-based lessons about the process of making sourdough bread. "I'm a kinesthetic, visual learner," he says, so while several people urged him to write a bread-baking book, he was more excited by the idea of an interactive video course.  
"I like to 'teach it forward,' to help people make better products themselves." 
But while lessons can help, Guerra contends that bread baking isn't something that you "master," even when you've made it your career. "You can never make the same loaf of bread twice. It has this whole genetic makeup of its own – of that loaf, that day. It can't ever be reproduced." Temperature, humidity, even the mood of the baker can affect your baking. 
"When you start talking like, 'I've got this bread thing nailed. I'm so badass. I'm a master baker,' as soon as you brag that you have this thing under control, it goes sideways," Guerra says. "You can't control it. You can't rush it. You have to be mindful. You have to respect it." 
---
RELATED: Chef Shenarri Freeman is Cooking Vegan Soul Food That Everyone Wants to Eat
---
Get more of what you love from VT. Follow us on Instagram, Facebook, and Twitter, and sign up for our email newsletters.