Bicoastal Vegetarian Restaurant The Butcher's Daughter Grows Up with a 'Glam' New Location
The Butcher's Daughter owner and designer Heather Tierney elevates the day-to-night veggie concept with a splashy new location in California
Photo: The Salty Shutters / Butcher's Daughter
Heading out the door? Read this article on the new Outside+ app available now on iOS devices for members! Download the app.
"We feel like the daughter kind of grew up a little bit on this one," says designer and restaurateur Heather Tierney of the fifth and most recent location of The Butcher's Daughter. Tierney, who describes herself as a "designer who just happens to like opening bars and restaurants," created her first vegetarian cafe in New York City's Nolita in 2012. At the time, Tierney, who had already opened cocktail bar Apotheke in 2008, was living around the corner and launched the cafe as a juice bar concept.
"This whole plant-based movement just kept getting bigger and bigger and I think what made The Butcher's Daughter so popular is that nobody was really doing vegetarian cuisine in a cool way," she says. Unlike less atmospheric vegetarian restaurants at the time, Tierney sought to create an environment where people would want to come for a romantic date or hang out for breakfast or lunch.
"Another inspiration for it was the quintessential Parisian cafe. It was important to me that we had these bistro tables where you can sit outside. You can have a juice just like you would a glass of wine in Paris or you can have a glass of wine and we had these charcuterie boards and cheese boards with mushroom walnut pate. You can still have that experience, you're just doing it in a healthier way."
Since 2012, Tierney has opened two additional Butcher's Daughter locations in New York and one in Venice, California. Now comes a second L.A.-area outpost in West Hollywood, as well as two locations of De Buena Planta, described as "a plant-forward Mexican concept."
"I call it glam," she says of the newest locale, noting that "it's still got that kind of Old Hollywood feeling." Each location's design takes inspiration from its surrounding neighborhood and the West Hollywood space is the most elegant.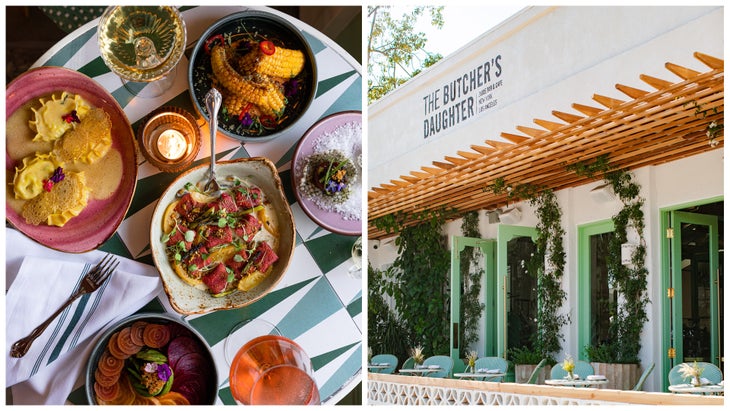 Despite its eye-catching interior, like the other locations, this Butcher's Daughter is an approachable all-day cafe where locals can come for breakfast burritos, bagels with carrot "lox" and cashew spread, cauliflower "strip steak," or mushroom and wild rice burgers. But what makes this spot different is how it transforms in the evening.
"The big focus here is the bar," says Tierney of the 3,600 square-foot room's centerpiece, with welded brass countertops encased in a vibrant green house where the team grows herbs and botanicals for the bartenders to mix into the cocktails. "We have this really elevated cocktail program."
Tierney would also say that this nighttime glamour is a reflection of the times and how plant-based dining has evolved since she first opened in 2012. "We have noticed that people are ready," she says. "It's become more mainstream. It's acceptable to eat plant-based in the evenings, even if you're not plant based yourself. […] We meet people wherever they are on their journey of eating healthier."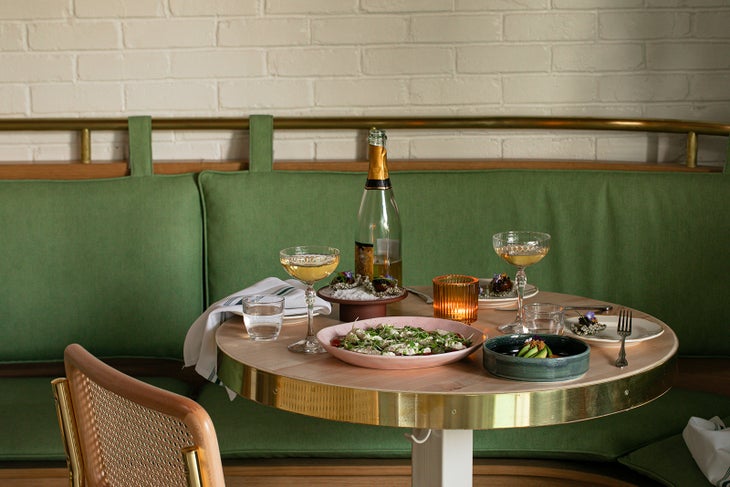 ---
RELATED: The Best New Restaurants of 2022
---
Get more of what you love from VT. Follow us on Instagram, Facebook, and Twitter, and sign up for our email newsletters.