From Bun B's Veggie Burgers to Halo Halo Popsicles: Everything We Ate at ComplexCon 2021
First We Feast might be associated with shows about burgers and hot chicken wings – but we discovered delicious and exciting plant-based food at this weekend's festival
Heading out the door? Read this article on the new Outside+ app available now on iOS devices for members! Download the app.
ComplexCon in Long Beach, California is an annual celebration of all things streetwear culture – and that very much includes food. Between browsing through booths and activations from some of the hippest fashion brands in the world and watching musical performances from A$AP Rocky, Turnstile, Lil Yachty, A-Trak, and others, festival-goers are going to want something to eat.
For those not sure why a fashion convention would have a dining experience that rivals (if not surpasses) many food festivals, you'll want to remember that the Complex empire – launched as magazine in 2002 as a side project of fashion designer Mark Ecko, now a multi-platform media enterprise with massive reach and clout – is home to First We Feast, a food-centric publication and video content hub. But since some of First We Feast's signature features are super meaty (think: Hot Ones, a series where celebrities eat chicken wings; lots and lots of coverage of beefy burgers) I was curious how veg-friendly their fest-within-a-fest would be.
I decided to head out and see what plant-based offerings might be in store – and was definitely impressed by what I found. The outdoor First We Feast 'Lagoon' featured an array of vendors, most of them independent operators from the Los Angeles and Long Beach area. First We Feast worked with food culture agency Care of Chan to select the restaurants, and, in a nod to the financial hardships the pandemic has caused for many restaurants, Complex covered some of the costs associated with participating.
After several rounds of snacking and shopping, here were the best things we ate. And, luckily, you don't need to wait until next year to try any of these; all the vendors have year-round restaurants and pop-ups you can visit right now.
---
Señoreata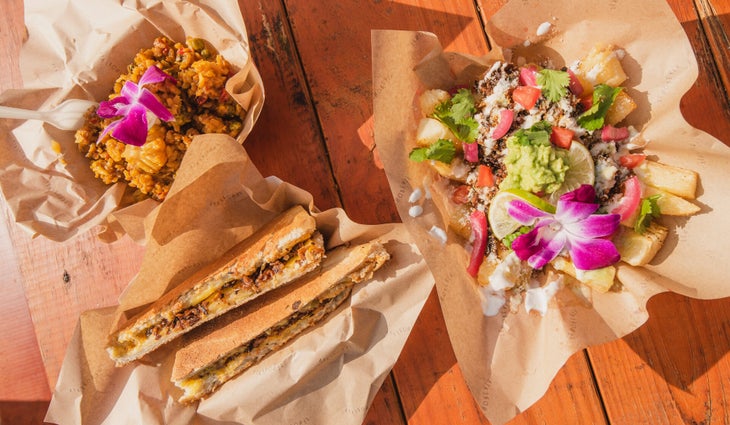 What We Ate: My photographer and I nearly bought out the whole menu at Señoreata's booth, unable to decide which of the entirely plant-based Cuban-inspired dishes we wanted to try. It turned out, that was the right move, because everything was truly fantastic. Shown here: a jackfruit Cubano sandwich, "arroz sin pollo," and mojo-marinated jackfruit lechón yucca fries.
How to Get It: Señoreata does a weekly pop-up at Smorgasburg in downtown Los Angeles and offers online ordering for pick-up from locations around L.A. and in Yucca Valley. senoreata.com
---
Bridgetown Roti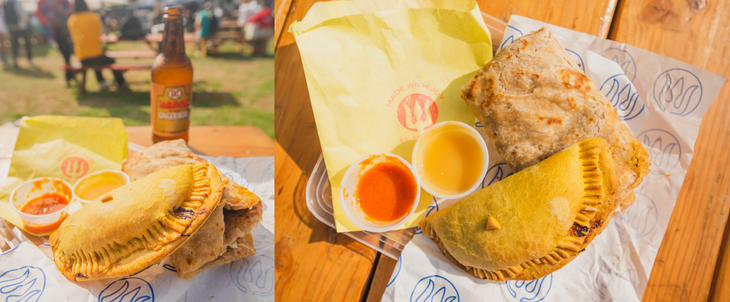 What We Ate: While Bridgetown Roti is an omnivorous vendor, there were multiple veggie options, all clearly labeled on on the menu. And that worked well for me, a Bridgetown Roti stan. At ComplexCon I went for the pumpkin choka roti with cauliflower, turmeric slaw, and roasted Brussels sprouts (because really, how could I not?) and the garlic Trini eggplant and scallion patty. Sides of Fresno-mango-masala hot sauce and pineapple-habanero, because they're both amazing.
How to Get It: Like Señoreata, Bridgetown Roti can be found at L.A.'s Smorgasburg on Sundays. You can also order online for Friday and Saturday pick-ups, book for catering, and occasionally catch them for a special event. bridgetownroti.com
---
Beleaf Better Burgers x Trill Burgers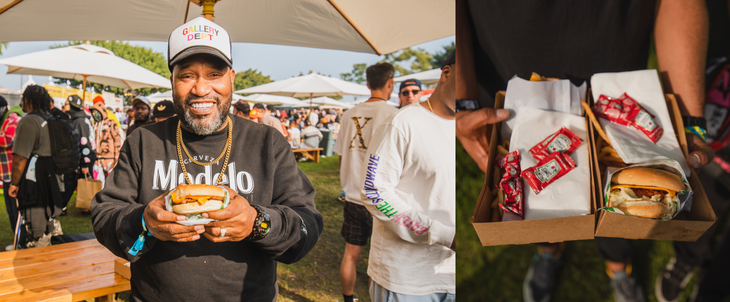 What We Ate: Houston rap legend Bun B of UGK has a smashburger restaurant in his hometown, Trill Burgers. For ComplexCon, he partnered with California veggie burger joint Beleaf Better Burgers to make a special-edition vegan burger (that's him in the picture, showing it off) – at one point in the afternoon, he even hopped behind the counter and got to cooking them up himself.
How to Get It: Well…. So technically, you can't. Sorry. The Bun B/Trill Burger collab was a ComplexCon exclusive. However, you can get Beleaf's usual lineup of plant-based burgers, sandwiches, and other casual bites at their restaurants. The brand has locations in Chino and Stanton, California. beleaf-burgers.com
---
Petite Peso x Wanderlust Creamery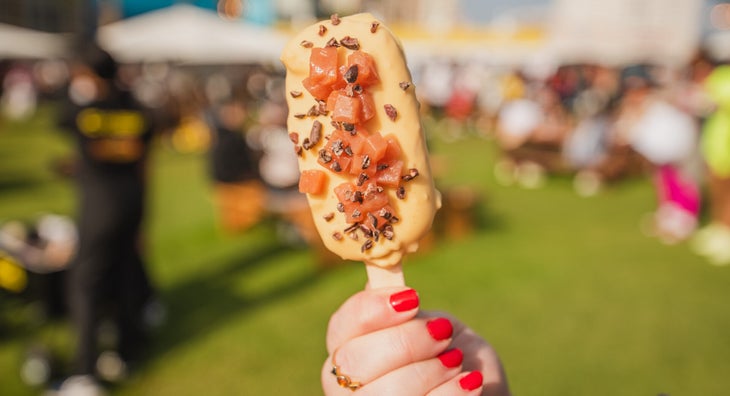 What We Ate: You just can't go a whole festival without something sweet. Petite Peso's booth was ready to fill the need with vegan halo halo popsicles. Each bite, from the shattering outer shell to the sweet, icy core, was magnificent. The special-edition frozen treats, developed by ice cream shop Wanderlust Creamery, featured sherbet, oat milk-based ice cream, guava, passionfruit, white chocolate, and cacao nibs.
How to Get It: Again, your best bet for this exact treat is going to be buying tickets to ComplexCon 2022, but you can get other adventurous vegan ice cream flavors from Wanderlust's shops and taste Petite Peso's halo halo (and other Filipino fare; hello, Impossible lumpia) in non-popsicle form at their Los Angeles restaurant. wanderlustcreamery.com, petitepeso.com
---
---
Get more of what you love from VT. Follow us on Instagram, Facebook, and Twitter and sign up for our email newsletters.