Hot Tongue Heats Up the Los Angeles Vegan Pizza Scene
"I created it because I love pizza," says chef-owner Alex Koons. "And I know that I can make pizza as good as any other pizzeria."
Heading out the door? Read this article on the new Outside+ app available now on iOS devices for members! Download the app.
"It's really pizza that just happens to not have cheese or meat on it," says Alex Koons of what he makes at his new Los Angeles vegan pizza shop Hot Tongue. "It has the same balance that you're going to find anywhere else."
Koons, a former musician-turned-vegan pizza consultant has been owner of Purgatory Pizza in Downtown L.A. (the name is a play on that pizzeria being somewhere in-between vegan and traditional) since 2016. Purgatory developed a reputation for being a flexible place for local musicians – who might periodically have to go off on tour for weeks at a time – to work. When a band featuring three Purgatory employees needed cash to complete the recording of an album, Koons even stepped in to provide a personal loan to help them out.
Now that he has opened his own fully plant-based concept in a strip mall near a busy intersection in the city's Silver Lake neighborhood, music continues to imbue the shop. Hot Tongue's name is an homage to Koons's last foray in music, a group he and his bandmates named after a cow's tongue sandwich at Langer's Deli, a Los Angeles icon. "Then I stopped doing music after that," says Koons. "It was always going to be the name of my first pizza shop and I didn't know it was going to be vegan at the time. But it's kind of ironic."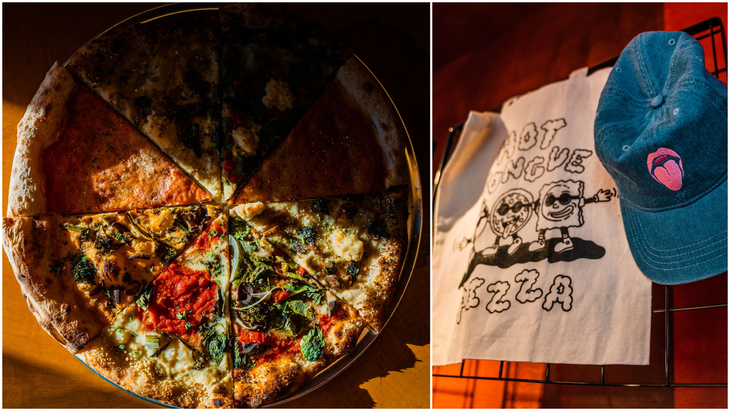 The shop's giant pink sign with illustrated mouth and tongue is indeed reminiscent of a hip band's logo and inside there's merchandise to match. The smell of fresh pizza permeates the air and it does smell like any great pizza shop, plant-based or not. Giant cans of Chris Bianco's Bianco DiNapoli tomatoes, which Koons uses in his sauce, decorate the shelves. The space is small and bright with counter service and seating indoors and outside on high tops on the small sidewalk. On any given day you'll see Koons himself manning the pizza oven while simultaneously overseeing operations.
The pizza, comes either Sicilian square, gluten-free, or round New York style, which is available by the slice or as whole pies. Additionally, appetizers like crispy buffalo cauliflower with ranch dressing and salads like kale with chickpeas and shiitake bacon round out the menu. "This has always been my dream to have my own shop and for it all to be plant-based – and for it to to compete with the best of the best in L.A. It just so happened that there is no dairy or, you know, 'regular-people' protein on it."
The team at Hot Tongue makes their own plant-based cheese in house and the menu leans more towards vegetable toppings than faux-meats. "Right now we're only doing one vegan meat. It's a spicy sausage, because l'm not really on the bandwagon of fake meat. Here is just stuff that is gonna grow in your garden."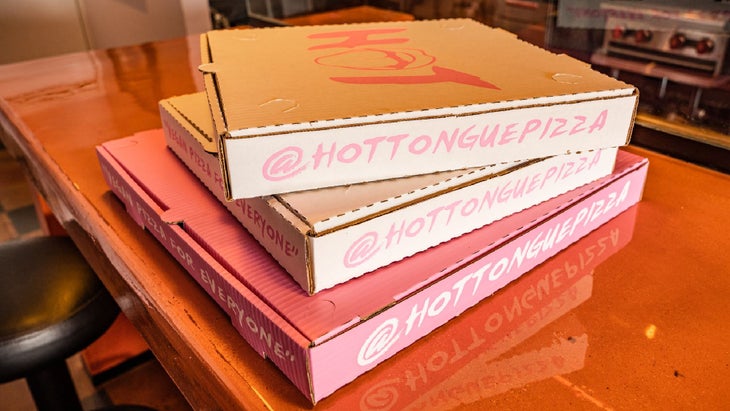 As excited as Koons is about his new shop, he really doesn't want to focus on the fact that it is vegan, noting that a person's diet is a personal decision. "I'm very lucky because it's a city that is very much embracing the plant-based movement," says Koons.
But he stresses that at this Los Angeles vegan pizza shop, the food isn't just for vegans, but for everyone. "The real customer I'm going after is the person that likes four different meats on his pizza. I want that person to come in here."
Ultimately, Koons wants everyone to be able to eat great pizza. "I created it because I love pizza. And I know that I can make pizza as good as any other pizzeria."
---
---
Get more of what you love from VT. Follow us on Instagram, Facebook, and Twitter and sign up for our email newsletters.