Opening a Restaurant Amid Pandemic Was a Huge Risk. For Salima Saunders, the Dream of a Vegetarian Café Was Worth It.
Salima Saunders was furloughed from her job when she saw a local restaurant go up for sale. After dreaming of opening her own place for years, the first-time chef-owner took a chance.
Photo: Carolina Korman / @carolinakormanphoto
Heading out the door? Read this article on the new Outside+ app available now on iOS devices for members! Download the app.
When I visit Salima Saunders at Uplifters Kitchen in Santa Monica, California, she's just changed her menu for the first time since opening a year ago. There's romesco toast with creamy braised white beans, fattoush salad with za'atar toasted chickpeas, sumac and torn focaccia croutons, and a new chocolate-pistachio babka that's soft as a cloud, rich and nutty but not too sweet. Even the ubiquitous avocado toast comes with a twist – preserved lemon and date harissa. Everything on the menu is vegetarian and many items are vegan and gluten-free.
"I'm trying to push the envelope but find the balance between what's too weird and what's too safe," Saunders says. "We have a fantastic group of neighborhood folks that come in every single day and they're starting to try stuff from the new menu and find new favorites."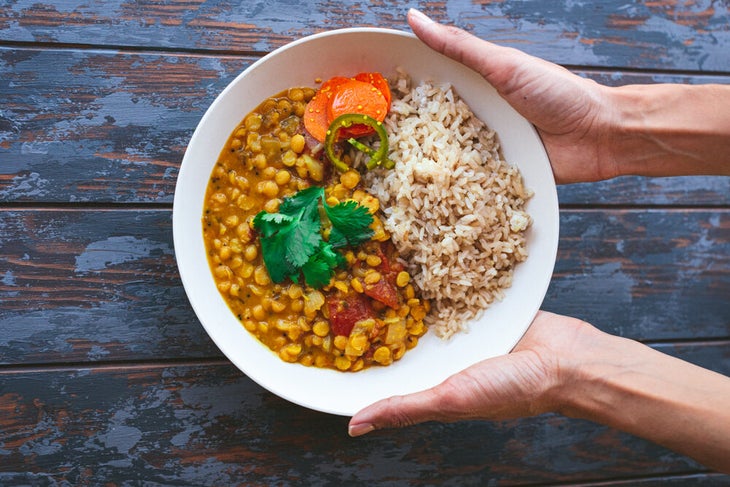 Saunders has been a vegetarian since she was 13 and while working as a health coach, hospitality operations pro, and cook, she always dreamed of opening her own café – something she expected might happen in her 40s. In the midst of the pandemic, the 32-year-old was furloughed from her job at another restaurant when she saw Uplifters Kitchen listed for sale online. The café was just a few miles from where she lived.
It took a little convincing to get her husband on board, but they pulled the trigger. "Instead of investing in a house, we put it into a business," she says. The first-time business owner kept the Uplifters Kitchen name, but overhauled the menu to make it entirely vegetarian, and quickly won over skeptical locals.
"Eating vegetarian doesn't have to be a chore," Saunders says. "We serve beautiful, bright, really inviting plates of food. And maybe after the fact, you realize, oh, there's no meat in there."
Saunders believes that the fresher the produce and the more local it is, the better it tastes. You'll find her at the Santa Monica Farmers Market with her red wagon on Wednesday and Saturday mornings to pick up fresh produce for the café, and chatting with her friends at Tehachapi Heritage Grain Project and Weiser Family Farms.
"It's the highlight of my day," Saunders says. "Going to the farmers market and seeing everything that's there and thinking of ways to incorporate it into our food."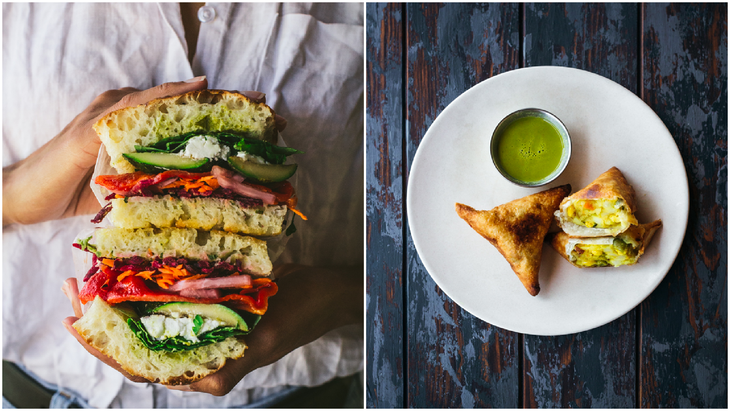 For summer stone fruit season, she has a peaches and cream baked oatmeal that sells out daily. All pastries are made fresh from scratch each morning and all sauces, preserves and dressings are made from scratch too, without any additives or stabilizers. Her mom's recipe for daal with coconut cardamom brown rice is on the menu in a nod to her Indian heritage, along with veggie samosas with green chutney for dipping.
Uplifters Kitchen is a true neighborhood spot and Saunders knows many of her customers by name. She looks forward to the days when she can find more ways to partner with the community, hosting pop-ups with other women business owners, classes, and non-profit events. But for now, she's focusing on the new menu and the week ahead.
"I'm trying to learn how to take one thing at a time," she says. "During the padnemic it was just me holding everything together with duct tape, sweat, blood and tears," she says. "And it became unsustainable." Now, Saunders has a strong team of five people working with her and she's been able to find a better balance. "I'm in bed by 9 p.m., old lady style and it's a dream."
---
RELATED: Barrio Bread Is Helping to Revive Arizona's Nearly-Forgotten 'Grain Chain'
---
Get more of what you love from VT. Follow us on Instagram, Facebook, and Twitter, and sign up for our email newsletters.