Victoria's Inn at Laurel Point Is the First Hotel in North America to Join the Climate Pledge
Luxury and sustainability meet at this waterside destination
Photo: Vince Klassen / Inn at Laurel Point
Heading out the door? Read this article on the new Outside+ app available now on iOS devices for members! Download the app.
Too often, things billed as "sustainable luxury" fall short on either legitimate environmental-friendliness or genuine luxury. The Inn at Laurel Point is delivers on both. The first-ever hotel in North America to join The Climate Pledge and British Columbia's first carbon-neutral hotel, the Inn at Laurel Point is tucked into the Victoria Inner Harbor, offering not just exquisite views of the water, a five-star experience, and a commitment to sustainability that goes beyond greenwashing.
The stunning property boasts a total of two hundred well-appointed rooms and suites, each outfitted with a private balcony overlooking either the Victoria Inner Harbor or the city's downtown skyline. The sun-flooded lobby offers floor-to-ceiling windows while the entire hotel is heated and cooled using a ​​marine cooling system comprised of 114 heat pumps that use ocean water to power incredibly efficient temperature controls.
"We're a curious team always looking to improve how we do things and looking at our business through a sustainable lens presents opportunities and challenges us to be better," explains Eda Koot, general manager at the Inn at Laurel Point. "As a leader and the first carbon-neutral hotel in B.C., this is part of our culture, it's not what we do but who we are."
Koot notes that more and more guests are looking for businesses that show concern for the environment – and that means more than just picking up and reusing one's towels.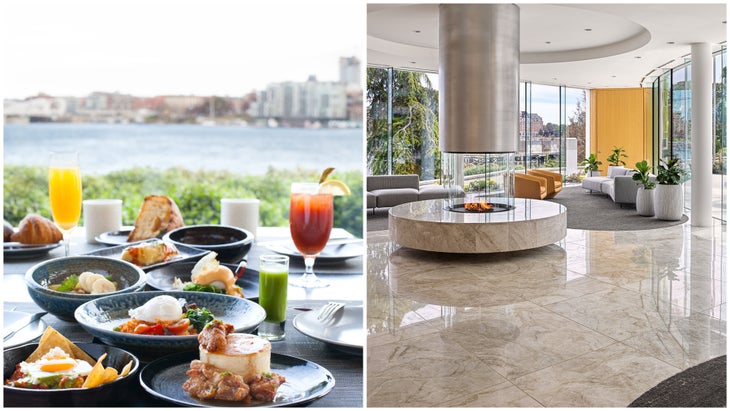 Keeping things carbon-neutral can cause certain challenges in the kitchen. According to Executive Chef Ken Nakano, who helms the hotel's in-house restaurant, Aura, the gastronomic team sources the best available options with their local farm partners – but keeping up with increasing costs has proven to be challenging. The culinary team has combatted rising costs while cutting down on its carbon footprint one step further by curating and tending to an on-site garden built to best suit the kitchen's needs.
"Heading into our third year, we are able to identify which varieties work best and plan accordingly. We rotate our crops to have a variety of produce ripening throughout the growing season to coincide with Aura's menu development. Our garden is constantly evolving to keep all of our menus peak of the season," explains Chef Nakano.
According to Chef Nakano, the unique architecture of the building itself provides many microclimates that support the culinary team's approach to growing and experimenting with a diverse variety of indigenous and exotic produce for our guests to enjoy. Those garden-fresh crops guide his menu though the seasons.
"The anticipation of working with produce at its peak is very exciting for us and inspires our 'in the moment' vegetarian offerings," he says. "Some of the ingredients that excited me this year were the calamansi, sea buckthorn, ginger, lemongrass, and Japanese ume just to name a few. The umeboshi I make with the ume fruits in July are a staple in our pantry that we use year-round. The variety of products we are able to create from the diversity of our garden is amazing. I am equally excited about our potatoes, cabbage, kale and sunchokes," he says. "The curiosity and learning opportunities created by this project have deepened our connections to the local food systems."
---
RELATED: These Grocery Store Sauces Are My Secret Shortcut to Weeknight Dinner Joy
---
Get more of what you love from VT. Follow us on Instagram, Facebook, and Twitter, and sign up for our email newsletters.