Veggie-ly in Paris: The Author of a Veg Guide to the City of Lights Shares Her Favorite Spots
"The veg community is eclectic, interesting, and diverse — just like Paris itself," says author Aurelia d'Andrea
Heading out the door? Read this article on the new Outside+ app available now on iOS devices for members! Download the app.
Veggie, végan, vitalité—the trend for veg-friendly restaurants, shops, and cafés has taken hold in Paris, creating new options for travelers to the City of Light. With that in mind, we chatted with our favorite Parisian insider, Aurelia d'Andrea, the author of Vegetarian Paris: The Complete Insider's Guide to the Best Veggie Food in Paris.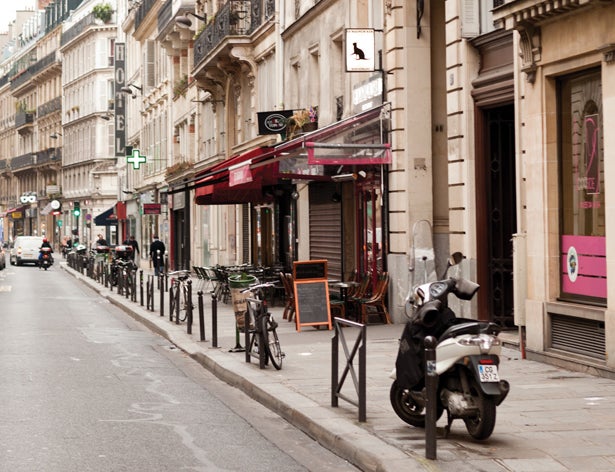 What brought you to Paris?
The lure of a dialed-down lifestyle centered more on life's little pleasures and less on the stresses inherent in the American work-to-live culture. The promise of high-quality (and tasty) food and wine was definitely a part of the live-abroad dream too.
How did the guide come about?
In the five years since pulling up roots in California and laying them down in France, I've averaged about a dozen houseguests per year. I joke that I see my San Francisco friends more now that I live in Paris than I did when I actually lived there, and honestly, that's not too far from the truth. Friends, friends of friends, and family have all asked for veg restaurant recommendations, and after custom-creating itineraries for visitors year after year, and growing that list month after month, I figured it would be worth pitching the idea of a guide to a book publisher. U.K. publishers Vegetarian Guides took the bait and published Vegetarian Paris in late 2014. A French-language version, with updates, is slated for late 2015.
How has the vegetarian scene in Paris evolved since you got here?
The clichés about French cuisine—specifically about how inhospitable it is to people who don't eat meat—are definitely rooted in reality. While the food culture is traditional, in the last several years a "healthy eating" trend has exploded in the City of Light. This has opened the door not only for vegetarian restaurants and vegan boutiques to flourish, but for vegans around France to come out of the closet and find community. At a recent "vegan village" pop-up event, there were no fewer than 10 booths selling vegan baked goods, and I couldn't help but ask everyone I met, "Where have you been hiding?!" The response is that they've been there all along, but we simply didn't have the conduits to bring us all together. Now, we do.
What's the veg community like in Paris?

The veg community is eclectic, interesting, and diverse—just like Paris itself. The local vegan Meetup group is extremely active and an important hub for herbivores in the French capital. Members organize dining-out events, film screenings, and cooking classes, among other things, and some events are so popular that they have waiting lists. Because Paris is a city of immigrants and a place where people sometimes land for just a year or two, the veg scene is continually being added to and subtracted from, and new ideas that often cling are introduced regularly. Right now, there's a big upsurge in advocacy-driven events, due in part, I think, to the addition of Paul Watson and the Sea Shepherd Conservation Society on the local scene. (Watson recently got married in Paris, and one of his SSCS ships has been docked in the Seine for months.)
What are some vegan/veg innovations in Paris?
While researching the guide, I was surprised to discover some really novel, new-to-me organizations that had vegetarianism built into their ethos or philosophy. Café Zoide in the working-class 19e is a kids' activity center upstairs, vegetarian café downstairs with a daily special that costs 5 euro. Both the pricing and the decision to offer veg fare are by design; this is to make the food accessible to a broader spectrum of people. We've also got a vegan spa, Le Centre Tout Naturellement, where you can take a sauna and get a facial, followed by a healthy, filling 10-euro lunch. The owners are super welcoming and will make you a fresh-pressed organic juice if you ask. And recently, Paris finally got a vegan shoes-and-accessories store, Vegissime, in the Latin Quarter. I like to pop in to to see if they've added any new footwear lines, then I stop by Vegan Folie's, Paris's first vegan bakery, to pick up a decadent slice of cheesecake.
Must-sees and must-dos for a vegetarian in Paris?
There are so many fun itineraries for veg visitors to the French capital. I love to steer friends toward neighborhoods where they can eat, drink, and be merry without having to venture too far on foot or by public transport, such as Canal Saint Martin.
I recommend Tien Hiang, a Vietnamese/Chinese veg spot that's always bopping, where you can get stuffed on meat-free pho and bun xeo, then walk a few blocks over to Carmen Ragosta, a fusion boutique offering vegetarian Italian food, vegan shoes, and locally designed clothing. The tiramisu is divine, but call in advance for the vegan version.
Another fun neighborhood to explore is Japantown, between Opera and the Louvre. A couple of spots offer tea-time snacks like steamed dumplings and bubble tea, and cool café Nest has oodles of vegan offerings, including brownies and Vietnamese tapioca desserts, which you can take away and enjoy in the beautiful and historic gardens of the Palais-Royal before setting off to explore the neighborhood's many covered arcades.
---
RELATED: Vegetarian Tokyo: A Plant-Based Travel Guide
---
Get more of what you love from VT. Follow us on Instagram, Facebook, and Twitter.