Healing Foods: Mushrooms
From reishi and maitake to the common white button, mushrooms offer an array of healing properties
Heading out the door? Read this article on the new Outside+ app available now on iOS devices for members! Download the app.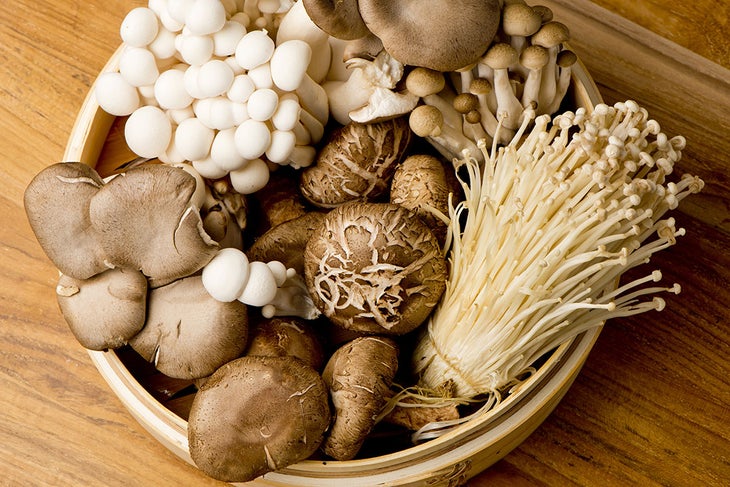 There are an estimated 100,000 varieties of mushrooms, each with their own distinct size, shape, color, and texture. Yet one special group stands out: medicinal mushrooms. This fraternity of fungi—maitake, shiitake, reishi, and the common white button—possesses potent healing properties, whether you consume them from your plate, supplements, or a cup of tea.
University of Illinois at Urbana-Champaign researchers discovered that raw and cooked maitake, shiitake, and white button mushrooms are rich in dietary fibers, including chitin, known to lower cholesterol, and beta-glucan, a long-chain sugar that stimulates T cell production and boosts the immune system. The mushrooms also offer high-quality protein, vitamins, and healthful unsaturated fatty acids. Medicinal mushrooms have been used for 2,000 years in Asia to treat an array of ailments and ward off disease. More scientific studies are needed, but initial findings suggest they support heart health, reduce cancer risk, and more. Not bad for a food plucked from logs and the base of trees.
MAITAKE
Maitake mushrooms were so highly prized in ancient Japan, they were often exchanged for their weight in silver. The name means "dancing mushroom" for the reaction they elicited when found. Known in the United States as the "hen-of-the-woods" for its poultry-like appearance, the capless fungus grows in clusters on oak trees.
While research into the use of maitake on cancer patients is under way, doctors in Japan use it to reduce blood pressure and blood lipids—risk factors in cardiovascular disease.
Maitake can be grilled, fried, sautéed, or brewed as a tea. (Grind 2 to 4 grams of dried maitake in a coffee grinder, add one to two cups boiling water, let seep for 20 to 30 minutes, and then strain through a coffee filter.) You can also take it as a supplement (see Supplement Savvy, below).
REISHI
Though there are six types, each classified by color, red reishi is deemed the most potent. "Reishi is known as an immune and heart booster and often prescribed as a mood enhancer and general overall health tonic," says Mark Stengler, ND, coauthor of Prescription for Drug Alternatives. In traditional Chinese medicine, the mushrooms help battle altitude sickness, support the liver, and relieve asthma.
Got allergies? Japanese researchers discovered reishi acts as a natural antihistamine. Muscle aches or arthritis? Research at the University of Texas Health Science Center in San Antonio found reishi has anti-inflammatory activity comparable to 5 milligrams of hydrocortisone.
Yet reishi isn't a mushroom you'd toss into your next salad. Its caps are more than 90 percent indigestible fiber, which gives it a wood-like texture and bitter taste. It's best used in supplements or as a tea (follow the recipe for maitake), but can be added to most soups or sauces.
SHIITAKE
The premier gourmet mushroom in America, the shiitake is aromatic and fleshy with dark brown umbrella-shaped caps about three to six inches in diameter. Besides its rich, smoky flavor and culinary range (it's a popular flavor accent for veggies and pasta), shiitake also contains lentinan, a form of beta-glucan that Japanese scientists have used to reduce cancer tumor activity and lessen the side effects of chemotherapy.
Shiitake also may shrink cholesterol levels. Early human studies showed that 460 people who consumed 9 grams daily of dried shiitake, or the equivalent of fresh shiitake (90 grams), lowered their total cholesterol levels by 6 to 15 percent after one week.
WHITE BUTTON
Don't underestimate this humble mushroom found in abundance at your local grocer. It packs plenty of nutritional punch. In 2008, French researchers reported findings in the Journal of the Science of Food and Agriculture that white buttons were as rich in antioxidants as more exotic and expensive mushrooms. They also are cancer fighters. A 2001 study in the Journal of Nutrition showed white buttons (in particular their linolenic acid, an unsaturated fatty acid) suppressed breast cancer growth in postmenopausal women by reducing estrogen production. And you don't need much to do the job. "Eating 100 grams, about 3.5 ounces, of white buttons per day may help prevent hormone-dependent breast cancer," says Shiuan Chen, PhD, of the Beckman Research Institute of the City of Hope in Duarte, Calif.
White buttons, with their plump texture and mild flavor, are the black jacket of mushrooms: They go with everything. Slip thick, raw slices into any sandwich or sauté to a golden brown color over medium heat (about 3 minutes on each side) in a little oil for a flavorful entrée topping or to spice up sauces and scrambled eggs.
Supplement Savvy
Dosages and duration vary depending on the mushroom and specific ailment you treat. Check with your doctor or alternative-medicine practitioner to determine the amount right for you.
Maitake
Dosages of dried maitake in capsule or tablet form range from 300 to 2,400 milligrams, taken twice daily. Look for a supplement containing at least 20 percent beta-glucan. Maitake is considered quite safe; however, organ transplant patients using immunosuppressive agents should use with caution.
Reishi
Standard dosage: one to five 400-milligram capsules with at least 10 percent beta-glucan taken twice daily to stimulate the immune system and reduce inflammation. Japanese research supports adding vitamin C to enhance its benefits. Side effects are rare, but include abdominal upset, dizziness, nosebleeds, and skin rash.
Shiitake
Traditional use is 800 to 3,000 milligrams, with a minimum of 10 to 20 percent beta-glucan, taken twice daily. Prolonged consumption may trigger dermatitis and/or gastrointestinal problems, according to one study.
Active hexose correlated compound (AHCC)
A Japanese supplement derived from medicinal mushrooms' mycelia. Initial research suggests it boosts immunity and may ease chemotherapy side effects. Typical dosage is two to six 500-milligram capsules daily. "Five hundred or 1,000 milligrams per day in divided doses is perfect for a healthy person to take to bolster their immune system," says Fred Pescatore, MD, author of The Allergy and Asthma Cure. AHCC is mild with no reported adverse effects.