Nuke It!
Whether you're a college kid cramming for final exams or an office worker who's just plain tired of fast food, have we got some recipes for you! All you need: a microwave and a few minutes.
Heading out the door? Read this article on the new Outside+ app available now on iOS devices for members! Download the app.
Faster than a frozen dinner! Better for you than a bag of popcorn! Able to cure the midnight (or mid-afternoon) munchies in a single bowl…every one of these simple recipes can be made in minutes in the microwave.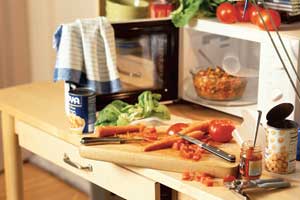 Okay, so we don't actually have culinary superpowers. But we have been stuck in plenty of situations that found us stressed, starving and wishing lunch were more than just a Lean Cuisine. So we cooked up a batch of recipes that taste gourmet—but take no time at all. You can make a bowl of miso soup that's both satisfying and healthy, or whip up a wilted spinach salad worthy of any restaurant in town. On a high-stress day, try comforting polenta smothered in sauce and cheese, or a pesto baked potato. Finally, treat yourself and a friend or two to an ultra-easy fondue. It sure beats another pizza! To get cooking, just apply these three minute-meal tactics:
1 – Stock up on a few basics
Fill a desk or dorm drawer with nuts, dried fruit, instant miso soup, a head of garlic and a whole potato or two—all items that keep a long time and don't need to be refrigerated.
2 – Hit the salad bar
Prewashed spinach and prechopped, perfectly sized veggies mean you don't have to worry about leftovers when you're cooking for one. And for college kids on meal plans, salad bar fixings are there for the taking.
3 – If you've got access to a fridge, stock it with some baked tofu, soy crumbles, a tube of prepared polenta and useful flavor boosters: pesto, curry paste and cheeses that have a kick—crumbled feta, sliced fontina, a wedge of Gruyère. They add lots of flavor—and a little goes a long way.