These Diwali Food Recipes Will Light Up Your Celebrations
Some favorite sweet and savory dishes for the festival of lights
Photo: Anshu A / Getty Images
Heading out the door? Read this article on the new Outside+ app available now on iOS devices for members! Download the app.
During the five-day festival of Diwali, celebrants will light oil lamps, set off fireworks, and gather with loved ones – and, of course, they'll indulge in an array of savory and sweet Diwali food traditions.
Diwali traditions are especially vegetarian-friendly; even people who eat meat during other times of the year often go veg during the festival. "All the non-vegetarian food items are tamasic in nature and should be avoided during Diwali season," notes an article from The Times of India, referring to the Ayurvedic concept of tamasic or 'sedative' foods.
We've collected some favorite vegetarian and vegan recipes for the holiday from Vegetarian Times and around the web to bring you peace and happiness this season.
---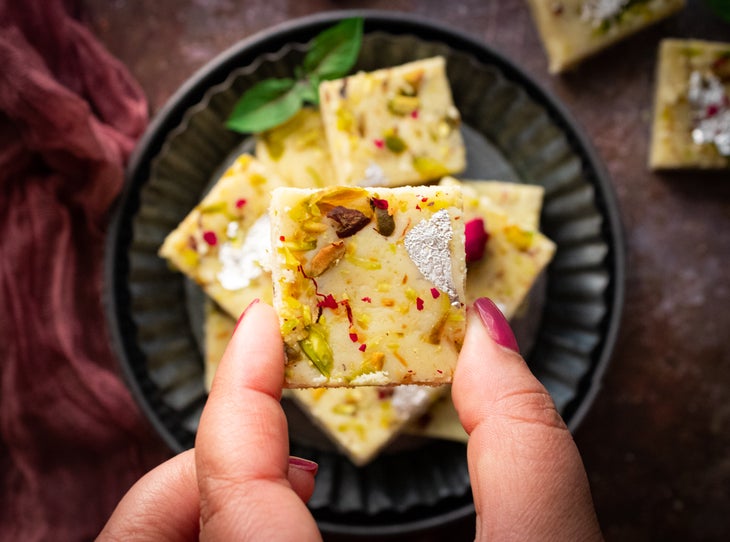 Cardamom Barfi – Vegetarian Times  This festive and pretty fudge-like sweet is inspired by a recipe VT contributor Vrunda Satpanthi's mom always made for Diwali. Vrunda's version skips the chocolate in favor of cardamom, pistachio, and saffron.
Vegan Gulab Jamun – Holy Cow Vegan  These syrup-soaked spheres are a Diwali classic. Like many Indian sweets, they're traditionally made from milk powder or khoya, but this version makes use of cashew cream instead.
Classic Vegetable Samosas – Vegetarian Times Even if you've never made your own samosas from scratch before, Vrunda Satpanthi's step-by-step instructions make it so easy and fun. Opting for oil instead of ghee in the dough makes them fully vegan as well.
Gujiya Dumplings – Dassana's Veg Recipes Similar to empanadas, this North Indian treat is a pastry pocket stuffed with creamy, nutty filling.  Often they're fried, but you can also bake for a lighter version.
Puran Poli Sweet Lentil Flatbread – Ministry of Curry You might not associate lentils with sweets, but these delicate flatbreads will change your mind. Made with yellow lentils, cardamom, nutmeg, and saffron, this dish from the Maharashtra state is a Diwali food favorite.
Podi Mas Smashed Potato Masala – Vegetarian Times A family recipe courtesy of television host Padma Lakshmi, the potatoes in this vegan dish achieve a pillowy texture everyone will love.
Creamy Paneer Masala – Vegetarian Times This reader-favorite recipe is good for any season, including Diwali, and is super adaptable. Traditionally made with paneer cheese, it works equally well with cubed tofu.
Masala Chai – Cook with Manali The scent of a warm cup of masala chai is one of life's pleasures. This dairy-free version is the result of two years of tweaking the spices and plant milk options to dial it in just right (the secret is cashew milk) and is a perfect accompaniment to your Diwali food menu.
Vegan Gajar ka Halwa – Holy Cow Vegan Made with shredded carrots, this dessert has a thick, sort of pudding-like consistency – and will have you spooning up bite after bite
---
RELATED: Vishwesh Bhatt Has a Thing for Eggplants
---
Get more of what you love from VT. Follow us on Instagram, Facebook, and Twitter, and sign up for our email newsletters.