Vegging Out: NYC's Vegan Fast Food Solution
Heading out the door? Read this article on the new Outside+ app available now on iOS devices for members! Download the app.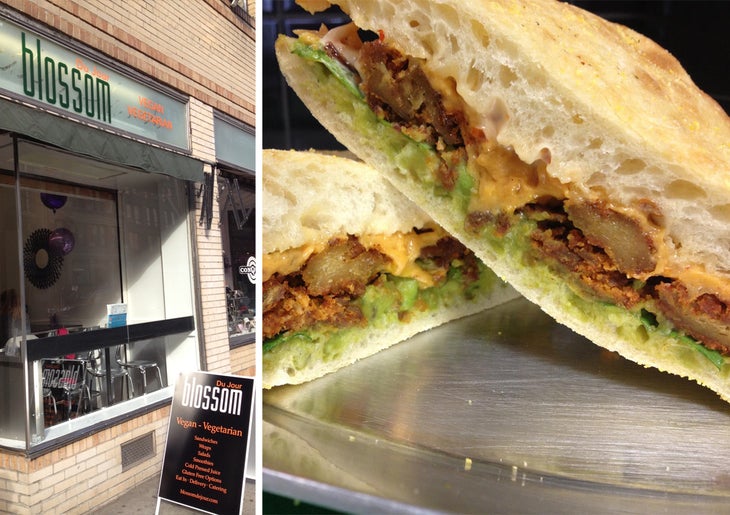 It is a familiar tale: You're at work, short on time, and ravenous for healthy, delicious food in your belly. Packing a lunch didn't happen, as usual, due to your hectic schedule, and there's no way you'll settle for junky fast food. If this sounds like you, and you're lucky enough to be in New York City when lunch hour strikes, Blossom Du Jour better be on your radar. 
If the name Blossom Du Jour rings a bell, that's because the chain of vegan fast food establishments is the offspring of the celebrated upscale vegan restaurant Blossom, located in an historic two-story building in Chelsea. Since the thrilling success of Blossom, owners Pamela Blackwell and Roner Seri opened two eateries by the name of Café Blossom plus three Blossom Du Jour locations. The newest flagship Blossom Du Jour just popped up in Chelsea this spring.
Menu superstars at this vegan hot spot include the tasty Avocado Griller (pictured above) and SkyScraper Burger, a vegan burger with all the work (onion rings, vegan cheese, lettuce, tomato, pickles, and their special BBQ sauce). If you are a fan of Mexican cuisine, be sure to visit on Taco Tuesday. Craving Italian? Try the Eggplant Parm Sub or The Little Italy (a sandwich prepared with veg meatballs, sautéed peppers, and onions, topped with a rich marinara sauce).
Blossom Du Jour also offers delicious vegetable and fruit smoothies and decedent vegan desserts. Gluten-free options abound, and everything is organic. Need I say more? Run, don't walk, to this vegan fast food oasis.
For more information visit blossomdujour.com.
Talia Fuhrman has a B.A. in Nutritional Sciences from Cornell University and is a freelance body image and nutrition writer and chef. She's on a mission to help people understand that eating healthfully and feeling fantastic can be fun, delicious, and easy. She has written for numerous websites and magazines including Psychology Today, Positive Impact Magazine, VegNews, CrazySexyLife.com, GirlieGirlArmy.com, and DiseaseProof.com. You can find her at www.taliafuhrman.com and on Facebook.