A Feast for the Turkeys, Not of Them
With such a strong focus on eating turkey, Thanksgiving can be a tough holiday for vegetarians and vegans. One farm animal rights group put a spin on tradition by throwing a festive Thanksgiving feast where "turkeys are the guests of honor, rather than part of the menu."
Heading out the door? Read this article on the new Outside+ app available now on iOS devices for members! Download the app.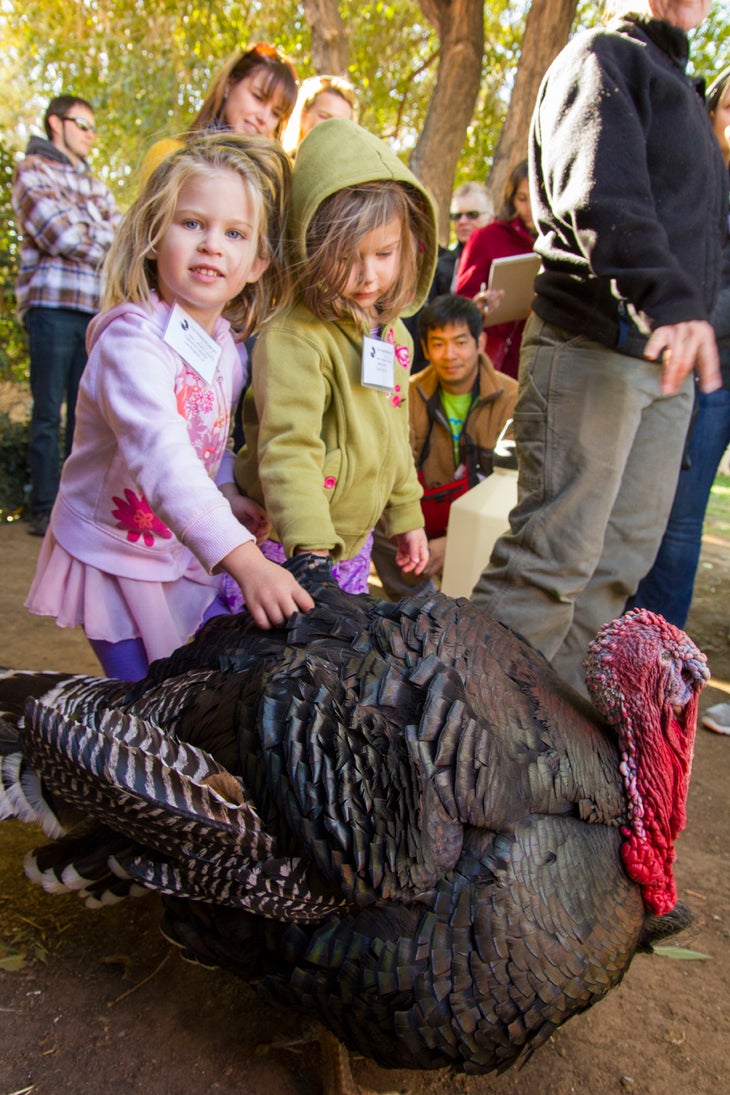 With such a strong focus on eating turkey, Thanksgiving can be a tough holiday for vegetarians and vegans. Last weekend, however, one farm animal rights group put a spin on tradition by throwing a festive Thanksgiving feast where "turkeys are the guests of honor, rather than part of the menu."
Farm Sanctuary, the largest farm animal rescue organization in the country, held its annual "Celebration for the Turkeys" at its farm in Acton, California, where guests got to meet rescued animals, feed rescued turkeys, and listen to guest speakers while enjoying a vegan holiday feast. After being greeted on a chilly (for California) afternoon with hot apple cider and cookies, guests were led on a tour of the sanctuary by Shelter Director Susie Coston, meeting the various goats, pigs, cows, and horses that the organization had rescued from desperate conditions on factory farms and ranches.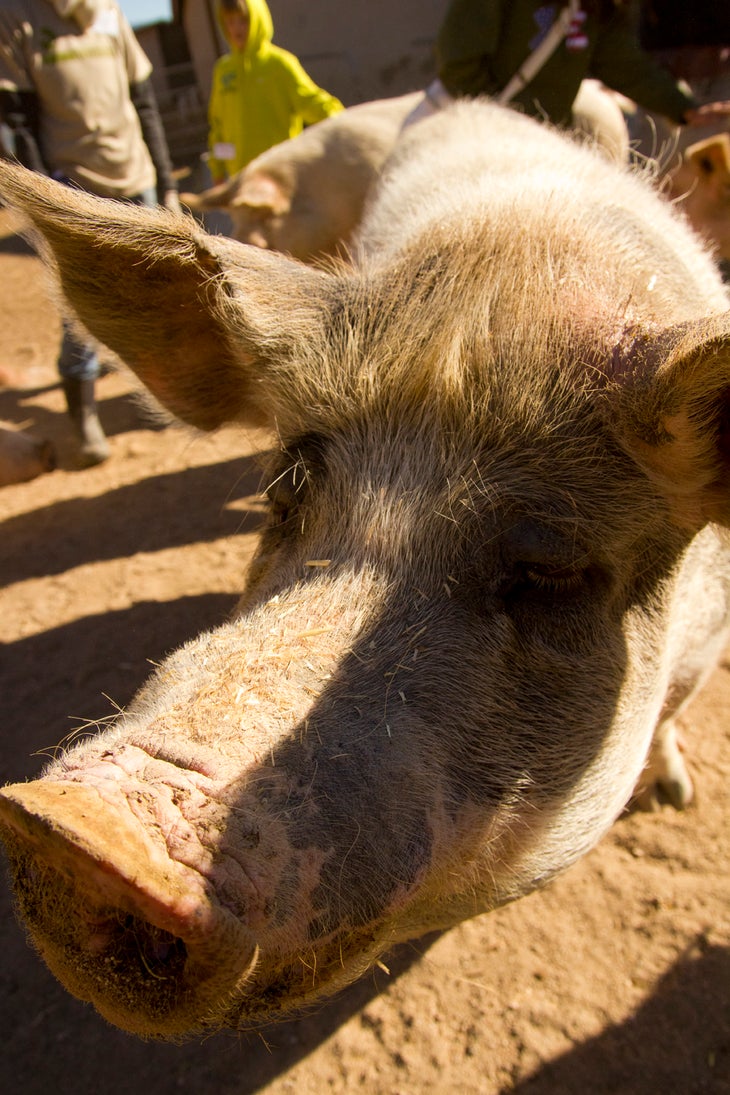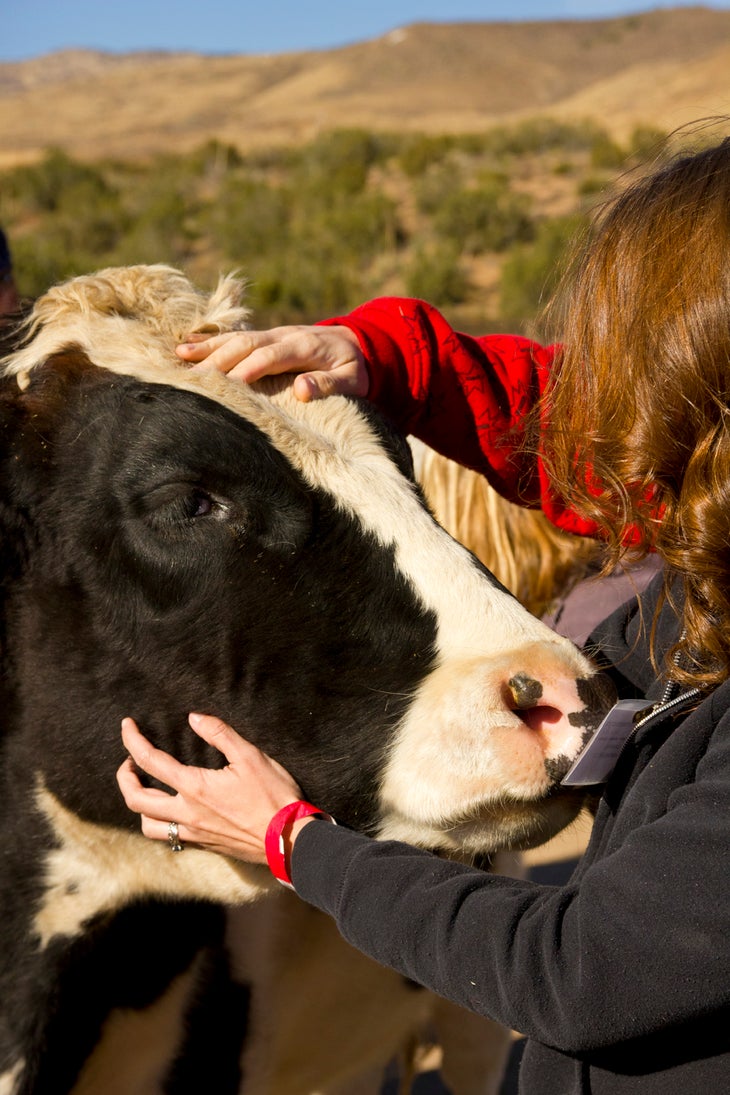 Meeting the animals and learning their stories was a touching experience. Coston explained that many came to them in bad shape, but are now thriving under their compassionate care. Joanne the horse, for example, was deathly afraid of people after her career as a tripping horse in rodeos, but with Farm Sanctuary's help, she happily greeted guests giving her a pat on the nose. The turkey feeding was the main event, though, as dozens of rescued turkeys were presented with "salad" and "pumpkin pie" at the center of a circle of guests. Children had rescued animals literally gobbling food out of their hands as smiling parents snapped photos.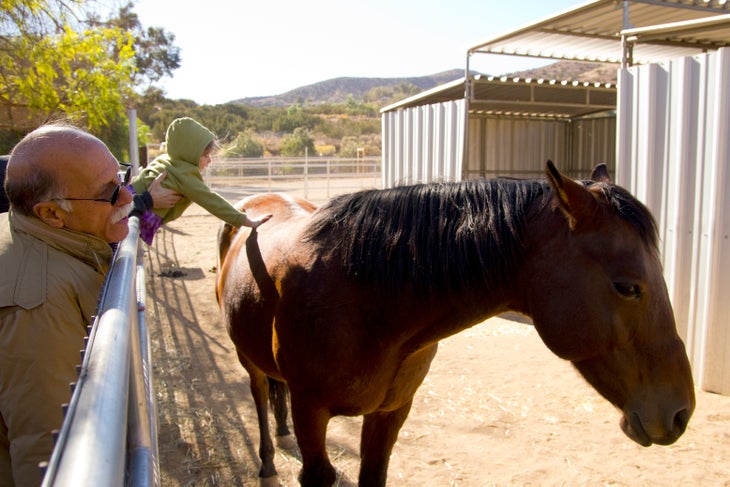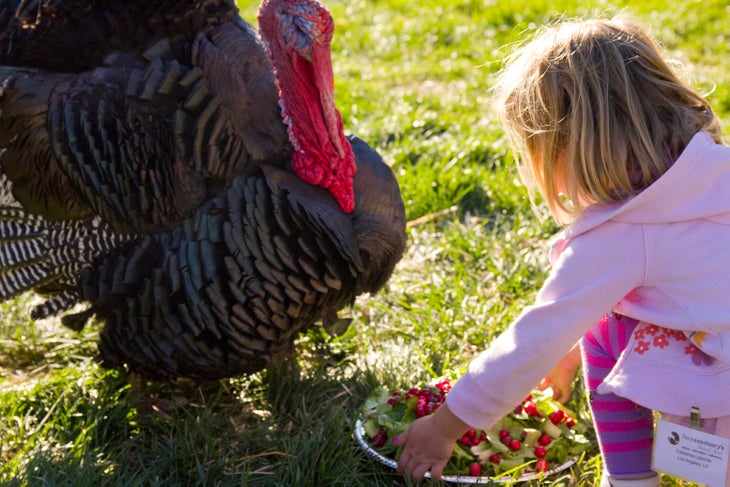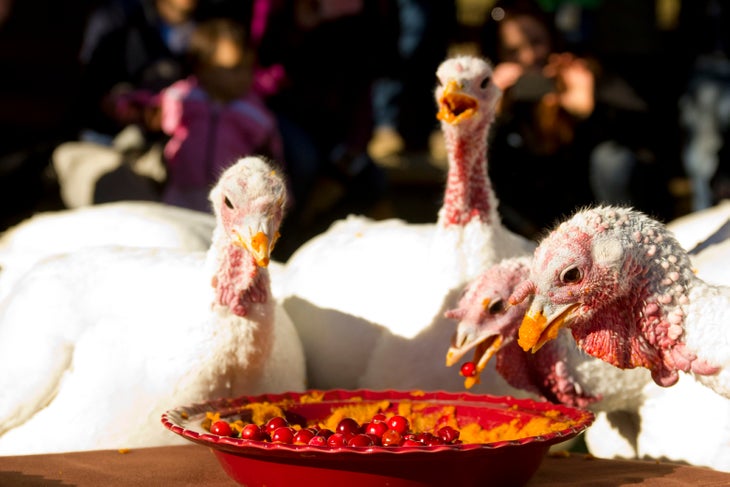 The star of the show was definitely Russell, a 50-pound male turkey rescued from a factory farm who was particularly vocal during the festivities.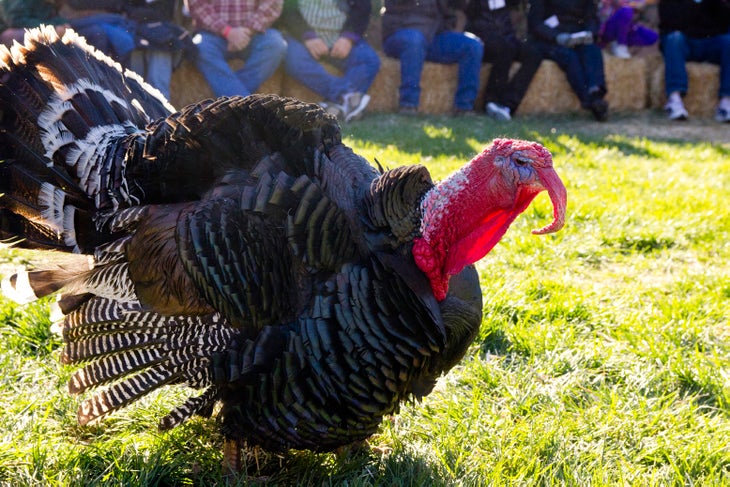 After the turkey feeding, we headed to a large, heated tent to enjoy our own mouth-watering vegan Thanksgiving meal, including a tasty kale salad, mashed potatoes with gravy, stuffing, Tofurky with cranberry sauce, and pumpkin spice cake.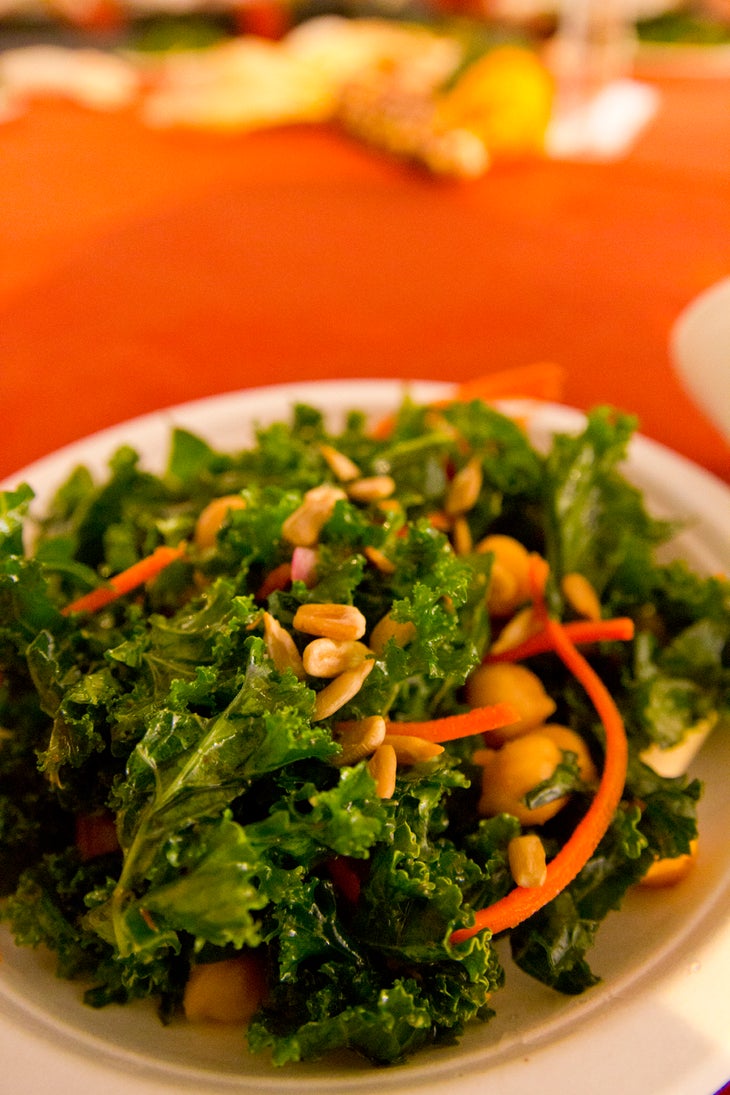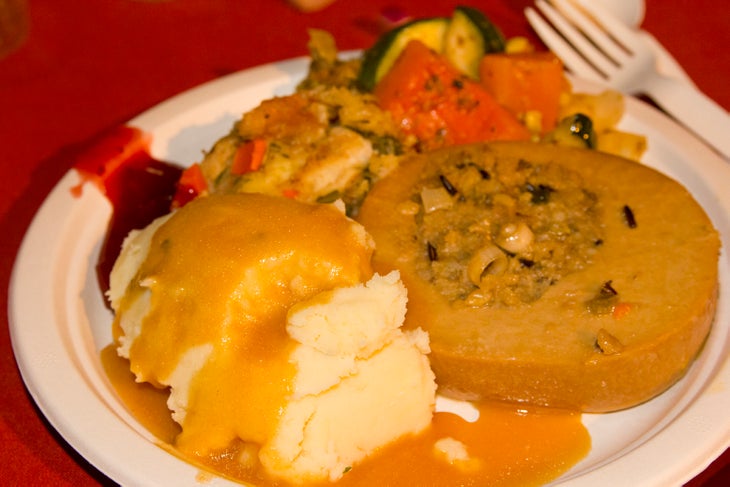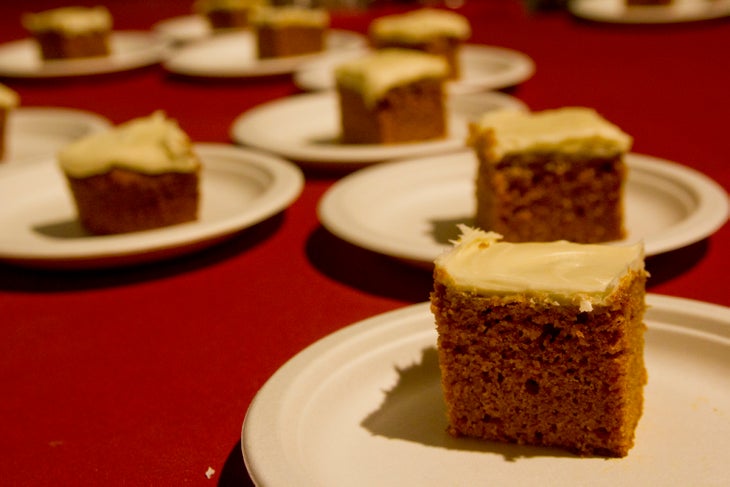 A number of speakers, including actress Loretta Smit, Farm Sanctuary co-founder Gene Baur, and the Humane Society's Jonathan Balcombe informed the audience about the need for better, less cruel farm practices. Guests were encouraged to leave the sanctuary remembering their encounters with the intelligent and emotive turkeys that most people think of only as a meal, and to try to serve up an extra helping of compassion at their own upcoming Thanksgiving feasts.