Happy Vegiversary to VT reader Susan Hayse!
Congratulations to VT reader Susan Hayse, vegetarian since 2004 and winner of a prize pack from Frontier Natural Products.
Heading out the door? Read this article on the new Outside+ app available now on iOS devices for members! Download the app.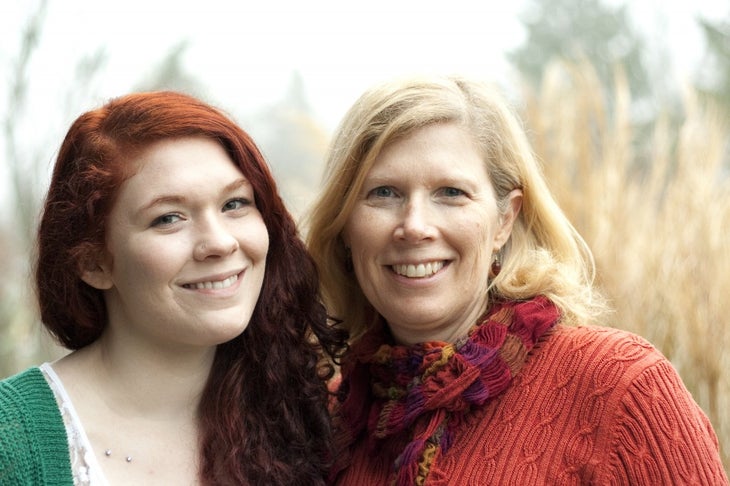 Susan Hayse (on right), with her daughter Claire
Congratulations to VT Reader Susan Hayse of Illinois, Vegetarian Since 2004!
In celebration of her Vegiversary, Susan won a Complete Spice Rack Restart Kit from Frontier Natural Products, plus 6 Frontier aprons and 6 sets of Vegetarian Times utensil kits to share with friends.
What motivated you to go veg?
My daughter needed company when she decided to go veg at 12 years old.
What's your favorite veg-friendly restaurant, and what do you order there?
Alfalfa in Lexington, Kentucky. I love their homemade bread and cabbage salad.
What's your favorite spice?
Nutmeg! The smell reminds me of home, family, and special occasions.
What's your most treasured piece of cookware?
My grandma's cast-iron Dutch oven. Every time I pull it out, I can see her in her kitchen, standing over the stove in a house dress!
What's your best advice for new vegetarians/vegans?
Find a friend who will join you and trade ideas/recipes. Eating is a social activity and builds human connections. Don't let your vegetarianism ever drive a wedge between you and others.
Share your Vegiversary at vegetariantimes.com/vegiversary.