Glossier, the Internet's Favorite Beauty Brand, Is Transitioning to All-Vegan Formulations
A Glossier exec confirms to Vegetarian Times that all future product releases will be vegan as well as certified cruelty-free
Heading out the door? Read this article on the new Outside+ app available now on iOS devices for members! Download the app.
Glossier, the beauty brand best-associated the 'no-makeup makeup' trend, is already Certified Cruelty-Free and is on the way to being entirely vegan. The skincare and cosmetic brand began the transition in 2019. Since then, all new products launched have been vegan and some existing products have been reformulated.
According to Chenaya Devine-Milbourne, senior director of product marketing and development, inspiration to give the brand a cruelty-free and plant-based makeover came straight from customers.
"People are at the core of how and why we develop the products we do. Our community shares what products they'd like to see, the role beauty plays in their lives, and what causes they're passionate about," she says. "The industry, and innovation within, has changed dramatically since we launched in 2014. Over the last few years, our global community has encouraged us to re-examine our formulation standards, including working towards transitioning to a vegan portfolio, and we are proud and excited to continue this work."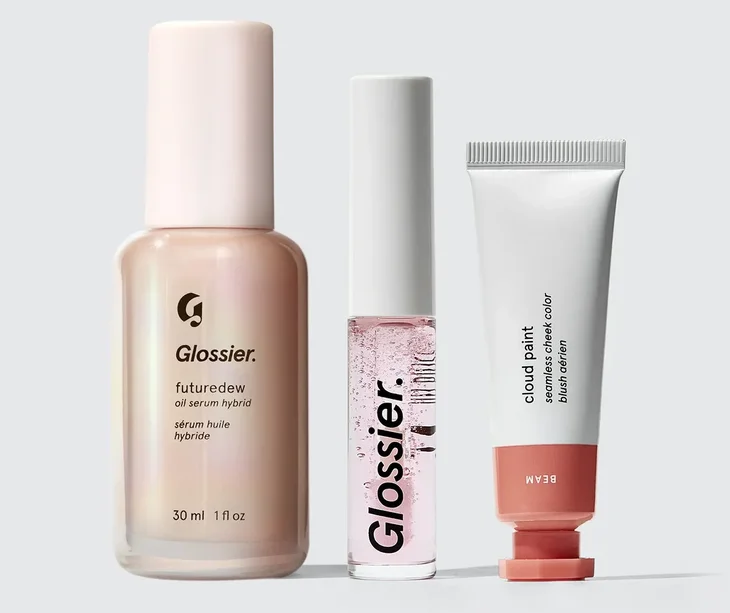 Glossier's cruelty-free claims are backed by Leaping Bunny, an internationally-recognized organization. To earn Leaping Bunny certification, companies must meet stringent criteria to ensure brands are compliant and agree to be monitored through regular audits. In the case of Glossier and its vendors, that means no testing on animals at any stage of product development.
"It was important to us to get certified by Leaping Bunny. We want our customers to be confident of our efforts on this front, which is why we pursued getting certified," Devine-Milbourne, notes.
Is Glossier Vegan?
Today, about half of what Glossier sells is vegan, including the recently-reformulated Generation G sheer matte lipsticks. That product is now made with a blend of sunflower and synthetic beeswax, rather than bee-produced. But the brand has let down vegan customers in the past.
Back in 2018, the cosmetic and skincare company  claimed that its Lash Slick mascara was vegan. Glossier staff labeled the product as vegan because it's made with vegan biotin. However, the product contained beeswax, leaving many vegan customers upset, as they consider beeswax and honey to be an animal byproduct and therefore not vegan. The company apologized for what they claimed was a "copy mistake" and offered refunds after the error. Lash Slick's current formulation still contains beeswax.
Devine-Milbourne confirms that, going forward, all new Glossier product launches will be vegan.
That's true for the brand's newest product, After Baume, a nourishing face moisturizer. The cream leaves the face feeling plump and deeply moisturized for a full 24-hours, a miracle rescue during the grueling winter months. To get the impressive results from plants, Glossier uses cupuaçu butter as an alternative to lanolin, and green microalgae extract and linoleic acid to help skin retain moisture. After Baume's babassu oil is jam-packed with Vitamin E, antioxidants, and fatty acids and the post-biotic ferment is a skin-friendly probiotic bacteria that restores balance at a microscopic level.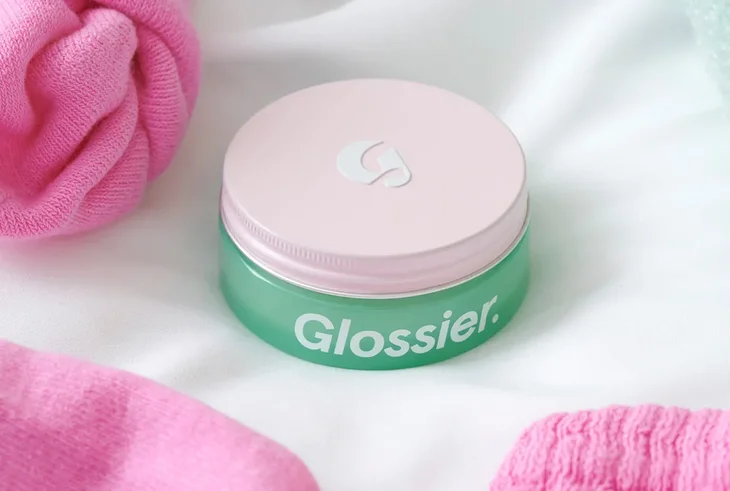 After Baume has been an absolute must for my skin as I traverse around the driest place on Earth, Antarctica. I'm visiting the southernmost continent on the planet on Hurtigruten Expedition's MS Roald Amundsen — the world's first battery-hybrid cruise ship. The wind chill and freezing temperatures are no joke but After Baume has kept my skin glowing.
Even the packaging is greener. After Baume comes in a reusable, recyclable glass jar fitted with an aluminum lid.
As someone who is vegan in both my lifestyle and my diet, I've finally been able to indulge in the Glossier hype and am fully about that Glossier girl life. I love how the creamy gel Milky Jelly Cleanser feels on my skin and it's helped to keep my overly oily face acne-free. It utilizes vitamin B5, a natural moisturizer found in mushrooms. Paired with After Baume my skin has never looked better.
I wear minimal makeup and adore the barely-there Glosier products that accentuate my features. The Brow Flick water-resistant eyebrow detailing pen is the easiest brow product I've ever used and gives me thick brows that look laminated in seconds — and it's sweatproof. With mask-wearing still the norm due to the ongoing COVID-19 pandemic, I love to play with liquid eyeliner for a quick and easy makeup look that my mask won't destroy. Pro-Tip is sturdy to apply and not too dark.
The cult-favorite Generation G barely-there lipstick (which is buildable for a bolder look) is vegan and comes in a fun array of hues from Leo brown shade to Zip orange-red. For more of a sheer balm, the Ultralip provides hydration, shine, and a splash of color in Vesper fuchsia, Ember mauve, Villa dusty rose, and more. Other vegan products include Super Pure face serum, Body Hero Exfoliating Bar with biodegradable bamboo powder, and the oxybenzone-free Invisible Shield SPF 30.
Devine-Milbourne says clientele can expect a new special vegan product  at Glossier soon, though she's keeping some details secret for now. "There's one specific project that the brand has been working on for five years that I am excited and honored to bring to life later this year that's both vegan and refillable," she says.
---
RELATED: What You Need to Know About 'Cruelty Free' Beauty
---
Get more of what you love from VT. Follow us on Instagram, Facebook, and Twitter, and sign up for our email newsletters.