After Committing to #VanLife, I Learned the Secret of Eating Fresh, Vegetarian Food on the Road
Living in a van simplifies the complicated and it complicates the simple. Not having electricity, a fridge, or running water can be a big complication.
Photo: Logan Foll of Foll Exposures
Heading out the door? Read this article on the new Outside+ app available now on iOS devices for members! Download the app.
I always say that living in a van simplifies the complicated and it complicates the simple. Not having electricity, a fridge, or running water can be a big complication – especially when it comes to cooking and wanting to maintain a healthy, vegetarian diet that supports all of the activities and adventures I want to take. But, after two and a half years of van life, I know the freedom of living on the road in my rig is worth any challenge I face.
When most people hear about my rather limited kitchen arrangements, they assume that my meals must consist of cereal, backpacker food, and peanut butter-and-jelly sandwiches. And sometimes I do eat those things! But, as a vegetarian of 13 years, more often I can be found chopping up fresh vegetables and making a nourishing, filling meal fit for any health-conscious household.
With a bit of practice, plenty of trial and error – and many evolutions of the grocery list – I've developed systems to sustain my lifestyle that change with the seasons. The routine is a balancing act, and my phone's weather app has become a big part of van life meal planning.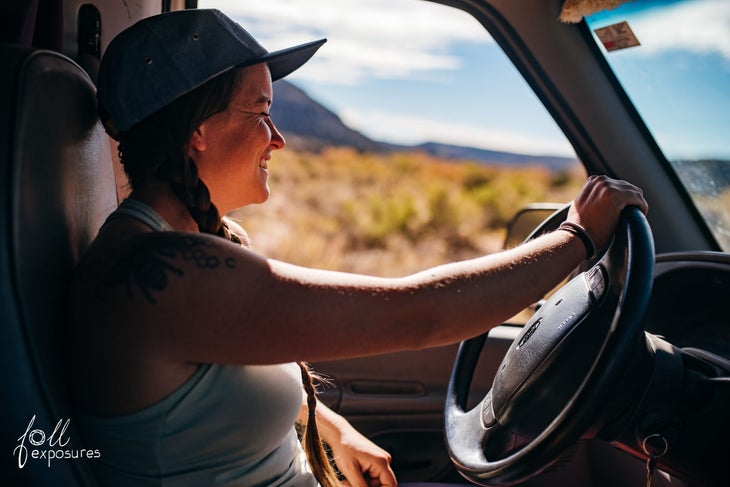 Just as when I lived in a sticks-and-bricks home, I do a lot of my grocery shopping in the produce department. To adapt to vegetarian van life, I have learned to buy produce according to both the limited space I now have, as well as the weather of the moment. Everyone loves eating with the seasons, but my mindfulness is not only based in environmental concern, but also needing to be aware of how fast my produce will go bad given the temperature of the day.
As we drive further into summer, I tend to keep less produce on hand and go to the store more often. When I do buy produce, I purchase a combination of foods I know I'm going to have to eat in the next 24 hours (think salad mixes, mushrooms, and hummus) and veggies that I know have more staying power, like potatoes, Brussels sprouts, onions, and other root vegetables. Once the temps are reaching into the 90s, I often don't feel like cooking at all. I don't want to add heat to my oven-of-a-van, so veggies I can eat raw are a summer favorite.
Without a refrigerator, I depend on just my Yeti cooler to keep things fresh – and I'm kind of stubborn about buying ice. Generally, I'll only buy ice a few times a year, during the hottest part of the summer. Ice takes up a ton of space in the small cooler, and, once it melts, I have to empty it and deal with water-logged items. It's gross and a hassle I would rather avoid.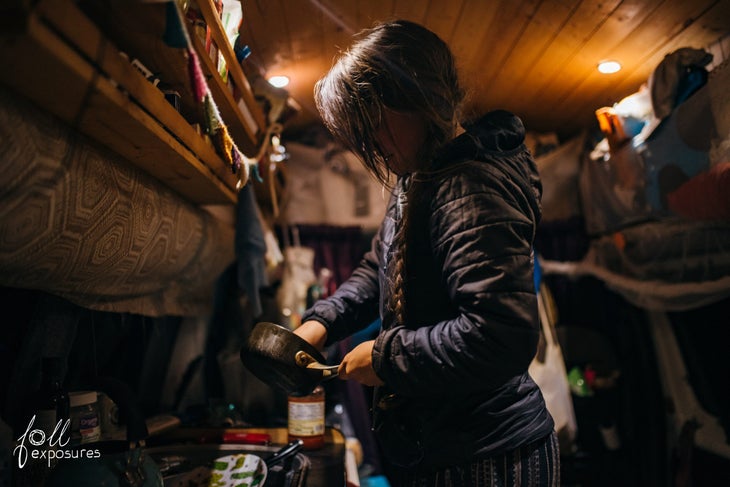 To keep the food in my cooler a little, well, cooler, I prop open the lid at night and keep it closed during the day. Except for the peak of summer this is a great practice.
In the winter months, I stockpile more veggies because the lower temps mean food will stay fresh longer. When it's cold out, I'm also more likely to want to cook an involved meal because heating the food also heats the van; warming my home is an added bonus to cooking good food.
In addition to my fresh produce rotation, I keep dry goods and canned veggies on hand to eat in times I haven't gone to the store enough, to augment a meal, or to make meals easier by not having to chop and clean and cook as much.
Vegetarian van life is easier than people think and staying healthy on the road with limited space and amenities is more than doable. It's helping me thrive and live life according to my dreams, whims, needs, and practicalities.
---
RELATED: This 'Vegan Hunting' Guide Is Preserving the History of Seaweed Foraging Along the California Coast
---
Get more of what you love from VT. Follow us on Instagram, Facebook, and Twitter.