WEEKEND PROJECT: Super-Easy, Upcycled Coffee Can Planter
This year around holiday-time, a kind co-worker gifted me a delightful miniature Christmas tree in a tiny cardboard planter adorned with a big red bow. With high hopes, my little tree rode in my passenger seat home from the office with me and has been sitting pretty on my entry way console ever since. Each day on my way out the door and each evening on my way back in, he greets me with the comforting, woodsy scent of cypress and a silent plea: "Replant me, replant me!"
Heading out the door? Read this article on the new Outside+ app available now on iOS devices for members! Download the app.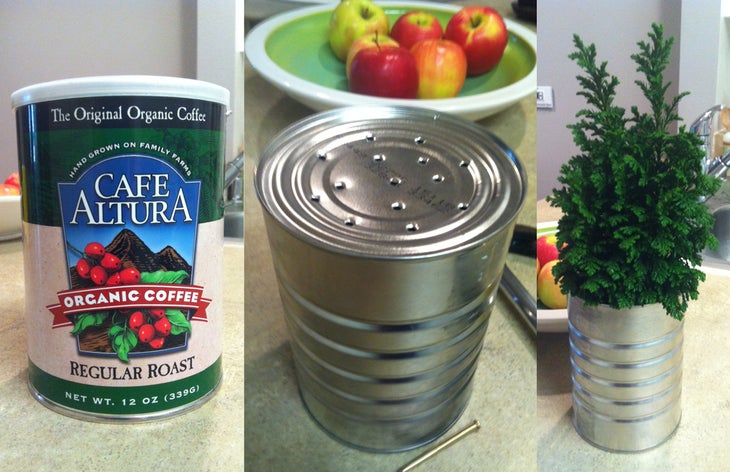 This year around holiday-time, a kind co-worker gifted me a delightful miniature Christmas tree in a tiny cardboard planter adorned with a big red bow. With high hopes, my little tree rode home with me in my passenger seat and has been sitting pretty on my entry way console ever since. Each day on my way out the door and each evening on my way back in, he greets me with the comforting, woodsy scent of cypress and a silent plea: "Replant me, replant me!"
Seeing that I'm a softie for all things green and smelling of ancient forests, I wanted to find just the right container to give this little guy room to spread his roots. The muse arrived as I recalled a vision from the summer before: a succulent garden planted in coffee cans that I had seen outside a clothing store on Abbot Kinney Blvd., a hip shopping street  in Venice, California. I remembered thinking: That's so cool and so easy. I can do that.
As luck would have it, I was just about to unearth the shiny bottom of a can of my brew of choice, Cafe Altura Organic Coffee. By week's end, I had brewed every last grind. I think it was the first time ever that I was excited to be out of coffee. Rather than recycle the can as I usually would, I set out to upcycle it instead. (Coffee highbrows, take note: If you eschew canned coffee, any large can will do, such as one from stewed tomatoes.)
Without further ado, here are the 3 steps for what might be the world's easiest DIY project.
1. Drink lots of coffee and save the can. I peeled the sticker off mine—probably the hardest part of the project—but you could just leave it on for a vintage-y look. I happen to like the look of the "naked" silver can, but you could also paint the can or cover it with fun contact paper if you want to get fancy.
2. Turn the can upside down and hammer plenty of drainage holes in the bottom using a hammer and nail.
3. Plant your plant.
That's it! I told you it was super-easy. Here's what Mr. Cypress looks like now in his new digs!