Coachella Vegan Food Hit List: The Best Snacks to Fuel Your Festival Experience
Everything you need to try from the most vegan-friendly food lineup in the festival's history
Photo: Top: Kogi, Sweetfin; Bottom: Craig's Vegan, Sunny Blue
Heading out the door? Read this article on the new Outside+ app available now on iOS devices for members! Download the app.
Coachella has evolved from a music and arts festival to one that also showcases a food lineup nearly as impressive as the roster of musicians performing in the Southern California desert. In more recent years, the Coachella vegan food options have expanded way beyond dry veggie burgers and measly, overpriced chips and guac. With the famed festival returning this month after a two-year, pandemic-induced hiatus, there are more meat and dairy-free options than ever before — two times more than in 2019, to be exact.
Fully 60 percent of all food vendors on the sprawling festival grounds are offering plant-based dishes and out of just under 60 total restaurants on-site, 10 are completely vegan. To celebrate the occasion, we've rounded up the best vegan snacks you can find on-site — from spicy jackfruit tacos to matcha soft serve. Try to catch them all. And, even if you're not attending the festival, remember that you can find many of these vendors at their brick-and-mortar and pop-up restaurants throughout the year.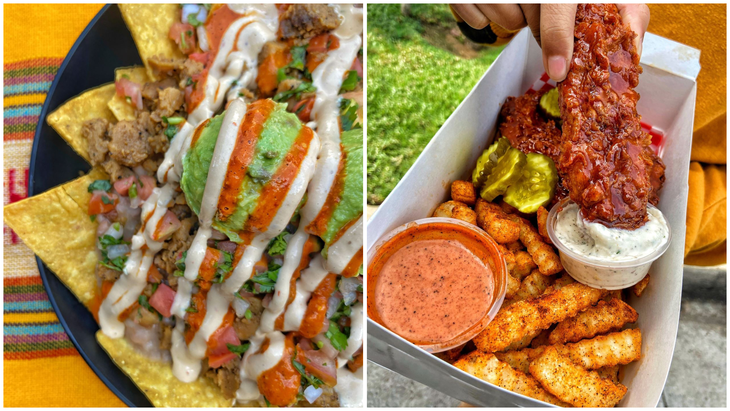 The Best Coachella Vegan Food Vendors for Festival Snacking
Vendors marked as 12 Peaks VIP are only accessible to those with VIP tickets. There are plenty of other vegan and veggie spots available, including Monty's Burger, Slutty Vegan, and Trill Burgers, but we're focusing here more on quick bites rather than burgs. 
Cena Vegan
Cena Vegan specializes in burritos and tacos filled with richly flavorful vegan carnitas, al pastor, carne asada, pollo asado, barbacoa, and birria. At the festival, they'll also be serving their nacho boat — a pile of tortilla chips loaded with the plant-based protein of your choice, refried beans, pico de gallo, guac, cashew crema, and salsa.
Backyard Bowls
In the mood for something lighter, and fruit-forward? Head to Backyard Bowls and ask for their nutrient-packed Power Bowl, a blend of organic acai, blueberries, and banana topped with almond butter, more blueberries and banana, hemp seeds, and Santa Barbara honey. (12 Peaks VIP)
Post & Beam
L.A. restaurant Post & Beam is acclaimed for its Southern approach to seasonal California cuisine. And at Coachella — weekend one, only — they'll be dishing their vegan crab cakes with spicy kale slaw, served with black eyed pea hummus and aioli. (Weekend 1 only)
Bridgetown Roti
Weekend two festival goers should consider themselves lucky, and get on line for Bridgetown Roti. The order? Chef Rashida Holmes's delectable channa and sweet potato roti, which is vibrant in both color and flavor and stuffed with coconut chickpea curry, fried cauliflower, spiced turmeric slaw, cilantro, and scallions. (Weekend 2 only)
Dayglow x AWAN
The L.A. and Chicago-based coffee shop Dayglow is collaborating with the innovative Indonesian ice cream brand AWAN on two non-dairy soft serve flavors — coffee and matcha — to deliver refreshingly energizing sweet treats.
El Chino Grande
El Chino Grande is the San Francisco-based chef Chris Yang's Taiwanese pop-up that borrows from Hawaii and other Asian cuisines. The dish to try here is called Yuba N Rice: sesame seasoned yuba sourced from Hodo Foods and served with short grain rice, cabbage slaw, and pickles. (12 Peaks VIP)
Lettuce Feast
Lettuce Feast is bringing its plant-based soul food to festival goers with VIP wristbands, and their chick'n fingers are the indulgent snack you'll want after a day of dancing. Thick strips of vegan chicken are marinated in "special" seasonings, hand-breaded, and fried in refined peanut oil to delicious results. Cajun fries, pickles, and your choice of dipping sauce all come with. (12 Peaks VIP)
Kogi
Although the exalted Kogi truck is known for its Korean tacos, they also make vegan spiced fries, which will be available on-site at Coachella. And these aren't any old fries; they're beer-battered and tossed in Kogi chili salt then served with sriracha ketchup. (Indio Central Market)
MANEATINGPLANT
You know what's an excellent, satiating snack? Noodles. Good thing chefs Candice Tzeng and Phil Kwan of Asian vegan food truck MANEATINGPLANT will be serving their signature, freshly made garlic noodles laced with shiitake mushrooms, Chinese broccoli, pickled mustard greens, crispy shallots, and chili oil. (12 Peaks VIP)
Vibe Organic Kitchen
Vibe Organic Kitchen is not only vegan, it's also entirely gluten-free. At the festival, you can get their tacos — which come on homemade heirloom corn tortillas — in two flavors, spicy jackfruit carnitas and roasted butternut squash finished with pico de gallo, guacamole, cashew-lime crema, and pickled onion. (12 Peaks VIP)
Ramen Hood
Ramen Hood will be on-site doling bowls of ramen noodles in sunflower seed and smoked onion broths. But if that feels too heavy for your snacky mood, call for an order of their spicy tater tots topped with the restaurant's signature spice blend, togarashi, and vegan sriracha mayo. 
Sunny Blue
Omusubi, also known as onigiri, are stuffed rice balls sandwiched in seaweed that fit perfectly into the palm of your hand. They are Sunny Blue's specialty. Vegans should spring for the fragrant and tart shiso-ume, which incorporates fresh shiso leaves and a paste made of the Japanese pickled plum. (12 Peaks VIP)
Sus Arepas
Don't overlook the vegan version of Sus Arepas's griddled, stuffed Colombian wonders. Black beans lay the groundwork for fat slices of caramelized sweet plantains and sliced avocado, all stuffed into a fluffy arepa.
Sweetfin
Not all poke must be made with fish, in fact, some of the best versions are plant-based. Sweetfin knows this, and will be offering their wholesome sweet potato bowl at Coachella. It starts with earthy forbidden rice then adds diced sweet potato, avocado, cucumber, edamame, napa cabbage, daikon sprouts, scallions, and sesame, and a ponzu lime sauce. 
All Dat Dim Sum
This dim sum is all that. Particularly the cloud-like veggie buns stuffed with mushrooms and mixed veggies. They come two to an order, but you might want to double up.
Broad Street Oyster Company
Those with VIP tickets can nab a reservation at Broad Street Oyster Company's pop-up restaurant, where vegan lobster rolls made with hearts of palm are on the menu. (12 Peaks VIP)
Craig's Vegan
The vegan ice cream brand from celebrity hot spot Craig's will be scooping five flavors on-site, both in the VIP section and from a cart in the Rose Garden. For something tangy and sweet, try the Sunset & Strawberry. Better yet, combine it with the peanut butter-based Kursten's PM Krunch for a PB&J-style experience.
---
Heading to the Coachella Festival?  
RSVP to join Vegetarian Times for our free festival-weekend party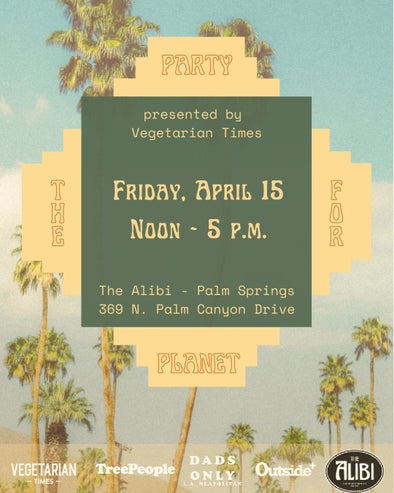 ---
Get more of what you love from VT. Follow us on Instagram, Facebook, and Twitter, and sign up for our email newsletters.