DAY 1: Bulk Buying 101 Crash Course
Heading out the door? Read this article on the new Outside+ app available now on iOS devices for members! Download the app.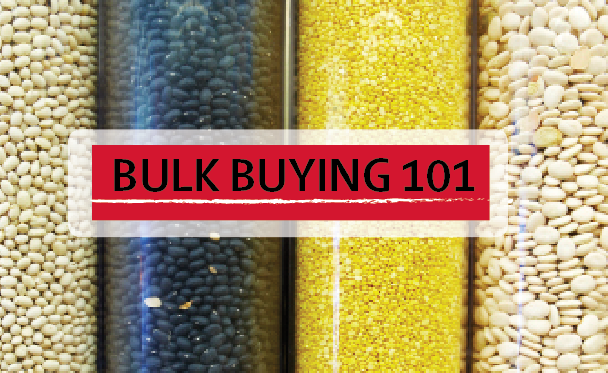 Today officially kicks off VT's 7-Day Bulk Buying 101 Crash Course right here on the Veg Daily Blog! Even if you've never stepped foot in the bulk bin aisles, seven days from now you'll be shopping—and cooking—smarter than ever before.
Seeing that you showed up on time for the first lesson, you probably caught the Bulk Buying 101 feature in the November issue of Vegetarian Times. Just in case you missed it, you can catch up by reading the story online. To get the most out of this crash course, pretty please with an organic cherry on top don't skip this required reading, which includes 6 essential dos and don'ts to help you make the most of your next bulk foods shopping trip, plus four bulk-friendly recipes to inspire your cooking. (Hint: there may even be pop quizzes along the way—wink, wink!)
Before we get started with our first lesson—a super fun Bulk Buying 101 video starring the celebrated Spork Foods sisters Heather Goldberg and Jenny Engel—here's a quick look ahead at our 7-day agenda:
Day 1 VIDEO: Bulk Buying 101 with the Spork Foods sisters
Day 2 Gems of the Bulk Foods Aisle
Day 3 VIDEO: How to Store Bulk Bin Ingredients with the Spork Foods sisters
Day 4 5 Creative Reuse Ideas for Plastic Produce Bags
Day 5 VIDEO: How to make Creamy Vegan Pistachio Pesto over Brown Rice with the Spork Foods sisters
Day 6 Organic chef Ani Phyo's Bulk-Friendly Fudge Brownies Recipe
Day 7 No Expiration Date, No Problem: Shelf-Life Recommendations for Bulk Ingredients
Ready for today's vid? Sit back, relax, and tune in below to learn all about Heather and Jenny's favorite items to buy in the bulk bins, how to navigate the bulk bin aisles, the cost savings and eco-benefits of buying in bulk, and the 4 rules of bulk bin etiquette. After watching, be sure to join our class discussion below!
We hope you enjoyed Day 1 of our 7-Day Bulk Buying Crash Course! Check out today's discussion questions, and don't be shy about asking any question you want answered during our crash course below!
Today's discussion questions:
1. Have you been shopping in the bulk bins for years or are you a bulk-bin newbie?
2. What are your favorite items to buy in the bulk bins?
3. Do you have any additional bulk bin etiquette tips to share?
Join the conversation below!