Here's Where to Find the Best Vegan Food at Disneyland
From Impossible chili fries to Dole Whip
Heading out the door? Read this article on the new Outside+ app available now on iOS devices for members! Download the app.
Fun theme park snacks are as much a part of any trip to Disneyland as getting a photo with Mickey – but for vegan and vegetarian visitors, seeking out the best options can still require a little extra effort.
When the new Avengers Campus opens in California Adventure on June 4, it will bring with it the Ant-Man-themed Pym Test Kitchen restaurant, branded as a collaboration with Impossible, right down to a sign for the faux-meat brand hung over the entrance. While not exclusively vegetarian, the restaurant does offer several veg dishes for kids and adults, including pasta dishes with Impossible meatballs and the "garden breakfast" plate featuring a plant-based egg omelet and Impossible sausage.
That partnership (which made Impossible the "preferred plant-based burger" of all Disney properties) is part of an overall initiative to roll out more vegan and plant-based options at the parks, first announced in late 2019.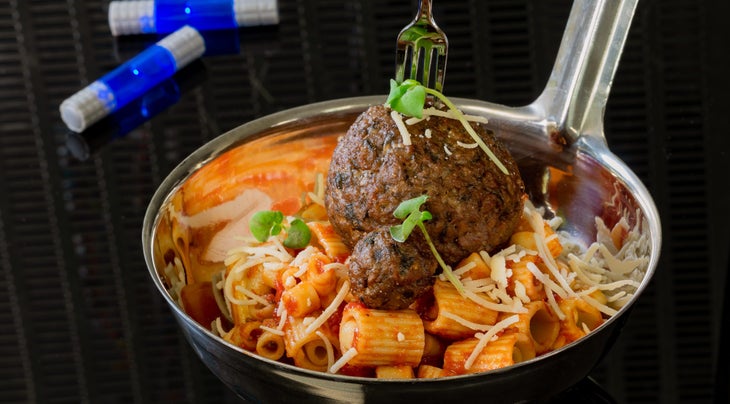 "Our guests have embraced our plant-based offerings at our parks around the globe, inspiring us to expand our menu and introduce a new menu icon, a green leaf, that will make it easier than ever to find these creations during your visit," Thomas Smith of Disney Parks said in a company statement about the undertaking. "These fun and flavorful options are made from plant-based ingredients like vegetables, fruits, grains, nuts, seeds, and legumes – and are made without animal meat, dairy, eggs, or honey."
Disney claims it has plans to integrate hundreds of vegan menu items into restaurants across the parks, but that progress may have temporarily stalled due to the pandemic shutdown and gradual reopenings. Currently, some dining facilities at Disneyland remain closed or only operating with partial service, some are offering only limited menus.
"It is real slim pickins right now, but hopefully we will get back to the normal menus gradually, and more locations will open up before too long," reads a recent post on Happiest Vegan on Earth, a blog and Instagram dedicated to highlighting vegan Disneyland fare. The post advises vegans evaluate the options right before heading to Disneyland to confirm what's available, and consider placing mobile orders early in the day to lock in the best times and menu items.
---
The Best Vegan Food Picks at Disneyland
Disneyland
California Adventure
What's Not Vegan: Churros and Beignets
Two popular snacks at Disneyland are reportedly not vegan. The churros use egg and sodium caseinate (derived from milk), according to Veganing. And, while Walt Disney World in Florida does offer vegan and allergy-sensitive beignets, Happiest Vegan on Earth notes that version is not available at Disneyland in California.