How to Make the Best Bavarian-Style Vegan Bratwurst
It took years of experimentation, but Julia Tausch has developed a method for made-from-scratch vegan bratwurst sausages that live up to her childhood memories of Bavaria
Heading out the door? Read this article on the new Outside+ app available now on iOS devices for members! Download the app.
When I say "bratwurst," what do you think of? Do you envision a long, skinny Thuringian sausage? A stout Wisconsin-style oozing with cheese? A beige, flaccid supermarket thing flecked with too few herbs? Or maybe, because you're vegetarian, you don't think of them at all. With Oktoberfest just behind us, I admit that I, a vegan, have been thinking about bratwurst a lot. And not just any bratwurst. For me, it's Bavarian or bust.
My mom is from Bavaria — specifically from just outside of Nuremberg. That city is of course most famous for the war trials that took place there, but within Germany, and among sausage connoisseurs, Nuremberg is also famous for something else: its bratwurst. Quick content note: if you are repulsed by descriptions of actual meat, please skip ahead to the vegan sausage journey, or directly to the recipe if you prefer. But if you have the strength to endure my sausage-eating days, carry on.
Lucky child that I was, I spent a few weeks in Bavaria every couple of years, and during each visit I absolutely housed a cool thirty to forty of these perfect, porky delicacies. The thing about Nuremberger bratwursts, you see, is they're very small — usually three to four inches long, less than an inch across. As street food, they're typically served three to a bun, adorned with a generous pump of mustard. Ordered in a restaurant, they'll be served on a metal plate splayed atop a bed of sauerkraut braised with apples and juniper berries, mustard and maybe potato salad, a soft pretzel, or dense rye bread served alongside. There are also Franconian bratwursts — longer, thicker sausages with similar seasonings to Nurembergers. While I scarfed the mini ones on trips to downtown Nuremberg, romping among medieval churches and castles, drunk on pork, the latter were what my uncle most often grilled to perfection in his backyard.
I visited Germany in 2005 knowing it would be the last time I would eat either of those brats. I had already known for some time that my eating habits no longer squared with my ethics, and I was trying to learn to cook better veggie food. In 2004 I fell in love with a vegan, which not only underscored my actual beliefs, but caused me to up my vegan cooking game as I strove to impress. But though I ate less meat that trip to Germany than I ever had before, the last night of my visit I hoovered bratwursts the way Huey, Duey, and Louie were forced to smoke cigars in that bizarre old cartoon — I wanted to overdo it, get sick of them for good. I probably ate ten brats in one sitting, some finger-sized, some large. I know. Disgusting. But rather than turn me off of bratwurst for good, that final herculean feat of pig consumption, for better or worse, imprinted the tastes and textures into my memory for life.
My Journey to a Vegan Bratwurst
There were, in fact, commercially-made vegan Nuremberger bratwursts available in Germany in 2005, and I even smuggled a few home in my suitcase for my boyfriend to try. But they were weird and bready and frankly left me cold. While I didn't know much about making seitan at that time, I knew wheat gluten magic was possible due to frequenting Bo De Duyen (RIP), a Chinese Buddhist vegetarian restaurant in Toronto's Chinatown favored by both Chinese immigrants and a group of vegans who emerged from the suburban hardcore music scene of the nineties. Part of the latter group, my boyfriend had eaten at Bo De for years. When he introduced me to it I tried as much of the vast menu as I could, marveling at the tastes and textures the chefs achieved with soy, mushrooms, and wheat.
As things got serious with my boyfriend, so too did my studying of vegan cookbooks. I first learned to make seitan the old-school way — washing the starch out of a flour-and-water dough by hand until only the stretchy protein, the gluten, remained — from Peter Berley's The Modern Vegetarian. I did this with glee a couple of times a year, ending up with rather spongey, vaguely beefy chunks that nonetheless pleased me greatly, until I at long last learned of the existence of vital wheat gluten flour — flour that's already been mechanically washed, leaving only the protein behind — from Isa Chandra Moskowitz's website. It was there, too, that I found my first recipe for a steamed seitan sausage and it absolutely blew my mind. The now-iconic process of mixing some sort of legume ingredient with gluten flour, wrapping into a sausage shape, and steaming was actually developed by Vegan Diner author Julie Hasson, and cited in Moskowitz's Vegan Brunch. Over email, Hasson told me that her inspiration came from veggie legend Bryanna Clark Grogan who "had steamed a seitan burger or something, which made me wonder if I could create a sausage and steam it. I added chickpea flour to soften the texture, so it wasn't rubbery. It took a lot of experimenting to get that recipe."
Thanks to Hasson et al's innovations, I steamed many a solid sausage throughout the 2010s. Still, though I consulted with my mom and struggled through countless YouTubes made by Bavarian butchers to get my seasonings right, the right texture and, uh, porkiness remained missing from my brats. Then, in 2017, I joined the Seitan Appreciation Society, a Facebook group full of seitan masters hailing from Albuquerque to Zimbabwe that's easily my favorite place on the internet. The experiments of these thousands of intrepid home cooks, business owners, and YouTubers took my sausages to the next level. I began to play with new flavoring ingredients and thought through texture in a whole new way. I even learned about making vegan casings, which has forever changed my sausage game.
Thanks in large part to YouTuber and author of Making Vegan Meat, Mark Thompson, many home cooks are now attempting Beyond Meat-style sausage with pea protein, methylcellulose, and a casing made from a, uh, chemical goo? I'm all for it, and if that kind of thing floats your boat, head over to Thompson's "Sauce Stache" channel. But for these brats, my vision was to go less for full-on verisimilitude, and instead celebrate the satisfying textures produced by humble ingredients like buckwheat, lentils, and wheat protein, as well as the meaty flavors made possible by umami-rich ferments.
I've been working on this particular iteration for a couple of years now, and when I recently grilled my latest batch up for two friends — one vegetarian, one not — I knew I'd finally nailed it. The former called these brats "Your best fake meat yet!" while the omnivore, not always a seitan fan, said, "It's a bit crumbly and not all one texture, just the way a sausage should be. Very flavorful. It's great." Mission accomplished.
To all the sausage makers who came before me, from medieval Bavarians and Chinese Buddhist monks, to the innovators of the nineties, and the food scientists of Facebook, I raise a glass to you and say "Prost!"
---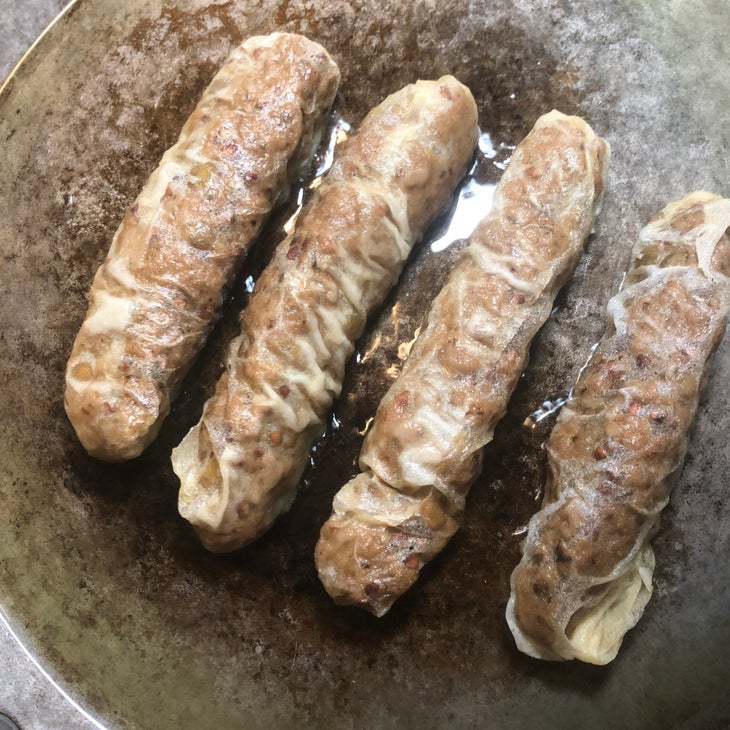 The Vegan Bratwurst Recipe
I admit this recipe looks a bit long and involved, but it's really just a matter of gathering your ingredients and mixing them together, no special techniques required! You can divide up the work if you like: whip up the dough on day one, wrap and steam on day two, then fry or grill when you're ready. These also freeze well, so feel free to make a double batch to ensure you're ready for the next Oktoberfest! You can also quadruple the spice mix (minus the breadcrumbs), keep it in a jar, and add five teaspoons of the mix per batch of sausages.
On casings: The casing is notoriously the hardest part when it comes to vegan sausage. I have tested many, and have been happiest with Cheng Hsin Soy Paper from Taiwan, but it is sometimes hard to find. Frozen beancurd skin works well too, just be sure to soak it for a few minutes before wrapping. Japanese soy paper used for sushi comes in third — it doesn't seem to fry or grill up as crispy as the others, but it's still a good edible option if you prefer not to use foil.
That being said, these brats are delicious when fried or grilled without a casing, so don't let lack of access to soy papers or skins hold you back! The seitan and lentils and buckwheat on the outside get toasty and browned, and the casing won't be missed. Plus it's way easier to make shapely, round sausages with foil.
As noted above, you can also dip your foil-steamed sausage into a Beyond Meat-style casing per YouTuber and cookbook author Mark Thompson's instructions here.
On shio koji: If you're not familiar, shio koji is a popular seasoning in Japan made from fermented rice and salt. You can learn more about it here. You can buy it ready-made at many Japanese supermarkets and online — either the liquid or creamy version work well in this recipe. Once you have shio koji, you can marinate tofu, tempeh, and mushrooms in it to great effect, add it to soups and stews for added umami… you name it! If you can't find shio koji, miso mixed with water makes a perfectly fine substitute, your sausages will still be great.
Equipment: For this recipe, you'll need some kind of steaming apparatus. If you're not using a casing, you'll also need cheesecloth or tin foil.
Vegan Bratwurst
Makes 4 Franconian (large) or 6 Nuremberger (small) bratwursts.
INGREDIENTS
For Seasoning Liquid
¼ of a medium onion (tennis ball-sized), grated on the large holes of a box grater

2 cloves of garlic, finely grated

1 tbsp brine from a jar of sauerkraut or white wine vinegar

1 tbsp shio koji or 1/2 tbsp miso and ½ tbsp water

1 tbsp light soy sauce

1 tsp marmite

½ tsp liquid smoke

¼ cup + 1 tbsp water

½ tsp vegetable bouillon powder or ¼ teaspoon salt
For Sausage:
¾ cups vital wheat gluten (120 grams)

1 tsp white pepper

½ tsp ground ginger

¼ tsp nutmeg

¼ tsp allspice

2 tsp marjoram

½  tsp garlic powder

½ tsp onion powder

Several grinds of black pepper

1 tbsp panko or breadcrumbs

2 tbsp buckwheat groats

¼ cup cooked green, brown, or French lentils, either canned or cooked from dried

2 tbsp olive oil
For Casing (Optional, See Notes Above)
4-6 sheets of soy paper or beancurd skin (see notes), cut into rectangles about 8 inches square, give or take, and depending on how large you want your sausages to be

1 tbsp all purpose flour

2 tbsp water
INSTRUCTIONS
In a dry pan or pot (I use the pot I'll steam my sausages in) toast the buckwheat groats over medium heat, shaking the pan occasionally, until they are fragrant, crunchy and tasty when you eat one, about five minutes. Watch carefully in the last couple of minutes so they don't burn. Set aside.

Meanwhile, in a small bowl, mix together all liquid seasoning ingredients. Set aside.
In a large bowl, mix vital wheat gluten together with all dry seasoning ingredients.
Add lentils and toasted buckwheat to the gluten mixture and stir with a fork until the lentils and buckwheat are coated. Now add the olive oil and stir until it's absorbed (adding the oil before the other liquid helps prevent it leaking out later).
Add the seasoning liquid to the gluten mixture and mix until no dry spots remain and a dough has formed. Knead lightly with your hands a few times until the mixture is cohesive. If some of the buckwheat is falling out, don't worry. It happens. Set the dough aside to rest while you set up your steamer and casing station.
Set up your steaming apparatus. (I fill the pot I toasted my buckwheat in a third of the way with water and put my steamer in.) Bring to a boil over high heat. Once it's boiling, turn down to medium low to hold the water at a simmer.
If using either edible casing, prepare the glue by mixing the all purpose flour with the water in a small bowl with a fork until it's a smooth paste. If using beancurd skin, fill a medium bowl with warm tap water and soak your squares for about five minutes. If you're using foil, tear off 4-6 squares of foil, depending on the size of sausages you'd like to make.
Break off a chunk of dough and form into a log-like shape of your preferred size on top of your casing of choice or square of foil. It may take a few tries to see what size your casing can hold and what you prefer. Be patient and practice a little. It gets easier as you go. Roll the dough up in the casing, creating a sausage shape as best you can. Tuck the ends in as if wrapping a gift or making a burrito, sealing the seams with the flour and water glue. If using foil, simply roll up in the foil, quite tightly but with a bit of wiggle room, and twist the ends to seal them up. The buckwheat sometimes likes to fall out of the dough during shaping. You can press some of it into each sausage before wrapping, but if some of it remains in the bottom of the bowl, that's okay.
Place your wrapped sausages in the steamer, cover, and steam for 45 minutes. Remove from heat and allow to cool for a few minutes. Transfer to a plate and allow to cool 15-20 minutes, flipping to allow the casing to dry a bit if you used one, or unwrapping from the foil and allowing the outsides to dry a bit.
Fry or grill immediately or refrigerate up to three days before frying or grilling. To fry: heat 2 tbps of olive oil in a skillet and fry until well browned, turning frequently, 5-10 minutes. To grill, rub each sausage in olive oil and grill on medium heat until well browned. Serve in a bun or alongside side dishes with mustard!