What Our Favorite Plant-Based Chefs Make for Their Own Families on Thanksgiving
Chefs and authors Miyoko Schinner, Shenarri Freeman, Andy Zambrano, and Salima Saunders share Thanksgiving recipes from their own family tables
Heading out the door? Read this article on the new Outside+ app available now on iOS devices for members! Download the app.
Vegetarian Times asked four of our favorite plant-based chefs, cookbook authors, and general food geniuses to share the vegetarian and vegan Thanksgiving recipes they serve every year – and to offer some thoughts about food, cooking, and holiday traditions.
Photography: David Lopez Osuna
Food Stylist: Casey Dobbins | Set Stylist: Gabrielle DeCaro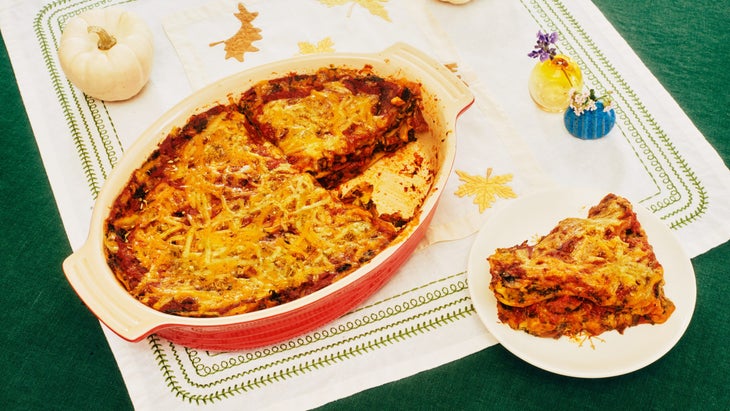 "Lasagna has been one of my contributions to Thanksgiving since I transitioned over to a plant-based diet. It's rich in flavor, creamy, and layered to perfection. It's also one of those dishes that gets better over time, unlike many leftovers. Traditionally my family hosts Thanksgiving back home in Richmond, Virginia. Usually at my mom's house or one of my aunties'.
For as long as I could remember, everyone is always assigned certain dishes based on their culinary history. My mom always does the potato salad and the deviled eggs. My aunt Tina does the collard greens, baked beans, and mac. My step-dad always is in charge of the fish, chitlins, and fried oysters, and so forth. It can be difficult introducing vegan and plant-based alternatives to family and friends but this dish has earned a seat at the table." [GET THE RECIPE]
"For me the heart of Thanksgiving is celebrating with family, friends, and the staff and volunteers at the Rancho Compasión farmed animal sanctuary. We always make a feast of delicious fresh foods, hot rolls with vegan butter, and my famous 'unturkey.' Last year, we started a great new tradition at the sanctuary: THANKSLIVING! We made big holiday platters filled with berries, greens, veggies, fruit, and grains and we served to the animals. Fred and Ginger, our resident turkeys, were the featured guests!" [GET THE RECIPE]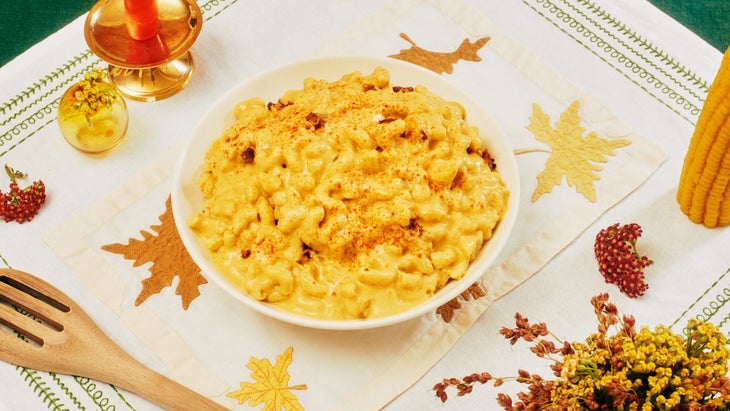 "The word that best describes my thanksgiving traditions is feast. My family gatherings consist of 20 to 30 people. Everyone has a role. One tia does tamales, the other does stuffing, another deals with the turkey. And now that all the cousins are older, we are contributing new items to our traditions. My contribution is this vegan chorizo mac and cheese. It's the best of both worlds, a staple in both Mexican and American culture. Creamy and hearty vegan mac and cheese mixed in with crispy slightly tangy and spicy chorizo. A home run that my friends and family enjoy." [GET THE RECIPE]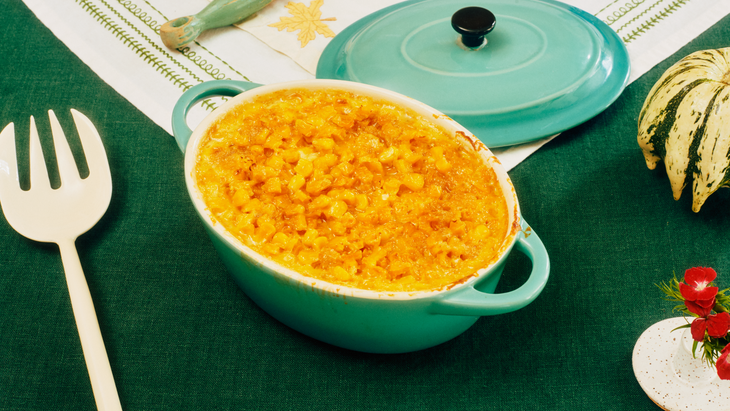 "With two pescatarians, one vegetarian, and one omnivore in my family, Thanksgiving was not a traditional eating holiday for my family and I growing up. We ended up going to our favorite Chinese restaurant or just making sure we spent the evening together discussing what we felt grateful for that day. After dating for a bit, my now husband invited me over to his house for my first ever "real" Thanksgiving dinner. I was so excited about the spread of veggies, breads, and desserts (everything but the turkey). But what really stole my heart and taste buds was the corn souffle, a delicious dish that tastes like a creamy pudding. My mother-in-law was gracious enough to share the recipe with me, I hope you make it this year." [GET THE RECIPE]
---
 More Vegetarian and Vegan Thanksgiving Recipes and Other Holiday Ideas from Vegetarian Times
---
Get more of what you love from VT. Follow us on Instagram, Facebook, and Twitter, and sign up for our email newsletters. 
---