Hassleback Potatoes and Kale in Saffron Dal
"Hasselback is a Swedish method to slice potatoes halfway through and roasting them to achieve crunchy, chip-like edges with a soft center," writes cookbook author David Frenkiel
Heading out the door? Read this article on the new Outside+ app available now on iOS devices for members! Download the app.
This recipe for Hassleback Potatoes and Kale in Saffron Dal comes from Green Kitchen: Quick + Slow, this sixth cookbook from David Frenkiel and Luise Vindahl. The couple are the creators of the recipe site Green Kitchen Stories, where they share the beautiful (yet totally accessible) plant-based meals they prepare for their Stockholm-based family.
Read our conversation with David Frenkiel about the "joyful vegetarian" cooking of Green Kitchen Stories and how a little bit of meal prep can be good for your mental health.
---
More Related Recipes to Try Next:
Dal Makhni
Baked Potatoes Stuffed with Vegan Creamed Spinach
Spicy Red Lentil Dal

---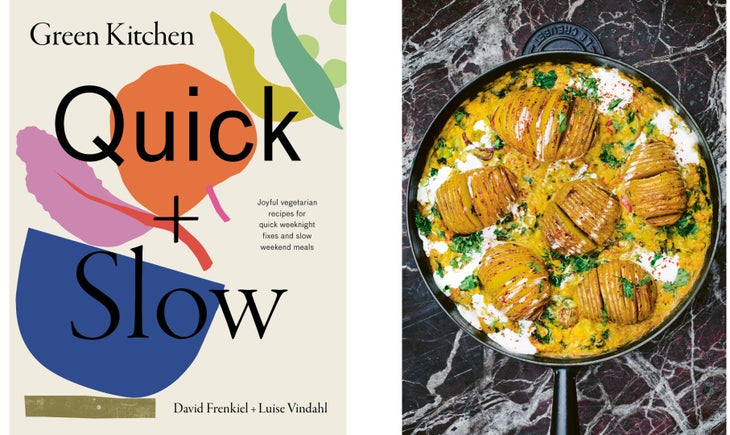 Hassleback Potatoes and Kale in Saffron Dal
Excerpted with permission from Green Kitchen: Quick & Slow by David Frenkiel and Luise Vindahl, published by Hardie Grant Books, August 2022, RRP $42.00 Hardcover.
Hasselback is a Swedish method to slice potatoes halfway through and roasting them to achieve crunchy, chip-like edges with a soft center. Here we are submerging them in a creamy and flavorful Indian Lentil Dal to get the best of both worlds, quite literally.
Ingredients
6 medium baking potatoes
6 tablespoons olive oil, divided
4 garlic cloves, peeled
1 large onion, peeled
2 tsp. curry powder
1 tsp. cumin
1 tsp. fennel seeds
1/2 tsp. chili flakes
1 tsp. freshly-grated ginger
1 good pinch saffron threads
1 cup red lentils, washed
3 cups water
14 ounces coconut cream, divided
2-3 kale leaves
sea salt, to taste
To serve:
Fresh cilantro, chopped
1 lime, cut into wedges
Preparation
Set oven to 400°F.

Cut all potatoes in ⅛ inch slices going three-quarters of the way through. It's easiest done with a pair of chopsticks on each side of the potato to prevent cutting all the way. Place on a baking tray, cut side up, and sprinkle with some salt. Into a small bowl, pour 4 tablespoons of olive oil and press 1 garlic clove into the oil. Stir and pour garlic oil over the potatoes. Use a brush or your hands to toss the potatoes in the oil, trying to also get some oil in between the slices.

To the bottom of the tray add 4 tablespoons of water. Place in oven. Bake for 45 minutes or until the edges are starting to look crusty. Brush potatoes with oil midway through.

Meanwhile, make the dal. Heat a large oven-proof frying pan (skillet) over medium–high heat. Add remaining 2 tablespoons of olive oil. Cut onion in half and slice the half into thin wedges. Slice remaining garlic cloves finely. Add onion to pan and let sauté for 5 minutes or until transparent. Then add garlic, curry powder, cumin, fennel seeds, chili flakes, saffron, ginger, and a pinch of salt. Let sizzle for a minute, then add lentils and remaining water. Bring to a boil and turn down heat to medium. Let simmer for at least 20 minutes. Add ⅔ of the coconut milk and stir around, reserving the creamy part on top for drizzling. Taste for seasoning, and adjust the flavors. Tear kale leaves off the stem and chop them finely. Stir into the dal.

Take potatoes out of oven and use a spoon to transfer them to dal. Spread them out evenly and brush cut sides again with oil. Place back into the oven, increase the heat to 425°F, and bake for 10 more minutes.

When ready, drizzle with remaining coconut cream or yogurt. Top with fresh herbs, extra chili flakes, and a squeeze of lime juice. Serve in bowls.