Vishwesh Bhatt's Sweet Potato Turnovers with Cardamom and Black Pepper
I like my sweet potatoes sweet and savory with a touch of heat
Heading out the door? Read this article on the new Outside+ app available now on iOS devices for members! Download the app.
My restaurant, Snackbar, is located in Oxford, Mississippi – not far from the "sweet potato capital of the world" in Vardaman County. The fine farmers there grow some terrific tubers, and while I might be a little biased in favor of these local folks, the truth is my sweet potato love goes back as long as I can remember.
My first memories of eating sweet potatoes take me back to my grandmother's backyard in Gujarat, India. Twenty or 30 of us would descend upon her house to celebrate Diwali and a makeshift wood-burning stove would be set up to heat big drums of water to make everyone our chai.
I vividly remember grandma handing each of us kids a sweet potato and showing us how to roast them in the embers of that stove. We would poke them out with sticks and juggle them in our hands, doing a dance that telegraphed to everyone watching that no matter how hot the potato was, we weren't going to allow that nugget of sweet goodness to drop to the ground and explode.
Most of the time, we succeeded in getting them onto a platter that one of the adults would seem to produce out of thin air just at the moment we thought that we could no longer bear the heat. The sweet potato would then be cut open lengthwise, a dollop of freshly churned butter added, maybe a light sprinkle of coarse sugar, always a pinch of salt, and, for those of us old enough to stand it, a dusting of hot red chili powder.
I have always liked my sweet potatoes like that – sweet and savory and a touch of heat – ever since.
Years later, living in the American South, I balked the first time I was presented with a cloying, marshmallow-topped sweet potato pie. Where was the balance of flavors, the mix of savory and spicy?
Well, let me tell you, it turns out there is nothing to land you in some hot soup quite like turning down the sweet potato pie made by your future bride's Maw-Maw at the first Thanksgiving you have been invited to attend. Since then, I've come around and learned to appreciate the nuances of sweet potato pie – but when left to my own devices, I immediately turn to the flavor combinations of my childhood.
I managed to avoid being banished from the in-laws' house and these days I even make my own spin on that pie, sweet potato turnovers that are sweet yet savory. I stud my dough with a bit of cardamom and fennel and cracked black pepper. Once the little tasty parcels come out of the oven I brush them with some melted butter and sprinkle a little coarse salt and some raw cane sugar on them.
These little hand pies are delicious hot out of the oven or at room temperature with your afternoon tea. And the best thing is the in-laws love them as well.
---
Want more of Vishwesh Bhatt's writing and recipes? Enter our giveaway to win a copy of his new cookbook, I Am From Here: Stories and Recipes From a Southern Chef. 
Click here for the official rules.
---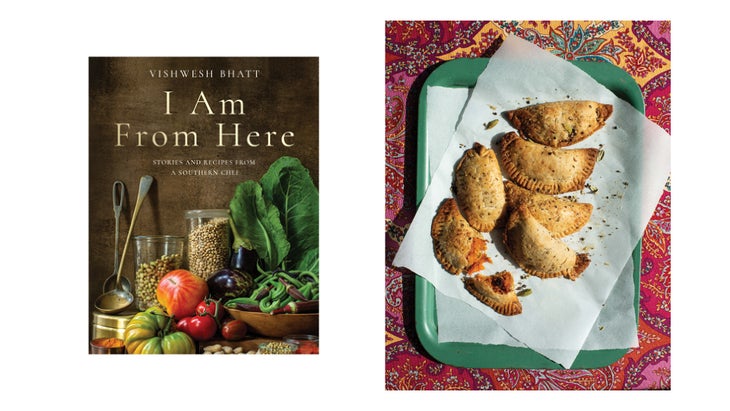 Vishwesh Bhatt's Sweet Potato Turnovers with Cardamom and Black Pepper
Excerpted with permission from I Am From Here: Stories and Recipes From a Southern Chef by Vishwesh Bhatt, published by W.W. Norton
There are two types of pie people in this world: those who eat the pie for the filling, and those who eat the pie for the crust. I fall in the latter category, which is why I am a big fan of turnovers, empanadas, hand pies, and the like.
When I think of a handheld pastry, I immediately think of a samosa, so this dough has savory leanings, even though I serve the turnovers for dessert or a sweet snack. I love the way the dough plays off the sweet, spicy, and peppery filling.
Ingredients
For sweet potato filling
3 large sweet potatoes, peeled and cut into 1-​inch cubes
¼ cup ghee
¾ cup seedless raisins
1½ Tbsp. cracked black pepper (These should be fairly large pieces—​you can achieve this texture by cracking black peppercorns in a mortar and pestle or with the back of a spoon.)
¾ tsp. cardamom seeds, crushed (Crush enough green cardamom pods to yield ¾ tsp. seeds—​4 to 5 pods. Then, crush the seeds themselves with a mortar and pestle.)
4 Tbsp. cane sugar crystals, divided (You want a sugar with crystals that are larger than granulated sugar. This can be coarse sugar, sanding sugar, or turbinado.)
For dough
½ tsp. salt
3½ to 4 cups all-​purpose flour, sifted, plus more for dusting
1 tsp. cracked black pepper
1 tsp. fennel seeds, crushed
4 cups plus 6 tablespoons neutral oil, such as peanut or canola, divided
Preparation
Preheat the oven to 350°F, and line a sheet pan with parchment paper.

To make the filling, in a medium bowl, toss sweet potatoes with ghee. Spread out in a single layer on the prepared sheet pan and bake for 20 minutes, or until cooked through.

While potatoes are cooking, put raisins in a small bowl and add enough water to cover them. Soak for 20 minutes to plump, then drain.

When the potatoes are done, return them to the bowl. Toss immediately with black pepper, cardamom, raisins, and 2 tablespoons sugar. Mash the mixture lightly with the back of a spoon. Allow to cool to room temperature. The 

filling can be made up to a day ahead; allow it to cool completely before storing in a covered container in the refrigerator.

To make the dough, dissolve salt in 1 cup warm water; set aside.

Combine flour, pepper, and fennel seeds in the bowl of a food processor and pulse until well blended. Continue to pulse flour mixture while slowly adding 6 tablespoons oil through the feed tube. Remove the lid and scrape down the sides of the food processor.

Cover again and, with the motor running, slowly add salt water through the feed tube until the dough comes together. Scrape the dough out onto a lightly floured work surface. 

Knead dough (moisten your hands if necessary) until smooth. Shape into a ball or disk, wrap in plastic wrap, and chill for 10 to 15 minutes or up to overnight in the refrigerator.

Divide the chilled dough into 12 equal portions, each slightly smaller than a golf ball. Roll out one portion at a time on a lightly floured surface into a 5-​inch circle.

Spoon 2 to 3 tablespoons filling in the middle of the circle. Fold the dough in half over the filling to make a semicircle and crimp the edges with a fork to seal. 

Repeat the process with the remaining portions of dough, until you have 12 turnovers.

In a cast-​iron skillet, Dutch oven, or electric fryer, heat 4 cups oil to 350°F. If you don't have a deep-​fry thermometer, drop in a scrap of dough to test the temperature. If it sizzles and floats to the top, your oil is ready. If it sinks to the bottom of the pot, the oil still needs to heat up more.

While the oil is heating, line a sheet pan with paper towels and place it near the stove or fryer.

Once the oil is ready, carefully add three or four turnovers, depending on the size of your pot or fryer. If the pot is too crowded, it will bring down the temperature of the oil, resulting in soggy, undercooked turnovers.

Watch the turnovers as they fry, carefully turning them with a slotted spoon until they are golden brown on both sides. If you see that the crust is burning, your oil is too hot, and you need to reduce the heat slightly.

Carefully remove the turnovers and place on the prepared sheet pan. Sprinkle with some of the remaining 2 tablespoons sugar.

When all of the turnovers from the first batch are finished, let the oil temperature return to 350°F before adding more.

Serve hot or at room temperature.
Note: If you do not want to deep-​fry, you could place the turnovers on a parchment-​lined sheet pan and bake them in a 375°F oven for about 15 minutes, until golden. The flavors will be just as good, but the crust won't have the same texture.