Vishwesh Bhatt's Gujarati-Style Charred Eggplant (Olo)
"Thousands of miles from my grandmother's home, it still reminds me of her," Vishwesh Bhatt writes.
Heading out the door? Read this article on the new Outside+ app available now on iOS devices for members! Download the app.
This is my mother's family recipe. Every fall we used to visit my maternal grandmother and spend a week at her home in the countryside. Grandma cooked this mashed eggplant, which is called olo in Gujarati, with much fanfare every time we visited. My uncles would visit nearby farms to pick just the right eggplants, dig up green garlic, and pluck chile peppers. Often, I went with them —​ with the house full of guests, it gave Grandma a little break.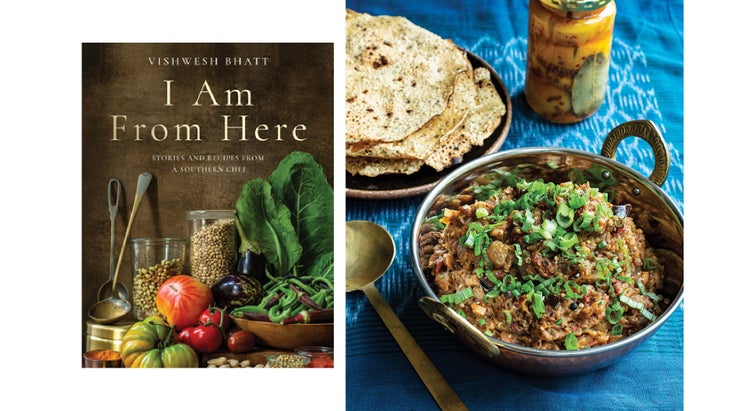 When we returned home, Mom and Grandma would supervise as the uncles built a fire with acacia wood and hay. Once the fire had burnt down to embers, the women would roast the eggplant until it was charred and soft. While the eggplant cooked, they would pulverize green garlic and ginger with a mortar and pestle and chop green chiles. They cleaned and mashed the smoked eggplant and folded it together with sautéed garlic, ginger, chiles, mustard seeds, and garam masala. We would all sit out on the veranda and eat the olo with millet flatbread, cooked on a concave clay griddle over the fire. Also on the table were raw green onions with a squeeze of lime, mango or olive pickles, yogurt, and freshly churned butter. We'd wash it all down with glasses of fresh buttermilk.
When I make olo at home in Oxford, I no longer light a fire but use the grill instead. I serve the eggplant as a side dish, usually with something else that has been cooked on the grill. If young, green garlic is available at your farmer's market, use that in place of regular garlic. Thousands of miles from my grandmother's home, it still reminds me of her.
---
Vishwesh Bhatt's Gujarati-Style Charred Eggplant (Olo)
Excerpted with permission from I Am From Here: Stories and Recipes From a Southern Chef by Vishwesh Bhatt, published by W.W. Norton
Ingredients
3 medium eggplants
3 tablespoons neutral oil, such as peanut or canola, divided
2 tablespoons coriander seeds
2 teaspoons cumin seeds
1 teaspoon brown mustard seeds
½ teaspoon asafoetida
1 small red onion, minced (¾ to 1 cup)
2-​inch piece ginger, minced (2 heaping tablespoons)
2 to 3 medium ripe tomatoes, chopped (about 2½ cups)
1 bunch scallions, finely chopped, greens separated from whites
5 or 6 garlic cloves (preferably green garlic), minced
2 or 3 serrano chiles, chopped (scant ¼ cup)
1 teaspoon garam masala (store-​bought or homemade)
½ teaspoon ground turmeric
1 teaspoon salt, or to taste
Sliced chives or greens from top of a green garlic bulb, for garnish
Lime wedges, for squeezing
Preparation
Heat the grill to medium.

Brush the eggplants with 1 tablespoon oil and grill, turning often, until very soft and charred, 12 to 15 minutes. (Ideally you want to do this over a wood fire, but charcoal or gas works as well.)
Place the charred eggplants in a large bowl and cover with plastic wrap. Allow them to sit for about 10 minutes.The resulting steam and heat will finish cooking the eggplants and make the skin easier to peel.
Once the eggplants are cool enough to handle, remove the stem and peel off and discard as much of the charred skin as possible. Mash the eggplant with a fork or chop it into small pieces.
In a small, dry pan over medium heat, toast coriander seeds for about 1 minute. Add cumin seeds and toast, shaking the pan gently so that the seeds toast evenly and do not burn, until both spices are fragrant, about 1 more minute.
Remove from the heat and, when cool enough to handle, grind in a spice grinder or coffee grinder, or with a mortar and pestle. Set aside.
Heat the remaining 2 tablespoons oil in a large skillet over medium heat. Once the oil is shimmering, add 1 teaspoon mustard seeds and cook until they start popping, about 30 seconds. Add asafoetida, onion, and ginger. Cook, stirring often, until the onion is soft and translucent, about 6 minutes.
---
Want more of Vishwesh Bhatt's writing and recipes? Enter our giveaway to win a copy of his new cookbook, I Am From Here: Stories and Recipes From a Southern Chef. 
Click here for the official rules.
---