These Sophisticated Cannabis Recipes Will Change Your Whole Idea of 'Edibles'
Culinary and cannabis expert Laurie Wolf shares recipes for grilled corn, Brussels sprouts, and a classic cocktail, all infused with THC or CBD
Photo: L-R: Jeff Wasserman, Cameron Whitman, Nadine Greeff
Heading out the door? Read this article on the new Outside+ app available now on iOS devices for members! Download the app.
I use a bunch of options for cooking infused cannabis recipes, including olive, coconut, and sesame oils and butters, which are great for cooking, but also for splashing on salads and desserts. And my garlic herb butter (you know which herb I'm talking about) is perfect on grilled vegetables or a simple pasta dish.
In states where cannabis is legal, dispensaries will have lab results that address how much THC is in your weed — critical information when it comes to dosing your dinner. If everyone at the dinner is interested in indulging, that makes life easy. (I always offer non-infused options.) Regardless, I keep the dose very low — 2mg of THC per serving. And I label everything! Nobody dies from too much cannabis, but a THC overload is a BBQ bummer. Consider also offering ride-share coupons or a designated driver for anyone participating in the infusions. Everyone needs to be safe and comfortable before, during, and after dinner.
There is also the option of infusing parts of your meal with CBD, to provide a feeling of wellness rather than high-ness. After indulging in a CBD feast at my house, a friend told me that he didn't get high but had a smile on his face all day. That's a good thing. The infusions are made the same way, but the results depend on the type of flower you are using. (The Manhattan cocktail below is CBD-only.)
Pro-Tip: Infused foods can occasionally take a couple of hours to kick in, though it is usually between 45 minutes and an hour. I suggest starting with the corn as a THC-accented appetizer, let that work its magic, and then move onto the rest of the meal.
---
Cannabis Recipes from Laurie Wolf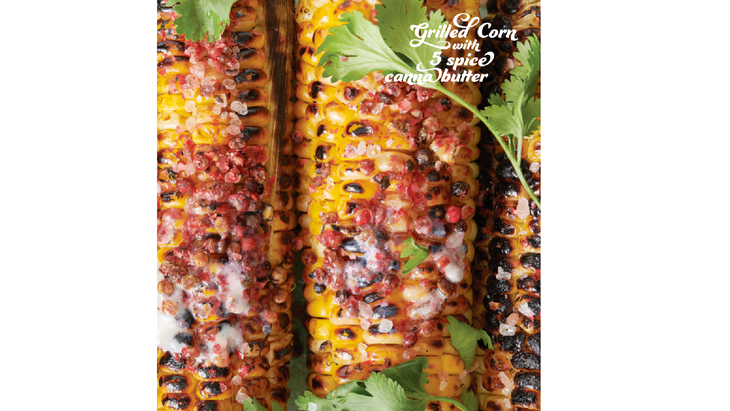 Five-Flavor Grilled Corn with Cannabutter
When you bite into a freshly picked ear of corn at the height of summer, it's hard to imagine eating it any other time of year. To me, this recipe tastes like summertime.
SERVES 9
8 ears of corn, silks removed,
husks pulled back over corn
1 tbsp. coarse salt
1 stick butter
3 tbsp. plant-based canna-butter (shoot for 2mg THC per serving)
1 small red onion, peeled and chopped
2 tbsp. chopped chives
2 tbsp. fresh lemon juice
2 tbsp. chopped fresh dill
1 tbsp. Worcestershire sauce
1⁄2 tsp. salt
Pinch cayenne
Optional garnish cilantro or parsley
1. Place the corn and salt in a bowl of ice water for 15 minutes. Remove, shake the water off, and set aside.
2. Cook with indirect heat, or after coals turn gray. In a small saucepan, heat the butter. Sauté the onion for 10 minutes. Add the remaining ingredients to the pan and cook, on low heat, for 8–10 minutes. Stir occasionally. Remove from heat.
3. Place the corn on the grill for 10–12 minutes, turning every few minutes. The corn is done when a kernel pierces easily with a toothpick.
4. Remove the husks from each ear of corn and brush or spoon the sauce over the ears.
---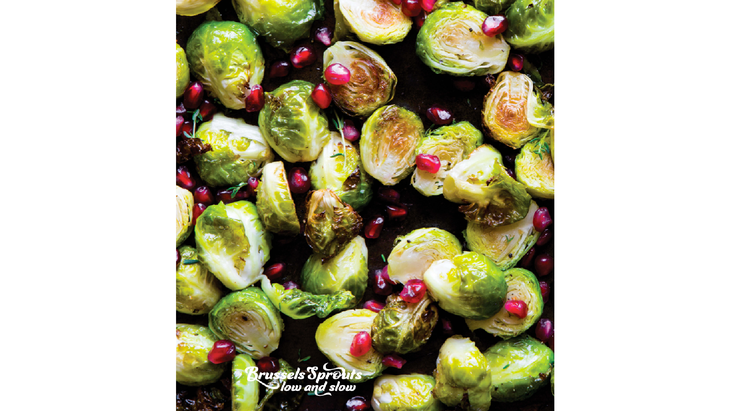 Low and Slow Brussels Sprouts
As a kid, I didn't know that brussels sprouts existed. When I did try them, finally, they were overcooked and nasty. Not anymore. Done right, Brussels sprouts take their rightful place close to the top of the veggie world.
SERVES 9
1 c pomegranate juice
3⁄4 c balsamic vinegar
2 tbsp. honey or brown sugar
18 drops THC tincture (for tinctures with 1mg THC/drop)
2 lbs. brussels sprouts, trimmed
and halved
3 tbsp. olive oil
2 small shallots, peeled and chopped
2 tsp. fresh lemon rind
Salt and pepper to taste
1 c pomegranate seeds
1. In a small saucepan combine the juice, vinegar and sweetener. Slowly bring to a boil, turn the heat down and simmer for about 25 minutes. The mixture will become syrupy and coat the back of a spoon. Add the tincture and stir well to combine.
2. Heat oven to 340 F.
3. In a large bowl toss the Brussels sprouts with the oil, shallots, lemon rind and salt and pepper to taste. Divide between two baking sheets with sides and roast for 35 minutes, shaking the pan occasionally.
4. Turn the sprouts into a large serving bowl. Toss with 1/3 cup of the glaze, along with the pomegranate seeds. Add more glaze if desired, serve immediately.
---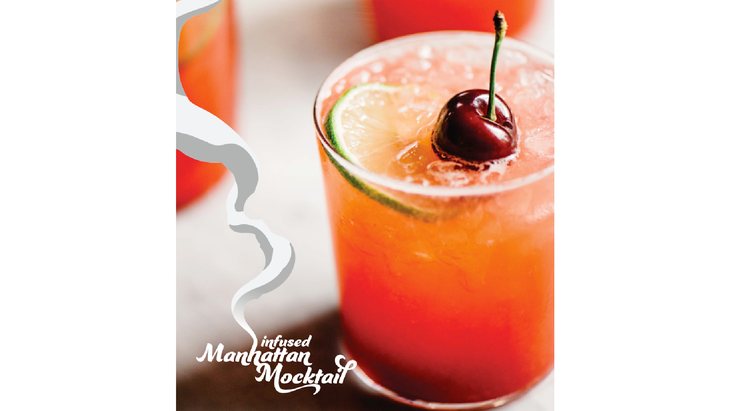 Infused Manhattan Mocktail
Fruity and refreshing, this cannabis-infused libation will go down easy, for a whole new kind of buzz. Top it off with a spritz of sparkling water if you're a fan of fizzy drinks.
SERVES 9
8 oz. cranberry juice
8 oz. orange juice
4 tsp. cherry juice
4 tsp. lime juice
4 dashes orange bitters
1 oz. CBD tincture (10 to 20mg CBD per serving)
8 lime slices
8 cherries
1. In a pitcher, combine the juices, the bitters and the tincture. Stir well and chill for at least an hour.
2. Divide between eight ice-filled glasses. Add a lime slice and a cherry to each.
From NatuRX
---
---
Get more of what you love from VT. Follow us on Instagram, Facebook, and Twitter and sign up for our email newsletters.