This Company Is Helping to Make Coffee Better for Farmers and the Planet
Traditional coffee roasting is done on gas-powered machines using beans that may or may not be ethically sourced. Bellwether Coffee is changing that, offering technology that can significantly reduce emissions and developing an industry-leading pricing model to support farmers.
Photo: Brooke Lark on Unsplash
Heading out the door? Read this article on the new Outside+ app available now on iOS devices for members! Download the app.
When you're sleepy and bleary first thing in the morning, you might not be thinking about how that cup of coffee you're about to drink impacts the planet. And, depending on what you're reaching for, the answer might not exactly set you up for a great day. The environmental and community footprint of your daily brew can be significant. One company working to make that footprint a lot smaller is Bellwether Coffee, a Berkeley, California-based startup that has developed an innovative way to help your local cafe roast its own beans on site (saving on trucking the beans from the wholesaler) using an electric roasting system (rather than the gas-powered tech that much of the industry still uses) and with beans that Bellwether sustainably and ethically sources direct from farmers. To learn more about the work Bellwether is doing to help make greener coffee accessible to more people, we asked some questions of the company's senior sustainability manager, Grayson Caldwell.
What are some of the planet, wildlife, and farming community concerns around traditional means of coffee farming and roasting? And what is Bellwether doing differently?
Current coffee prices don't provide a living income to most of the world's farmers, causing instability and enduring poverty. The coffee industry also creates significant carbon emissions, disproportionately affecting farmers through climate change. Throughout 2021, Bellwether Roasters roasted 964,252 pounds of sustainably sourced coffee roasted on a Bellwether, reducing CO2 emissions by 1,981,981 pounds.
Bellwether develops direct relationships with its farm partners and works to sign year-after-year contracts, providing long-term stability to help farm communities thrive.  Committed to raising the industry standard, Bellwether pays its farmers' equitable prices that enable them to earn a living income and fosters two-way transparency with our farm and retail partners to create more accountability and trust across the coffee supply chain as a result. In addition, Bellwether provides financial resources directly to its farm partners, enabling them to fund projects that support their local communities.
Bellwether Coffee, along with Heifer International and Sustainable Harvest, developed Verified Living Income, an industry-first pricing model designed to meet coffee farmers' livelihood needs across the globe. Rooted in transparency, the pricing model determines the minimum price farmers need to be paid for their coffee to earn a living income as over 80% of the 12.5 million farming families who produce coffee currently live below the poverty line. Creating a more sustainable future for the coffee industry also benefits the farms, which is why Bellwether believes in advocating for the widespread adoption of electric and distributed roasting to reduce our carbon footprint.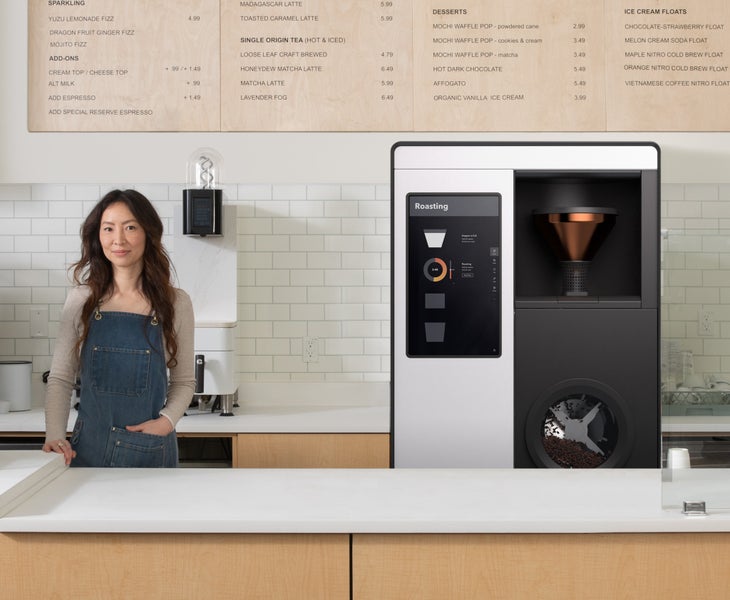 Can you tell us a bit about the coffee roasting technology and the impact that has for cafes and consumers?
Traditional gas roasters are not a sustainable method for roasting, creating significant carbon emissions and VOCs. Roasting alone makes up 15 percent of the carbon footprint of a pound of coffee. As the climate crisis continues to grow, 20+ cities across the United States have already implemented some form of a natural gas ban and dozens more are considering. The coffee industry is known to have a massive total carbon footprint, partially due to the natural gas used during the roasting process. With the world producing 172.8 million bags of coffee every year, the harmful impact of carbon-intensive, traditional gas-powered roasting is no longer sustainable.
Bellwether reduces 87 percent of the carbon footprint from roasting with its innovative closed-loop system. The Bellwether Series 2 Roaster is the most sustainable commercial coffee roaster in the world both in air quality and energy use. The Bellwether Roaster eliminates the need for expensive ventilation, gas lines, and permits.
A third-party report conducted by Boundless Energy found that roasting on a Bellwether is still cleaner than roasting with gas even in areas where electricity is powered by coal or natural gas. The report also found that traditional gas roasters leak significant amounts of methane, a greenhouse gas many times more corrosive than CO2, contributing significantly to the total emissions footprint of roasted coffee. By roasting electric, we can save millions of pounds of carbon from entering the atmosphere every year.
Bellwether allows coffee roasters and cafe owners to significantly reduce their carbon footprint by roasting electric, reducing delivery miles, reducing packaging, and making business decisions to support the environment by advocating for the electrification of roasting and connecting more businesses to the farming/supply chain sourcing process. [On-site roasting] eliminates the wasteful packaging and delivery miles of buying from a wholesaler by roasting onsite, and on-demand. For a business roasting 100 pounds per week that reduction in packaging is equivalent to 20,000 single-use coffee cups over a single year.
How can customers try Bellwether Coffee? 
By visiting one of our many cafe partners! Visit the customer map to find one near you!
Bellwether Coffee has teamed up with Oatly, Miir, and Inglewood, California cafe Sip & Sonder for an Earth Day event on Saturday, April 23, 2022. Guests will be able to learn more about the Bellwether roasting process and how to reduce the carbon footprint of their coffee habit, as well as enjoy live music and Earth Day themed activities. Visit the event page for more details. 
---
RELATED: Coffee for the Birds: Q&A with the Smithsonian Migratory Bird Center's Robert Rice
---
Get more of what you love from VT. Follow us on Instagram, Facebook, and Twitter, and sign up for our email newsletters.