Agar-Agar Is the Seaweed-Based Secret to Exciting Food Textures
The ingredient is key to vegan jelly deserts, flans, and even some dairy-free-cheeses
Photo: Lauren King / EyeEm / Getty Images
Heading out the door? Read this article on the new Outside+ app available now on iOS devices for members! Download the app.
Until recently, I was an agar-agar novice. I didn't grow up eating gelatin desserts like many of my friends, and I never really liked things with a jiggly consistency on those few rare occasions I actually tried them. But while experimenting with a vegan cheese recipe for a VT story, I discovered this ingredient's unique versatility.
What Is Agar-Agar?
Agar-agar is derived from seaweed, and works as a coagulant or thickener when dissolved in liquid. It's sold in different forms, including powder and flakes. (Eden is one popular, widely-available brand.)  I buy my agar-agar at Asian supermarkets, and always purchase the little sachets of powder because it's easy to measure out and dissolves quickly, making it more fool-proof to cook with.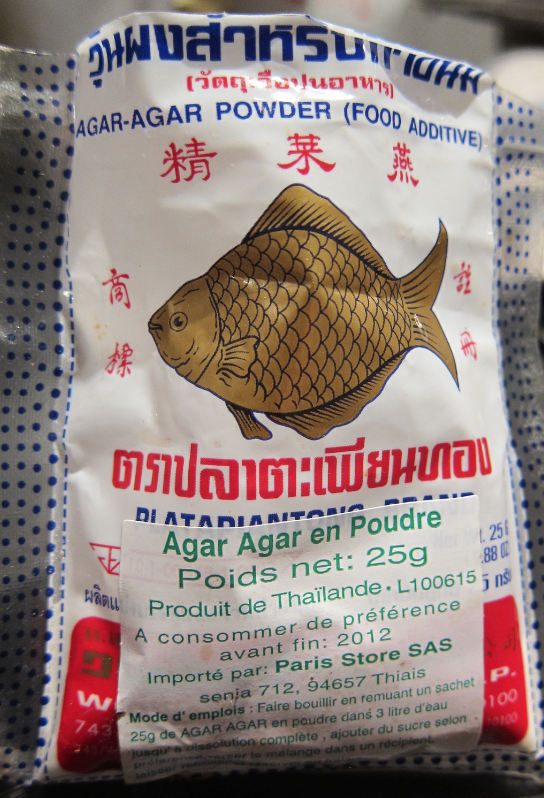 For the original vegan cheese recipe, I was going for a mozzarella-type texture with just a hint of firmness. One of the product's merits is that it allows you to control the level of firmness, depending on the ratio of liquid to agar-agar. The basic formula for agar-agar powder is 1 1/2 teaspoons of powder for every 2 cups of liquid—heated until boiling to dissolve the agar-agar—for a firm-but-not-rubbery texture.  If using agar-agar flakes, increase the amount to 2 1/2 teaspoons flakes for every 2 cups of liquid. The mixture begins to set as it cools, so working quickly is imperative.
That first cheese experiment turned out well, and since then, I've become a big fan. I use it to make a super-tasty mushroom paté, hard and soft vegan cheeses, and even quick lemon tarts and flans (see recipe below). Experimenting is half the fun (eating the final results is the other). Try using fruit juice, non-dairy milks, or savory bouillons as the starting point, and see where your kitchen creativity takes you.
---
How to Use It: Vegan Cinnamon-Vanilla Flan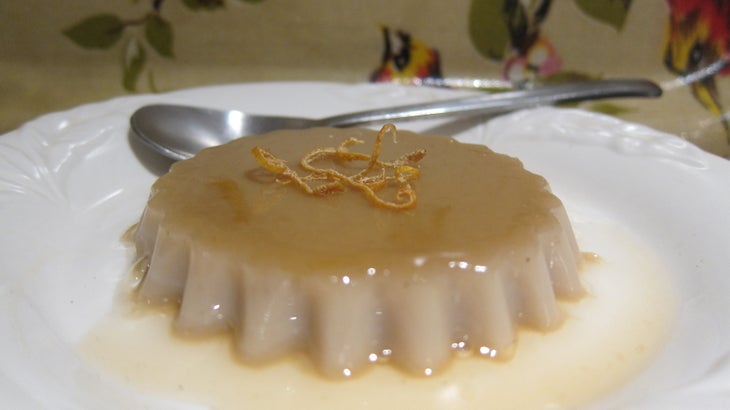 Vegan Cinnamon-Vanilla Flan
Serves 6
This light, easy-to-prepare dessert tastes a bit like a solid version of that delicious Mexican rice-based drink, horchata.
2 cups vanilla soymilk
1/4 cup turbinado or plain white sugar
1 1/2 tsp. agar-agar powder or 2 1/2 teaspoons agar-agar flakes
6 tsp. maple syrup
1/4 tsp. cinnamon
Pinch of salt
Dried lemon zest, for garnish, optional
1. Combine soymilk, agar-agar, sugar, salt, and cinnamon in a saucepan and bring to a boil. Let simmer 2 minutes, stirring constantly to dissolve powder or flakes and prevent sticking. If using flakes, take extra care to ensure they have dissolved completely. Remove from heat and let cool 5 minutes.
2. Pour 1 tsp. maple syrup into a mini tart pan or ramekin, then ladle warm soymilk mixture on top. Repeat for remaining five tart pans or ramekins.
3. Let cool 20 to 40 minutes in the refrigerator, until slightly firm. To serve, gently slide a small knife around the edge of the flan, then flip flan onto individual serving plates. Sprinkle lemon zest on top for garnish, if desired.
---
RELATED: 10 Vegetarian Pasta Recipes for Every Occasion
---
Get more of what you love from VT. Follow us on Instagram, Facebook, and Twitter, and sign up for our email newsletters.