Cali'Flour Foods: A Passion for Pizza & Cauliflower
After being diagnosed with several autoimmune diseases, Amy Lacey switched to a Paleo diet, and, in the process, discovered a love of cauliflower—and a calling to bring great-tasting pizza crusts and flatbreads to the marketplace.
Heading out the door? Read this article on the new Outside+ app available now on iOS devices for members! Download the app.
This article originally appeared on our sister site, BetterNutrition.com.
Paleo. Keto. These are the diet words on everyone's lips these days. Both involve minimal carbs and varying amounts of proteins and fats. They promise everything from weight loss to increased energy to improved cardiovascular health.
For Amy Lacey, the dietary challenge was more specific and more urgent. Her health was poor, her energy levels non-existent, her weight fluctuating. After being diagnosed with several autoimmune diseases, it became imperative for her to investigate and implement major changes in her diet to allow her to deal with her body's inflammatory betrayal of itself.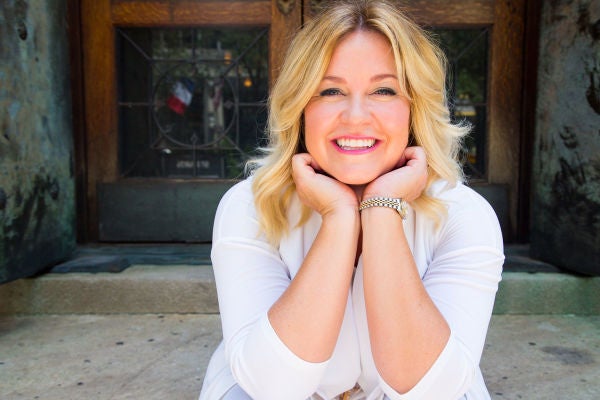 The Passion: Food as Medicine
The original ketogenic diet was designed in 1923 at the Mayo Clinic for the treatment of epilepsy. Eventually it broadened to include treatments for other diseases that have an underlying metabolic dysregulation. The Paleo diet is of more recent origin, stemming from a theory of eating based on hereditary genetics. Both have features that lend themselves to a regimen that help support immune health.
So Amy embarked upon a journey to figure this out for herself, for her family's sake as well as her own. Grains were out—many inflammatory disorders can be triggered by them. Trial and error across the food spectrum led her to vegetables, and specifically to cauliflower. There were two primary attractions, as Amy discovered: "Cauliflower is an antioxidant and is full of vitamins, and it takes on the flavors of anything you put with it, making it unique."
What she was really looking for was something that would allow healthy eating within a proscribed spectrum of inflammatory responses, and yet offer satisfaction and convenience with no feelings of deprivation. Surely there was a way to make her food safe and non-reactive, but still fun and delicious.
The Product: Cali'Flour
Thus was born Cali'Flour. After much trial and error, Amy developed a reliable flour made from cauliflower that can be swapped with any flour substitute. And an additional perk? "I love the fact that I can use the entire head (including stems and leaves) and eliminate food waste." Then she set about using this flour to create convenient foods that could make life easier and better—not just for her, but for everyone looking for healthy and simple deliciousness.
Pizza crust was the beginning—versatile, quick, and good for you. Then came crackers, and red lentil and cauliflower pasta. And last but not least, individual flatbreads that open up a world of endlessly varied culinary possibilities. And in case you were wondering what to do with these treats, check out Amy's Cali'Flour Kitchen cookbook.
The path forward wasn't always easy, but Amy has persevered, buoyed by the community that developed as people discovered her products. "One of my highest moments was learning about a little boy named Gavin, who was put on a ketogenic diet after being diagnosed with cancer. He is now six years old, cancer-free, and I learned that Cali'Flour Foods gave him pizza again!"
Amy believes that giving back is an essential component of any endeavor. So she founded Cali'Flour Cares, an online store that supports several nonprofits that assist women, children, and lupus sufferers. "One of the best gifts we have in life is the ability to serve and give to others."
Check out our online-only recipe:
Our recipe of the month—Cali'Flour Flatbreads with Watercess Pesto & Wild Mushrooms, shown above—combines peppery watercress with earthy mushrooms and tangy feta cheese. It's so delicious, and it's only available at betternutrition.com.