CSA the Right Way
Eager to sign up for a share in Community Supported Agriculture? Here's what you need to know
Heading out the door? Read this article on the new Outside+ app available now on iOS devices for members! Download the app.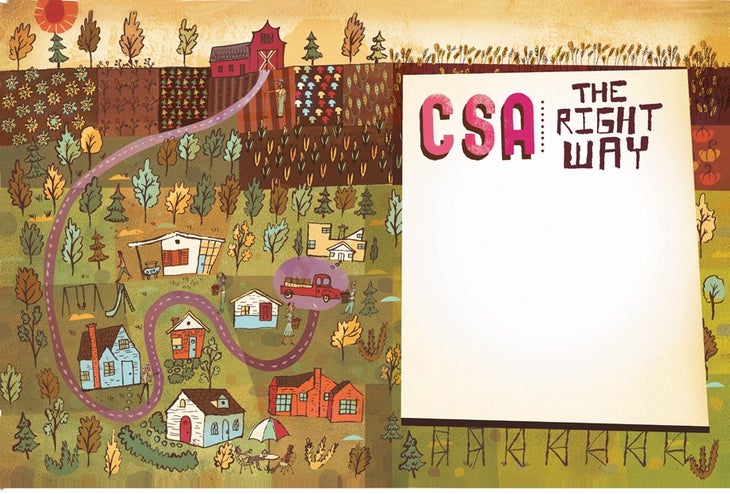 I've always been a big supporter of Community Supported Agriculture. I fully embrace the notion that the diversity of fresh, organic, seasonal produce found in a weekly CSA box promotes personal and planetary well-being. I know in my bones that buying directly from local farmers is the right thing to do—that family farms dedicated to sustainable practices are a healthful corrective to industrial agriculture and the ecological havoc it wreaks. Cultivating a personal connection with the source of our food and learning to eat in sync with nature's rhythms can only do us good. I've talked up CSAs with anyone who would listen.
And then I joined one.
Already sold on the concept, I rushed into the relationship willy-nilly, plunking down $750 for a full 25-week share in a farm I chose mostly because of its groovy name. My enthusiasm stood in for due diligence: I didn't bother to assess my options, to ask around, or even to meet the farmer first. With such a great concept, what could go wrong?
Plenty, as it turns out. When I finally did meet my farmer—the man in whom I'd invested my hard-earned cash, not to mention my hopes and dreams—he wasn't the paragon I expected. In fact, halfway through the 25 weeks he threw in the towel, leaving his shareholders to wonder whether or not he'd finish out the season (he did). In a difficult growing year, when key crops were lost to blight or bad weather, he failed to come up with a backup plan, and instead delivered ever-dwindling boxes mostly containing the few veggies that managed to reach the "baby" stage. I didn't even bother to pick up my last box of the season—it didn't seem worth it to drive to the drop-off point.
It was a bad experience, yes, but in it I saw the potential for a good one. I'll do a CSA again this year—only this time, I'll be smart about it. Here's how you can too.
Meet and greet the farmer
A huge benefit of participating in a CSA is knowing from where—and from whom—you're getting your food. "On a deeply spiritual level, we humans need a connection to the people who grow our food," says Erin Barnett, director of LocalHarvest (localharvest.org), an online resource that helps consumers connect with producers of local food. "It used to be that most people lived on a farm, had relatives who did, or at least had big gardens. Now, we think it's normal to get our food from the grocery store. We've moved so far away from the land and from nature that we've forgotten how deeply nourishing it is to be connected to our food. In some ways, the best thing about CSA membership is that it gives you a chance to have a relationship with a farmer and a piece of land."
If you have several CSAs in your area, make every effort to meet farmers face-to-face. But before sitting down with any of them and getting to the nitty-gritty of membership, you'll want to do a little investigating.
Do a background check
Failing to check references is one of the mistakes rookie CSA participants can make, says Chris Hunt, policy advisor for Sustainable Table, a nonprofit that educates consumers about sustainable food practices. "If the farmer really cares about local food, and really cares about the longevity of the CSA, he or she will really want to take care of the shareholder," he says. "The best way to assess that commitment is to talk to other shareholders."
Ask the farmer for the names and numbers of shareholders past and present. Call them up and ask: Do you think you got your money's worth? What was the best thing about the CSA? What was the worst? Did you like the food? And—perhaps most important—would you recommend this CSA to others?
Dig deeper
Once you've established an interpersonal rapport and checked references, it's time to interview the farmer. By enrolling in a farmer's CSA, you're effectively hiring him to put food on your table—it's well within your rights to ask a few questions. Start with this one: how much experience do you have?
"Running a CSA requires a high level of farming skill. Farmers have to manage so many crops in succession, get the timing right, and deal with issues of weather and labor," says Barnett. "It's a lot for beginners." Ask how long the farmer has been farming and the CSA operating.
Next, try to suss out the farmer's priorities. "There aren't that many farms that do just CSA," says Elizabeth Henderson, a founder of Peacework Organic Farm in Newark, N.Y., and author of Sharing the Harvest: A Citizen's Guide to Community Supported Agriculture. "They often do farmers' markets or provide food for local restaurants as well. The farm may or may not prioritize the CSA. We fill our shares first, since shareholders are the people who paid up in advance. But not everyone feels that way." If you want the best produce a farm has to offer, make sure you buy into one that puts CSAs first.
Also look for a farmer who has a plan to handle crises. "Farming is a risky business," says Paula Lukats, CSA program manager for Just Food, a nonprofit that brings fresh, organic, sustainable food options to New York City residents. "There's always the possibility of flooding, hail, drought, or virulent pests. The best farmers can manage the risk, and have a backup plan in place so if you're not getting tomatoes, you are getting broccoli or eggplant. Part of the CSA philosophy is that members commit to sharing the risks of farming with the farmer, but that the farmers also try to minimize that risk for members as much as possible."
Finally, ask in detail about the farmer's practices. "Look for a farm that is doing things right," says Hunt. "That means not using excessive amounts of pesticides or synthetic fertilizers. That means taking steps to minimize water and air pollution. That means taking care to rotate crops and conserve soil, and not planting acre upon acre of one kind of soybean. And if livestock is concerned, it means not raising animals in confinement." Decide which issues are critical to you, then be sure to talk to the farmer about them.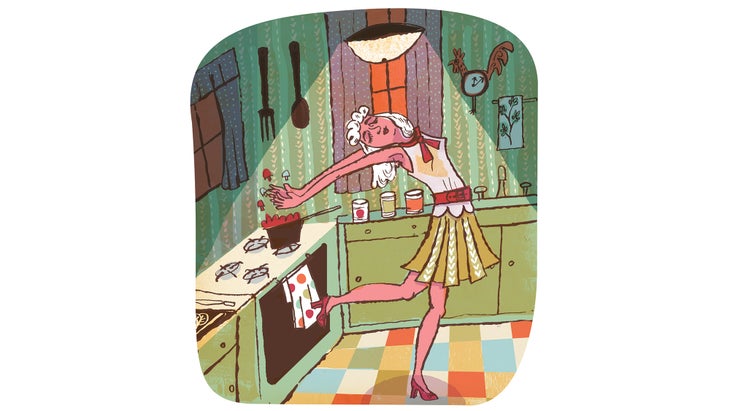 Get with the seasons
A side benefit of CSA participation is reducing your food miles—that is, the amount of oil burned to bring dinner to your table. There are plenty of reasons to keep food miles to a minimum. "When you ship food for a long distance, it won't be fresh and it will be more prone to food-safety problems," Henderson says. "And when you buy imported food, it won't do a thing for your local economy." Eat local, however, and you minimize emissions, reduce food safety issues, and keep cash in the pockets of your neighbors.
Eating local also means eating in sync with the seasons, which some folks find easier to swallow in theory than in practice. "You need to understand that if you live in the Northeast, you won't have a field-ripened tomato in your box until at least July," Henderson says.
Before you sign up, take the time to research what's in season and when, and you'll be more at ease with the contents of your CSA box. You can check seasonality by state with the tables posted on the National Resources Defense Council website: nrdc.org/health/foodmiles.
Consider community
"Community" is the first word in CSA for a reason, notes Christine Mayer, program manager for the Fulton Center for Sustainable Living at Wilson College in Pennsylvania. "When you join a CSA, you get to know the farmer and other like-minded individuals," she says. "When you're joining, ask about the community aspect. At Wilson College's Fulton Farm CSA, we offer community-building activities, workshops, potluck suppers, recipe exchanges, and weekly newsletters. Getting to know your neighbors is a big part of creating sustainable communities."
In a healthy CSA, relationships will be supportive. "Belonging to our CSA offers a tremendous social opportunity," says Henderson. "We've had many friendships—and even a couple of marriages—come out of it."
Henderson requires all Peacework shareholders to work on the farm each season. Not every CSA demands this, though it's worth taking a trip to the farm anyway—especially if you have small children you'd like to introduce to the concept of local, organic, seasonal foods.
Feeling plugged in, if that's what you want, is a key CSA benefit.
Know thyself
Even with all their benefits, CSAs are not for everyone. To determine if a CSA would be a good deal for you, estimate how much you spend on fresh produce every week, and compare that to the cost of a share (which generally runs $20 to $30 a week).
Control freaks need not apply. "People who like to write out their menu at the beginning of every week and aren't flexible about cooking what's available won't like being in a CSA, where they don't have control over what they get," Henderson says. "Those people are better off shopping at the farmers' market and buying just what they need."
Can you be improvisational about your meals? "We make sure to let our members know that while there are going to be well-known foods, like tomatoes and okra, in the baskets, there are also going to be new and unusual items, like arugula, kohlrabi, and paw-paws," says Jessica Hammonds, founder of Organicism Farms, a CSA in Knoxville, Tenn. "If you can be flexible and go with it, you'll have a great time."
I've decided I can, and I will.
This year, I'll try Hammonds's CSA. Because I love her chatty, foodie style. Because eating locally is important. Because supporting small farms is the key to healthful, vibrant communities. And because with CSAs—as with pizza and sex—even when they're bad, they're still pretty good.
CSA Support Group
About our author
Hillari Dowdle is a freelance writer and editor based in Knoxville, Tenn.