Edible Gardening 101: Your Best Basil Harvest Ever
Basil pairs with a variety of cuisines, so it's a must-have in your herb garden. Here's how to get the most from this versatile herb.
Heading out the door? Read this article on the new Outside+ app available now on iOS devices for members! Download the app.
Want to make a huge batch of pesto later this summer? Then start harvesting your basil now! The biggest mistake you can make with basil is not harvesting enough in early summer. To understand why harvesting early and often is so important with basil, it helps to know a bit about how the plant grows. Basil is in the mint family, which means it has square stems and sets of two leaves that grow exactly opposite from each other on the stem. As the plant grows, the sets alternate which side of the stem they emerge from. If you look closely at the point where each leaf adjoins the stem, you should see two tiny leaves. When harvesting, it is essential that you pinch just above those teensy leaves, because this tells the plant to start growing them into branches.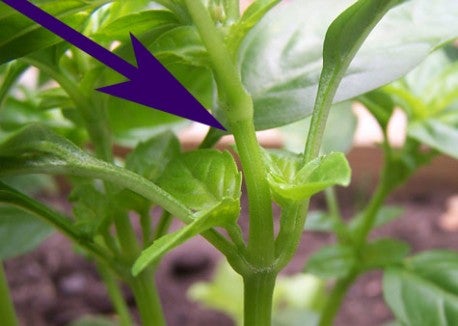 If you fail to pinch the plant back, it will grow tall and spindly with few, if any, branches. Not only does this mean you'll have a measly harvest, but your basil won't taste as delicious either. Basil begins to lose its signature scent as it ages, because the oil content in the leaves diminishes over time. Regular harvesting signals the plant to continue to put out newer—and tastier—leaves. It also prevents the plant from flowering, which is good because after basil flowers it stops producing new leaves and the leaves that do remain are not as appetizing (though they are still entirely edible, just not as amazingly delicious).
To encourage each basil plant to develop robust, bushy growth, here's what you need to do:
1. Starting from the bottom, count how many sets of leaves the plant has. When the plant has 4 sets of leaves, pinch off the top two sets. If your plant already has more than four sets of leaves, pinch off the top 1/3 of the plant. Don't forget, look at the stem closely and always pinch right above the little leaves, which will soon grow into two pairs of branches. Basil has very soft stems so you can pinch off the growth between your thumb and forefinger, or you can use scissors.
2. When each pair of new branches develops four sets of leaves, repeat the process described above. Continue to do so until the plant grows 12 to 18 inches tall. At this point you should have a wide, bushy plant. If you like, you can cut the plant down to right above its fourth lowest set of leaves, which will encourage it to put on a big new flush of growth.
3. Basil likes consistently moist soil and plenty of nutrients. I like to foliar feed—a technique of applying diluted liquid organic fertilizer directly to the leaves—about once a month or whenever I make a big harvest.
Willi Galloway is the author of Grow Cook Eat: A Food Lover's Guide to Vegetable Gardening, and she writes about organic vegetable gardening and seasonal cooking on her blog,DigginFood.