Vegetarianism Has Deep Spiritual Roots in Asian Cultures – Yet Many Asian Vegetarians Report Feeling Judged, Attacked, and Dismissed
When your family sees giving up meat as 'hipster,' but your culture gets called 'barbaric' in white-dominated vegan spaces, where do you fit in?
Photo: d3sign / Getty Images
Heading out the door? Read this article on the new Outside+ app available now on iOS devices for members! Download the app.
The first vegetarian I met in my life was my only Chinese-Canadian classmate at elementary school outside of Montreal. Jai (not his real name) lived on the same street as me. His entire family were devout Buddhists who practiced strict vegetarianism. Jai showed up to school with his vegetarian lunches, and our classmates would mock him. They taunted him by waving meat in his face until he scrunched up his face to say, "Ew!" and swat the offending piece of meat away.
Over the last 15 years, the number of vegetarian Americans has increased by 300 percent, according to a recent study. There is a similar trend in Canada. Yet, racism and exclusion of racialized people from mainstream vegetarian and vegan spaces has increased in tandem with the growing popularity of plant-based lifestyles in North America. This discrimination has shaped the perception of mainstream Western vegetarianism as a lifestyle that is for white, wealthy people. Last year, Leah Chan, a Chinese-British vegan, wrote a call to action for the vegan community to address the racism and xenophobia many members of the community engage in. During the pandemic, she said that she has been targeted by racist comments from fellow vegans about the "barbaric" eating practices of Chinese people.
Asian vegetarians may also face challenges from within our own communities. "[To my parents], at first it came across as very new, very hipster. They thought I was just getting into all the new young adult trends," said Jody, a Chinese-Australian who lives in Sydney, of her parents' initial reaction when she switched to a plant-based diet. "They were a bit more skeptical because having an attitude of focusing on the climate or food waste is very different from their own generational and cultural perspective."
Compassion and sensitivity towards the world also motivated Jody, a devout Christian, to eat less meat. "Being Christian is a huge part of who I am. […] One of the most important aspects of that is to love your neighbor," she explains. "Since all our actions have some environmental impact, especially our diets, I'd rather have my diet be more loving to the people around me in the ways which I can control."
But conveying that to her parents proved to be difficult at first. Jody's family eventually became more accepting of her largely-vegetarian lifestyle, in part because she has been willing to accommodate some cultural food traditions linked to meat. Describing her current diet as "flexitarian," she eats meat if that is what her mother has cooked or when she's out at certain meat-centric restaurants with her Asian community. Still, she does her best to make her vegetarian preferences clear to her friends and cook a lot of tasty vegetarian dishes for her family.
I relate to Jody's story, as I have negotiated similar compromises in my own life. I consider myself to be 'vegetarian most of the time' – but occasionally, when I feel nostalgic for the Shanghainese food of my upbringing, I still go to eat xiao long bao, hong shao rou, and spinach and pork wonton, just to remember the flavors of home for a bit.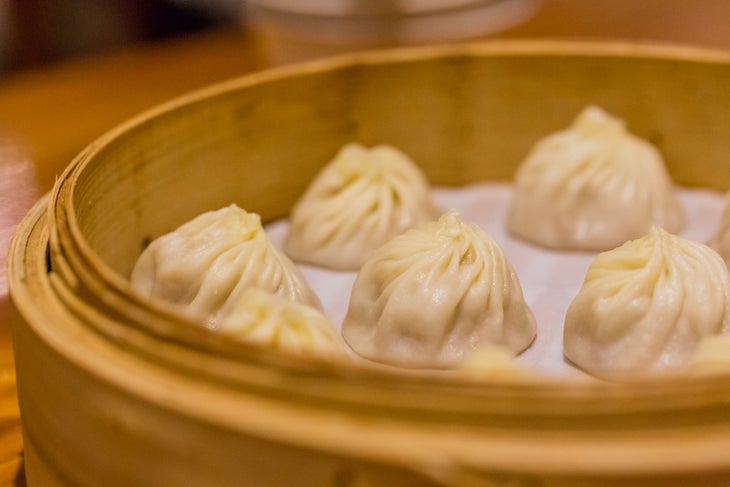 My own parents struggled to understand my thinking when I began making a conscious effort to reduce my meat consumption. Having grown up on government-regulated food rations in Shanghai that limited their meat consumption to once every few months, they could not understand why anyone would refuse to eat meat. To them, meat is a luxury that they feel extremely lucky to be able to eat regularly today in Canada.
Not all Asian families are like mine and Jody's, though. "My whole family is vegetarian, so I was vegetarian from birth. All my ancestors were also vegetarian," said Sravya, an Indian immigrant currently living in the United States. Like many Hindus, Sravya and her family follow a vegetarian diet in keeping with religious tradition. And yet, after moving to the United States, she found herself in a culture where those traditions weren't always respected or welcomed.
"When you say you're vegetarian, Indian people are more conservative about what they'll offer you. But in the U.S., they're more relaxed. I might get bad surprises because they didn't really know there was [an animal product] in the food." On the day of our interview, the vegetarian food blogger had just discovered the supposedly 'vegetarian' collagen capsules she ordered online in fact contained beef products. She only found out when she carefully read the list of ingredients.
Richa, another vegetarian Hindu, echoed sentiments of struggling to adhere to her faith in her diet after moving to the United States from India in 2004. She still vividly remembers the first time she ate at an American restaurant as a child. "Even the salads had meat," she recalled. "What was I supposed to eat? Like okay, sure, I'll eat potatoes, I'll eat French fries. But if that's the only thing you're offering, I don't want it."
She thinks the impulse of focusing on meat and hating vegetables is "a very American thing." In her culture, where people have been vegetarians for thousands of years, vegetables are incorporated into almost every dish. They are so ubiquitous it is inconceivable for someone to simply hate all vegetables.
Master Thich Thong Gioi, the master monk at Chùa Địa Tạng, a Buddhist temple in Montreal, agrees. "Vegetarianism is a tradition that is thousands of years old. So we have lots of dishes that are vegetarian. People would eat it and not even notice it's vegetarian because it looks a lot like meat," the master monk told me as we chatted over tea. Once every two weeks, the nuns of his temple prepare flavorful vegetarian dishes that resemble meat to initiate people who aren't yet vegetarian to a plant-based lifestyle.
Buddhists are vegetarians because they believe not eating animals is a way to cultivate compassion. For them, developing compassion helps them reduce suffering, detach themselves from the material world, and ultimately achieve spiritual enlightenment. The earliest Buddhist patriarchs taught their disciples that being vegetarian reduced people's aggressiveness, as they would not partake in any violent actions that would kill animals. In turn, this reduced aggressiveness would lead to a calmer spirit, to more compassion, and to a greater desire to help others achieve enlightenment.
Before eating, Buddhists take a moment of reflection to think about all the people and the processes that resulted in their meal. This practice is meant to develop a mindful and conscious approach towards the world. "While not all vegetarians are Buddhists, someone who is vegetarian will tend to have values that are more similar to Buddhist values of compassion and of sensitivity towards the world around us," Master Thong Gioi said.
---
RELATED: Haile Thomas Wants to Share the Joy – and Power – of Plant-Based Eating
---
Get more of what you love from VT. Follow us on Instagram, Facebook, and Twitter.