Easy But Impactful Ways to Help The Earth
Every step you take toward eco-friendly living is one that helps the world. Green living mentor Stephanie Moran shares easy, family-friendly ways to start living a low-waste lifestyle.
Photo: Sarayut Thaneerat / GettyImages
Heading out the door? Read this article on the new Outside+ app available now on iOS devices for members! Download the app.
From delivery boxes and detergent bottles to containers for beauty products and medications, more than 80 million tons of packaging waste end up in U.S. landfills every year. On top of that, Americans waste 133 billion pounds of food yearly.
While those numbers are staggering, many people are overwhelmed by how to transition from a convenient lifestyle to a more sustainable, eco-friendly one. Transitioning from wasteful, convenient lifestyles to eco-friendly living is a big change, and when you're just starting out, trying to make those adjustments all at once can be extremely stressful. But you don't need to do anything drastic to be impactful.
Green living mentor, and CEO and founder of Good Girl Gone Green, Stephanie Moram is here to help. Stephanie regularly teaches people how to live greener and more sustainably without feeling overwhelmed.
Good Girl Gone Green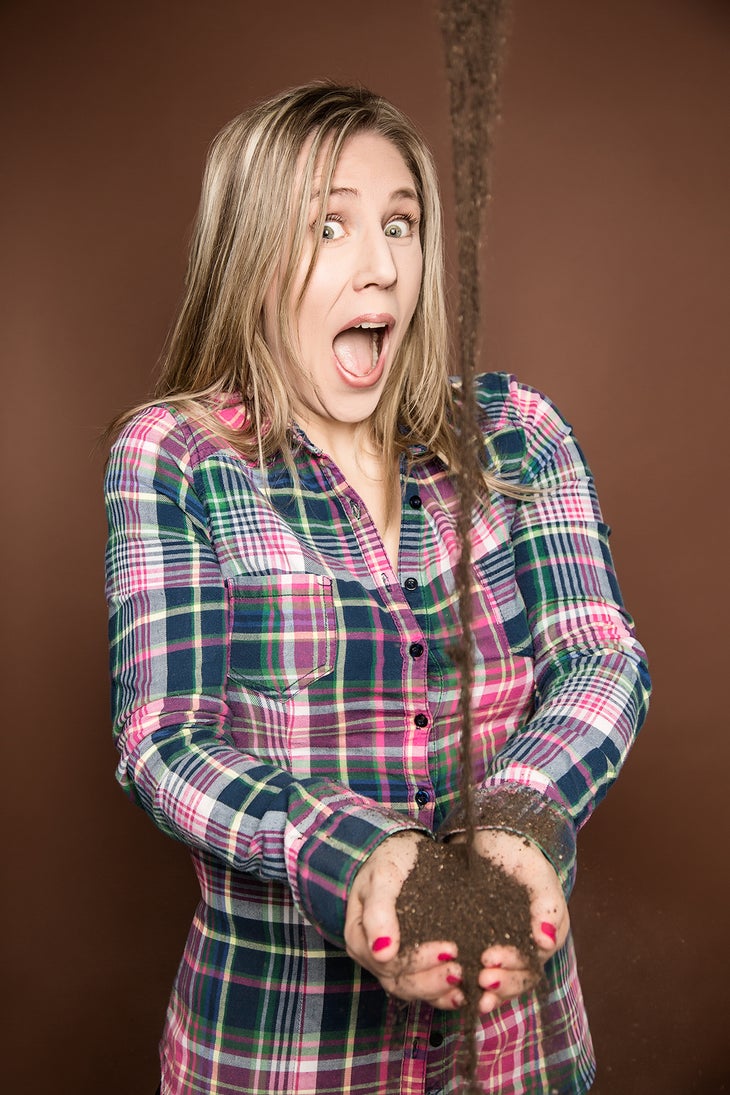 Back in 2009, Stephanie thought she was doing her part to help the planet. "I recycled, brought my bags to the grocery store, and randomly bought organic produce (mostly when it was on sale), but that was about as far as my green lifestyle went," she says.
Watching Food, Inc., the documentary that examines corporate farming in the United States was her lightbulb moment. "After learning how meat was being raised and the potential health risks that posed, I knew I wanted to change my eating habits to be more organic and local." That's when Stephanie started to ask questions about where her food was coming from.
Although her green living journey started with food, it didn't end there. "From health and beauty products to household goods, clothing, footwear, furniture, and baby supplies for our baby — I was obsessed!" she says.
Wanting to reduce the number of unnecessary and potentially harmful products she was bringing into her family's home, Stephanie began to DIY her own cleaning and personal care products. And in 2011 Good Girl Gone Green was born. Stephanie wanted to create a place where she could guide other women on how to live a low-waste life.
6 Simple Ways to Live a Greener Life
Now with more than 10 years of experience, Stephanie has helped women to not only live more sustainably but also live with less, shop ethically, and reduce the overall amount of toxins they are exposed to.
Here, Stephanie offers a few small ways to live a more eco-friendly lifestyle that can have a big impact on our planet. She suggests picking one thing you want to implement in your life and do that. Once you have done that, move on to the next. "Be gentle with yourself," she counsels. "Just take one step at a time."
Organized a walk to clean up your neighborhood or park. This is a great activity to do with kids so they learn to become environmental stewards.
Eliminate excess trash by reusing something like a glass jar as a take-along salad container or to-go cup for cold brew coffee or tea. Find new uses for items that you would normally recycle or throw away.
Reduce your food packaging by buying in bulk at refill stations and buying less packaged foods. Bring your own containers to refill, cook your own food and bake from scratch will help to reduce your food packaging.
Buy a plant or herb garden for your house. Support cleaner air quality through house plants.
Support your local stores, farms, and restaurants and bring reusables with you. Traveling locally for needs and wants reduces emissions and encourages sustainability.
Open your windows as much as you can to get fresh air! Enjoy the physical and mental benefits of fresh air and become more inspired to protect air quality.
If you're looking for more sustainability tips, you may like these reads: