Best Candy Thermometer
Do you love to make candy and sweet treats at home? If so, then you know that for the best results, you need to get the temperature just right. Sometimes even a tiny variation in temperature can make the difference between a successful batch of candy and an inedible one. Fortunately, candy thermometers always make it easy for you to know the precise temperature. There are various types and sizes of candy thermometers available. Keep reading for four of our favorite candy thermometers out there today.
Heading out the door? Read this article on the new Outside+ app available now on iOS devices for members! Download the app.
Best Design
ThermoPro TP03 Digital Instant Read Meat Thermometer
Foldable, Instant-Read Thermometer. This foldable digital thermometer measures the temperature within 3 to 5 seconds and contains a highly precise sensor.
What We Liked:
You'll always know the precise temperature of your candy with this foldable instant-read candy thermometer. The digital display with a backlight feature makes it easy to read the temperature of your batch of candy or food. The food-grade stainless steel probe is 3.9 inches long, so you don't burn your fingers. You always get a quick temperature reading (within 3 to 5 seconds), so you don't ruin risk ruining your treats. If you need precision, this thermometer is accurate within 0.9 degrees Fahrenheit. Its wide temperature range (58 to 572 degrees Fahrenheit or 50 to 300 degrees Celsius) makes it perfect for almost any type of candy or other foods such as meats, deep fry oil, or grilled items. The foldable design, magnetic back, and kitchen hook make it easy to store and transport. The auto-shutoff function ensures you don't accidentally leave it on when it's not in use. Get it here.
Longest Probe
Harbor 022 Meat Thermometer, Instant Read Thermometer Cooking Thermometer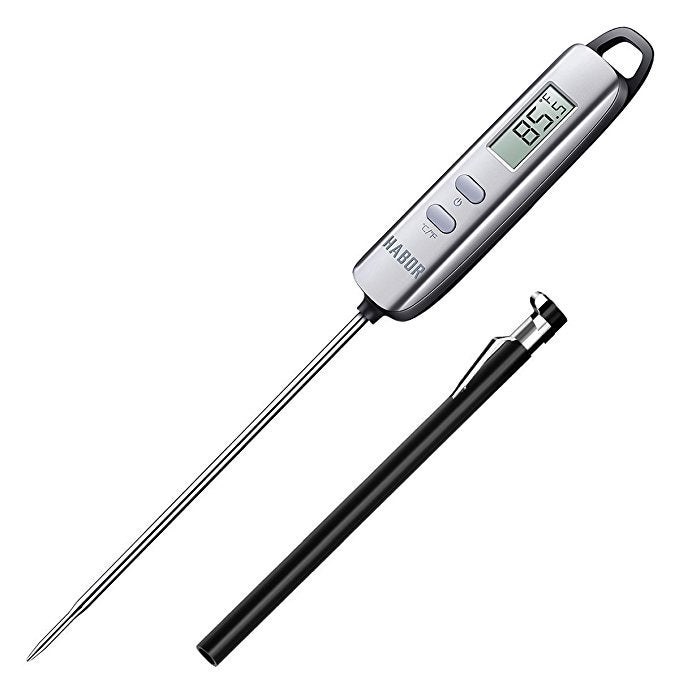 Digital Thermometer with Long Probe. This digital, instant-read thermometer comes with an extra-long probe to prevent your fingers from getting burned. You'll get your candy-making work done at a safe distance.
What We Liked:
When you need accurate temperature readings when cooking, this thermometer provides precise readings within 1 degree Celsius. And it gives the reading quickly (4 – 6 seconds). Its wide temperature range (58 to 572 degrees Fahrenheit or 50 to 300 degrees Celsius) makes it perfect for measuring a variety of foods including candy, chocolate, jellies, meats, and more. The extra-long stainless steel probe ensures your fingers don't burn when taking a temperature, and the included cover makes storing your thermometer easy. It has a battery power saving design due to its 10-minute auto-shut off function. It also comes in three stylish colors—silver, navy blue, and red—to suit any kitchen décor. Buy it here.
Easiest to Read
Polder THM-515 Candy/Jelly/Deep Fry Thermometer Stainless Steel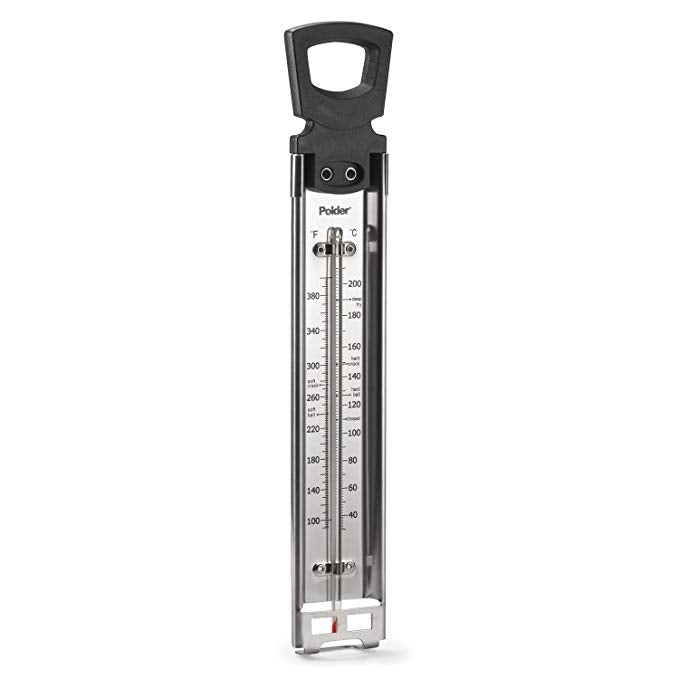 Candy Thermometer with Clip. This stainless steel candy thermometer clips onto your pot, so you always know the temperature throughout the cooking process.
What We Liked:
This stainless steel thermometer clips onto the side of your pot to provide a stable reading throughout the cooking process. The easy-to-read facing provides the temperature readings in both Celsius and Fahrenheit. Additionally, the facing shows five zones of candy making, from thread to hard crack. It also includes a deep-fry marking. It provides a wide range of temperature readings from 90 to 400 degrees Fahrenheit or 30 to 200 degrees Celsius. The insulated handled is safe to hold and can be used in the oven. The steel body is easy to clean and dishwasher-safe. Ding: The clip may not work with all style pots. The thermometer does come with a satisfaction guarantee, though. Buy it today.
Most Versatile
Taylor Precision Products 5983 RA17724 Taylor Candy and Jelly Deep Fry Thermometer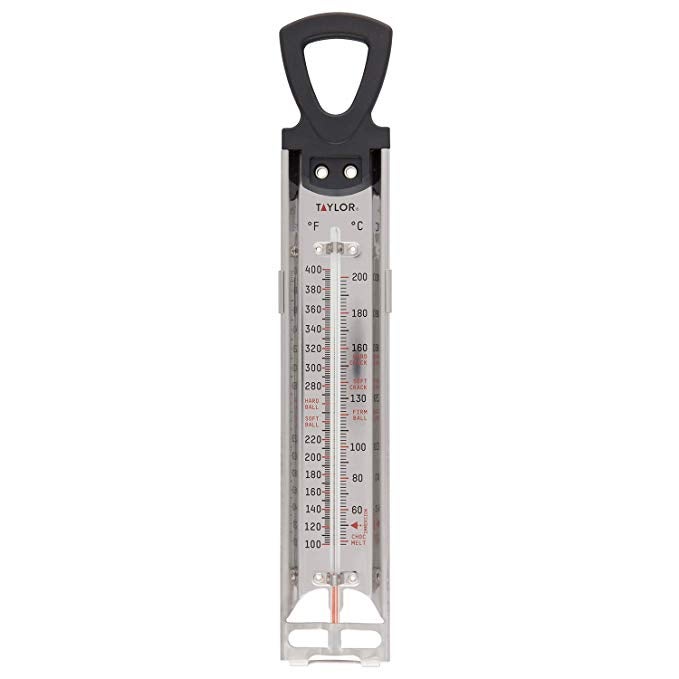 Clip-on Thermometer with Adjustable Clip. This stainless steel thermometer has an adjustable clip, which makes it easy to attach to almost any style pot.
What We Liked:
This stainless steel thermometer clips on to almost any pot to provide you with a stable, consistent reading while cooking – all thanks to the adjustable clip. The insulated handle makes it safe to touch while cooking and is oven-proof. The easy-to-read thermometer facing displays temperatures from 100 to 400 degrees Fahrenheit. It also shows the temperature in Celsius, although it doesn't have as many numbers for Celsius as it does for Fahrenheit. The facing includes several markings for candy making, from thread to hard crack. The 12-inch long, stainless steel design is strong and easy to wipe clean. It comes with a limited lifetime warranty as well. Get it today.