Best Round Casserole Dishes
A quality casserole baking dish is an essential kitchen item. These versatile dishes can often go straight from the stovetop to the oven. Some are so attractive that they can double as serving dishes once the food is ready. Casserole baking dishes work well with a variety of recipes, especially one-dish meals. These dishes can help reduce cleanup time since you can use the same dish for cooking, serving, and storing leftovers. Here is our review of four different round casserole baking dishes with lids so you can find the casserole dish that best fits your needs.
Heading out the door? Read this article on the new Outside+ app available now on iOS devices for members! Download the app.
Best Large Dutch Oven Safe for Outdoor Grills
AmazonBasics Enameled Cast Iron Dutch Oven
Large Enameled Cast Iron Dutch Oven with Lid. This 4.3-quart round, enameled cast iron Dutch oven is safe for use with a variety of cooking surfaces.
What We Liked:
This enameled, 4.3-quart Dutch oven casserole dish with lid is made of heavy-duty cast iron and heats food evenly. You can use it for baking, roasting, braising, or boiling foods, and the enamel finish won't react. This dish can be used on a stovetop, in the oven, or on a barbecue, and it has two loop handles. The heavy lid fits securely to trap in heat. It can double as a beautiful serving dish, as it comes in four vibrant colors: blue, green, red, and white. This versatile dish can keep your cleanup to a minimum since it can go directly from a cooking surface to the table for serving and then to the refrigerator to store any leftovers. Be sure to use oven mitts and hot pads, however, to protect hands and table surfaces. It's oven-safe up to 400 degrees Fahrenheit. It comes with a one-year limited warranty and must be hand washed. We particularly liked the versatility and size of this beautiful 4.6-quart enameled cast iron Dutch oven casserole baking dish. Buy it today.
Best Casserole Dish Set
Rachael Ray 58314 Cucina Casserole Dish Set with Lid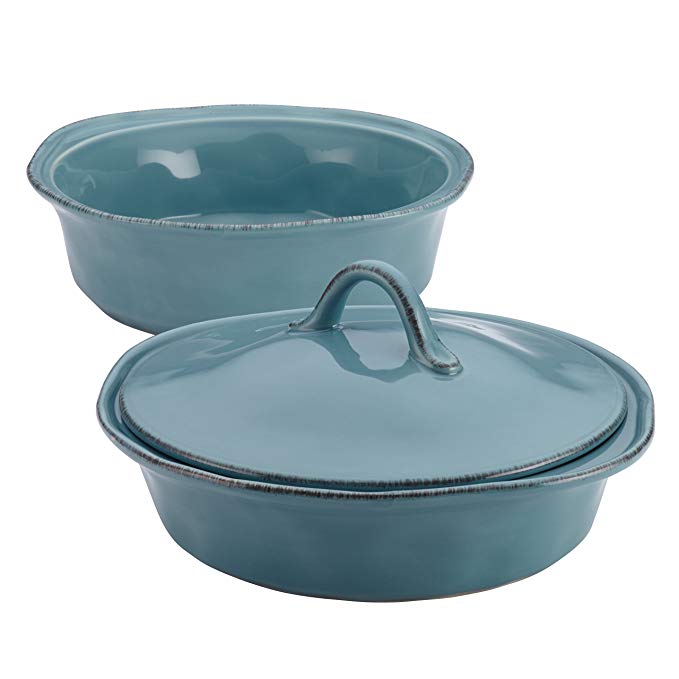 3-Piece Casserole Dish Set with Rustic Yet Modern Design. This three-piece casserole dish set includes a 1.5-quart dish, a 2-quart dish, and a lid.
What We Liked:
This beautiful three-piece casserole set comes with a round 1.5-quart dish, a round 2-quart dish, and a lid. This solid stoneware set has an attractive earthy blue glaze and flared sides that form into subtle handles. The blue glaze gives these dishes a rustic charm, but the freeform handles lend a modern, simplistic feel. This set can be used in the microwave, freezer, refrigerator, and dishwasher. They are oven-safe up to 500 degrees Fahrenheit. We liked that this sturdy casserole dish set came with two different sized casserole dishes and a lid. Buy it now.
Best Clear Baking Dish
Libbey Baker's Basics Glass Casserole Baking Dish with Cover and Basket
2-Quart Glass Casserole Baking Dish with Lid and Basket. This versatile round, glass casserole baking dish comes with a glass lid and a basket that functions as a built-in trivet, allowing easy serving directly from this dish.
What We Liked:
This versatile glass casserole baking dish is safe for the oven, microwave, refrigerator, and freezer. This casserole baking dish comes with a clear lid and a basket that functions as a trivet to protect your serving surfaces. The straw basket helps to keep heat in while you're serving and works as a trivet. However, the basket is not oven or dishwasher safe. The clear design of the dish and lid make it easy to view food while it cooks. We liked that this two-quart glass casserole dish allows you to monitor food easily and that it comes with a straw basket that doubles as a trivet. Buy it here.