How I Make the Absolute Best Vegan Nachos
There are no wrong decisions when it comes to making nachos
Heading out the door? Read this article on the new Outside+ app available now on iOS devices for members! Download the app.
The Super Bowl is right around the corner and it has me excited for all some iconic game day foods. Wings, chili, hot dogs, pizza, and spinach dip are all favorites – but nothing beats a big pile of vegan nachos. I love a freshly loaded plate with a crunch in every bite. Call me crazy, but I even enjoy it when they've been sitting out a little too long and the chips have become soggy. Still just as good.
Chefs have really turned nachos into something elaborate, adding an infinite amount of topping combos and making it their own. But on game day I like a classic Tex-Mex topping combo: vegan nacho cheese, guacamole, pico de gallo, and a protein.
The 'cheese' I make in this recipe is potato-based and is very straight forward. Whenever I make it, I double the amount and freeze the second batch for whenever I'm craving a cheesy dinner.
If you live near a Mexican market I highly recommend buying your ingredients there. When it comes to tortilla chips, they're the only places I shop. The one I go to makes their tortillas fresh everyday, and what's leftover gets turned to tortilla chips the next day. For those who don't know, chips are best when using day-old tortillas. It's worth checking out and seeing what the options are in your neighborhood.
Where I shop, they also make fresh pico de gallo and guacamole on the daily, which would work well for these vegan nachos if you don't feel like making your own – but whipping up fresh  guacamole and pico de gallo is pretty quick.
I chose to put my favorite brand of store-bought soyrizo as a protein for these nachos, but by all means, pick whatever your taste buds desire. There are no wrong decisions when it comes to making nachos.
---
More Related Recipes to Try Next:
Vegan Chilaquiles
Chickpea Salad
Vegan Mac and Cheese with Soy Chorizo

---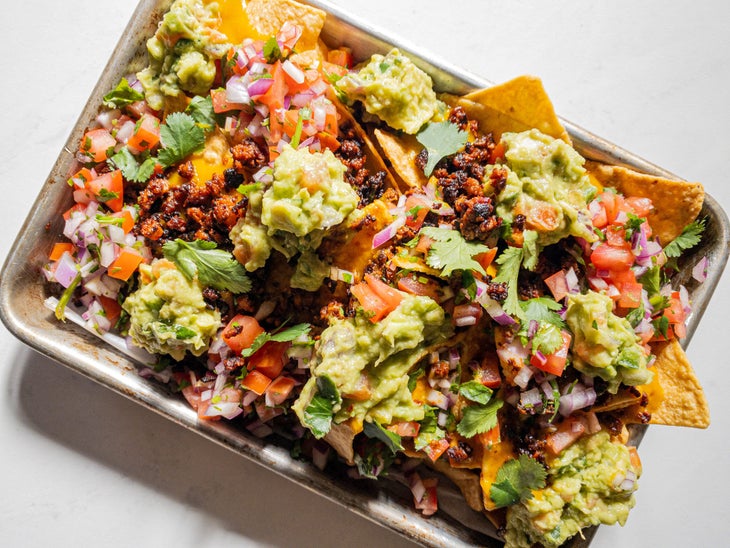 The Best Vegan Nachos
Ingredients
Vegan nacho cheese
1 medium Yukon Gold potato
1 medium sweet potato
1/4 cup nutritional yeast
1 Tablespoon dijon
4 cloves garlic
1 teaspoon cumin
1 teaspoon ground coriander
1 teaspoon turmeric
1 cup water
1/4 cup oil
1 Tablespoon salt
Pico de gallo
1 bunch cilantro
1/2 red onion
3 Roma tomatoes
1 lime
Mashed avocado
3 avocados
1 lime
1/4 teaspoon salt
To assemble
1 package Soyrizo
1 large bag fresh, sturdy tortilla chips
Preparation
Make the nacho cheese:
Bring a medium sized pot of water to a boil and add the yukon, sweet potato, and peeled yellow onion. Bring it to a simmer and strain when all the ingredients are fork tender. 
Add the boiled ingredients to a high powered blender along with the rest of the ingredients. Blend till it's completely smooth and slightly thick. Add more water if it feels too thick and also adjust the salt accordingly. 
Prepare the guacamole and pico de gallo
As you wait for the potatoes and onions to cook, you can prepare the guacamole and pico de gallo. 
To make the pico, start by cutting the tomatoes lengthwise into fourths, then taking out the core. Next, julienne cut all the tomato pieces and proceed to a small dice. Add it to a bowl and set aside. Dice half a red onion and add to the bowl. Finely chop half of the cilantro and add to the bowl along with the juice of one lime. Mix it all together and set aside. 
In a bowl add the meat of the avocados and mash with the back of a fork. Add a dash of salt, the juice of a lime, and mix. I kept the guacamole simple but feel free to add anything else you like in it. Set aside in the refrigerator along with the pico. 
Assemble the nachos
Prepare whatever protein you decide on and set aside. 
On a large platter or sheet pan, evenly lay out a bed of chips. Then layer on the rest of the ingredients starting with the cheese, protein, pico and guacamole.
Finley chop additional cilantro and sprinkle all over the finished nachos.