Vegetarian Posole Stew
Posole is a simple rustic stew commonly eaten year-round in the pueblos of New Mexico—and it is especially welcome in wintertime. Made from dried hominy corn, vegetables, spices and dried red chiles, the stew is usually cooked in large quantities. It is traditionally served with a variety of condiments—especially…
Heading out the door? Read this article on the new Outside+ app available now on iOS devices for members! Download the app.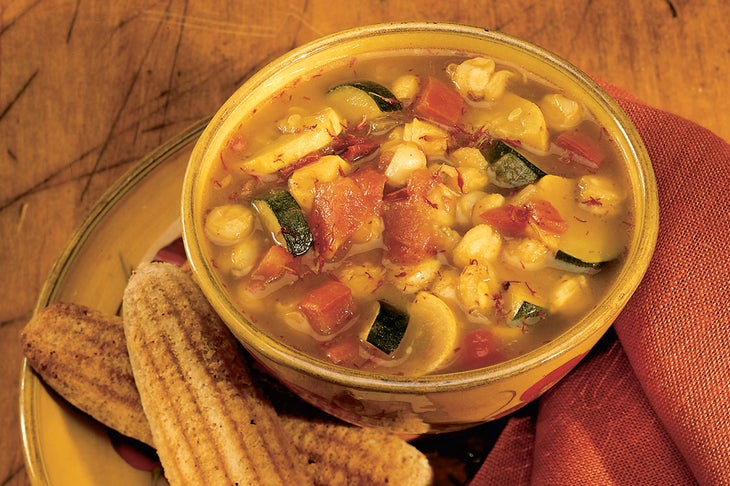 Posole is a simple rustic stew commonly eaten year-round in the pueblos of New Mexico—and it is especially welcome in wintertime. Made from dried hominy corn, vegetables, spices and dried red chiles, the stew is usually cooked in large quantities. It is traditionally served with a variety of condiments—especially red chile sauce, freshly roasted diced green chiles, chile pequín and Indian breads, particularly blue corncob breadsticks. The ingredient known as posole—Mexican-style hominy—is found in three colors of corn: white, blue and red, with white being the most common. It is sold dried in the Mexican food section of well-stocked markets or in Latino groceries. Azafrán is Native American saffron, which is sold in Latino groceries. If available, substitute dried Mexican oregano for the fresh oregano.
Ingredients
2 cups dried posole, or 3 to 4 cups canned with water
6 qt. water
3 Tbs. vegetable oil
1 onion, chopped
2 garlic cloves, minced
2 zucchini, cut in half lengthwise and into thin slices crosswise
2 yellow squash, cut in half length-wise and into thin slices crosswise
4 tomatoes, diced
4 dried New Mexico red chile pods, seeded, stemmed and torn into 12 pieces
2 bay leaves
4 cups vegetable broth
1 tsp. azafran
2 tsp. finely chopped fresh oregano leaves
1 tsp. finely chopped fresh thyme leaves
1 1/2 tsp. salt
Preparation
1. Soak dried posole overnight in 1 quart water. Next day, drain posole, and discard soaking water.
2. Place posole in large pot of water to cover by 3 inches. Bring posole to a boil over high heat, and reduce heat to low, cooking, uncovered, about 11/2 hours, or until kernels burst and are puffy and tender. Add water during cooking, if needed. Drain posole, and set aside.
3. Heat oil in 6-quart pot over medium-high heat, and sauté onion until clear, about 7 minutes. Add garlic, zucchini, yellow squash and tomatoes, and sauté 3 minutes more.
4. Add posole, red chile pods, bay leaves, vegetable broth and azafrán. Bring to a boil, and reduce heat to low, cooking 30 minutes. Add oregano, thyme and salt, and continue cooking 30 minutes more, adding more water if needed. Serve hot in large soup bowls with warm bread.
Wine Suggestions
By now, vegetarians are well aware of the favorable coupling of corn and Chardonnay, so let's look at a solid red wine choice for this posole instead. Generally speaking, a fruit-driven, low-acid wine pairs best with corn-dominant dishes, but this stew has a good amount of tomato and spice in it, so look to Red Zinfandel and Syrah/Shiraz instead. Try Cline Sonoma County Syrah.
Nutrition Information
Calories

230

Carbohydrate Content

40 g

Cholesterol Content

0 mg

Fat Content

7 g

Fiber Content

4 g

Protein Content

4 g

Saturated Fat Content

0 g

Sodium Content

690 mg

Sugar Content

9 g