How a Couple of Vegan Snowboarders and a Special Sourdough Starter Created the Hottest Spot in Whistler
Ed and Natasha Tatton raised some eyebrows when they launched an all-vegan bakery and café right in the heart of a bustling ski town. Now their slope-side treats draw crowds of locals and visitors alike.
Heading out the door? Read this article on the new Outside+ app available now on iOS devices for members! Download the app.
Nine years ago, avid snowboarders Ed and Natasha Tatton followed the snow to Whistler. Ed has worked in fine dining kitchens around the world, so when they arrived in the famed ski town, it make sense for the couple to work jobs in the hospitality industry when not shredding on the slopes. When snowboard season gave way to summer, Ed traveled to Vancouver Island to work on farms and, while there, he started a sourdough culture. When he returned to his job at Alta Bistro in Whistler, he used the culture to start baking sourdough bread. The bread proved so popular that Ed and Natasha soon found themselves renting out the restaurant's kitchen just to bake bread and other bakes to fill word-of-mouth demand. Eventually, they decided it was time to open their own bakery and BReD Made by Ed was born.
Ed and Natasha are both vegan, and it was important to them that their bakery and café be entirely plant-based. That has called for some creativity when developing recipes for some of the baked goods they've become famous for. Baking is a precise science, after all, and ingredient substitutions must be made with care.
"We have had to experiment with various egg substitutes to find what works in each recipe," Natasha says by way of example. "Essentially, eggs have around eight different properties – glazing, binding, aerating, etcetera – so you have to identify which property you are trying to mimic. Psyllium husk or flax work well as binders, but aquafaba can be whipped into meringues that stand up to traditional counterparts. Nowadays, there are many innovations in the food tech space to alleviate our dependence on animal agriculture, such as Just Egg, and we are having fun trying some of these replacement products out too."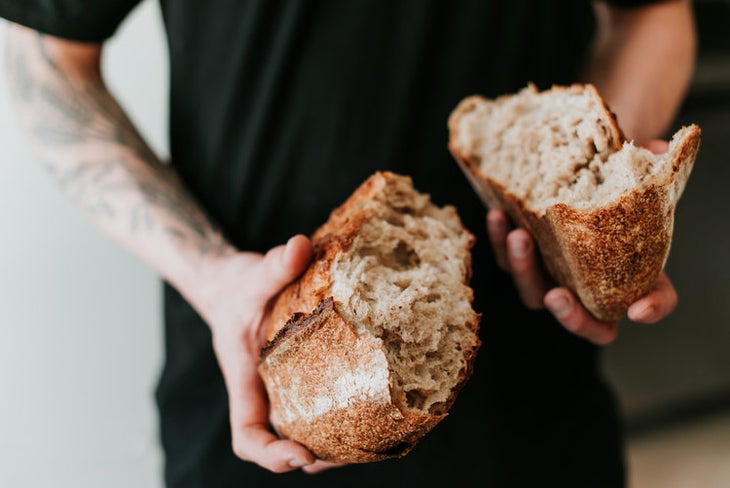 BReD opened in Whistler's Creekside Village in March 2019. "Before opening the bread shop, we already had a solid following that we had built up by renting a kitchen and selling bread once a week, so those locals supported us ferociously," says Natasha, but some locals were worried that a vegan bakery wouldn't thrive right in the historic core of the town's bustling ski operations."Some folks who hadn't tried our products were skeptical and strongly warned against opening in the original village of Creekside, having seen many unsuccessful food and beverage offerings come and go. We seem to have everyone convinced that we deserve to be here these days, though!"
Today, Natasha says that BReD has a lot of local families buying bread every week, as well as semi-local Vancouverites with vacation homes in the mountains who stock up when they're in town and take bags of baked treats back to the city. She also says that a lot of visitors will pop in for grab-and-go snacks for day trips, or to refuel after mountain expeditions.
"We are located so close to the gondola and above the parking lots for the mountain, so it's not unusual to see a big line-up for our bakery," says Natasha. In addition to loaves of sourdough bread, the café offers different types of breads and other tempting baked goods, all vegan and all made without commercial yeast or preservatives. In terms of best-sellers, Natasha points to BReD's organic country sourdough loaves and organic sourdough cinnamon buns, alongside the dark chocolate, oat and sea salt cookies. "[The cookie] tends to be a very accessible product that people are comfortable with, even if they have never tried out sourdough before," she explains.
A surprise hit? The housemade cream cheeze. "In Europe, it would be scandalous to smear your cinnamon bun with such indulgence, but we discovered that it is not only common, but in fact expected, that one may have cream cheeze frosting with their cinnamon bun," says Natasha, who is originally from London. "We got complaints for not offering it in the beginning, but we quickly listened and adapted to the feedback. Now we offer it to everyone who orders a cinnamon bun, so everyone is happy."
Looking ahead, Ed and Natasha are building upon the popularity of BReD's organic sourdough cinnamon buns and developing recipes for different types of sticky buns. They're also offering gift boxes with a selection of baked goods, which are proving popular with Airbnb hosts. "They [Airbnb hosts] can earn great reviews from guests by providing gourmet culinary experiences and memorable welcomes to their accommodations," says Natasha. "We have had a box designed and started playing with various ideas and recipes."
The couple is also working on achieving B Corp status, and their application for BReD is in the verification stage of the process.
"We have committed 1 percent of revenue to animal and environmental causes," says Natasha. "We are constantly working on our compensation and benefits for staff, always looking to attract and retain the best vegan talent. Monitoring waste and energy usage is something that we are actively doing, to essentially reduce. This is challenged by the fact that we kept getting busier, growing our team and making more products."
"Leading with our ethics is essential in an increasingly crowded market of vegan offerings, but a challenge that we are only too happy to take on," she adds.
---
RELATED: Where to Find the Best Plant-Based Ski Town Dining in North America
---
Get more of what you love from VT. Follow us on Instagram, Facebook, and Twitter, and sign up for our email newsletters.