Pumpkin Spice Lattes Are Back at Starbucks. They're Still Not Vegan, So We Found Some Alternatives.
You still can't get a dairy-free #PSL at Starbucks cafes in the US – but we have lots of autumnal alternatives
Photo: Anya Ivanova / Getty Images
Heading out the door? Read this article on the new Outside+ app available now on iOS devices for members! Download the app.
Pumpkin Spice Lattes are back at Starbucks on August 30, 2022 which, for the PSL's many devotes,  is basically the unofficial start of autumn. But for vegans, it can seem like there's less to get excited about because there's still no vegan Pumpkin Spice Latte on the menu. Starbucks's signature Pumpkin Spice sauce and Pumpkin Cream Cold Foam both contain dairy, so even if you order your drink made with plant milk, it won't be totally dairy-free.
Note: The pumpkin spice topping, however, is  a spice mix containing only cinnamon, ginger, nutmeg, and clove, so feel free to add that to your drink as a custom order. Starbucks is also promoting the vegan Apple Crisp Oatmilk Macchiato for fall 2022 as a seasonal, though not exactly pumpkin-y, alternative.
The commitment to dairy strikes some as kind of a strange choice on the company's part. Milk alternative sales rose by 13.5 percent from June 2020 to July 2021, according to Label Insight, a NielsenIQ company, and a vegan PSL mix has already hit the market in Europe and the U.K. So how come Starbucks still doesn't have a vegan pumpkin spice latte option in the United States? We don't have an answer – and the company has not offered comment on the matter. 
But that doesn't mean vegans should fret about missing out on a seasonal favorite. We've found a bunch of vegan Pumpkin Spice Latte alternatives or your autumn pleasure.
---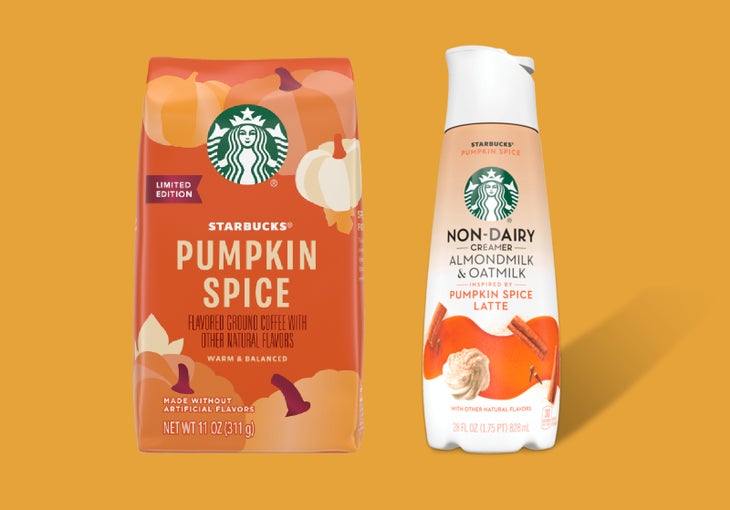 Starbucks Non-Dairy Pumpkin Spice Flavored Creamer and Pumpkin Spice Coffee
While you may not be able to get a vegan Pumpkin Spice Latte made for you at a Starbucks cafe in the U.S., the brand will still sell you supplies to more or less make your own at home. The non-dairy creamer has all the spices and flavors of a PSL in a rich oat- and almond-milk blended base. Add to your own coffee (or non-coffee beverage) and you're fall-ready. There's also limited-edition coffee available as grounds or k-cups with the cozy spice mix blended in with the beans, perfect for those who like the spice but take their coffee black.

Peet's Pumpkin Oat Foam Cold Brew
Peet's has made a vegan-friendly pumpkin latte for several years (just remember to order it with your favorite plant-milk and swap the whipped cream to coconut whip) which might make it the most direct competitor to the Starbucks PSL. This year, they've expanded the offering with the new Pumpkin Oat Foam Cold Brew, an entirely vegan drink – aka, no modifications required at ordering, which is always a relief. The seasonal drink features a "luscious layer of airy, pumpkin pie-spiced oat milk microfoam" floating on top of icy cold brew, making it a great choice for those in warmer climates.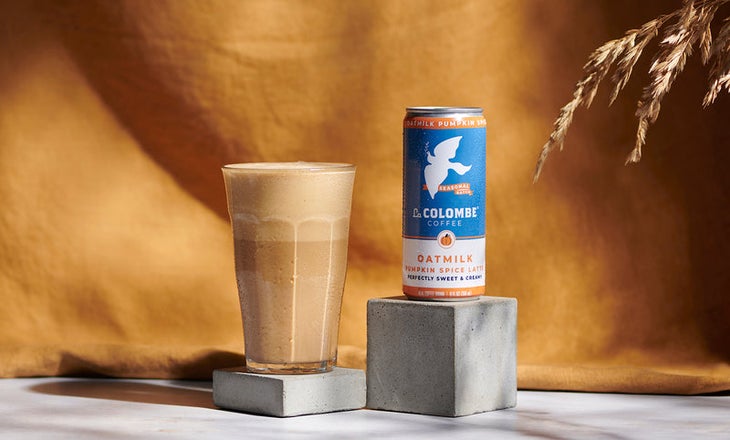 La Colombe Coffee Roasters Oatmilk Pumpkin Spice Latte
Ideal for anybody on-the-go, these pre-prepped cans from Philadelphia-based La Colombe are ready to bring you a little autumn magic any time you grab one from the fridge. Unlike some "pumpkin spice" products, these lattes have actual pumpkin purée (listed third on the relatively-short list of ingredients) as well as chicory root fiber and natural, seasonal flavorings. Two things to keep an eye out for: One, look for the blue can, as they do also make a dairy version, packaged in white; and two, note that these cute cans may be petite, but they pack as much caffeine as a cup and a half of regular coffee.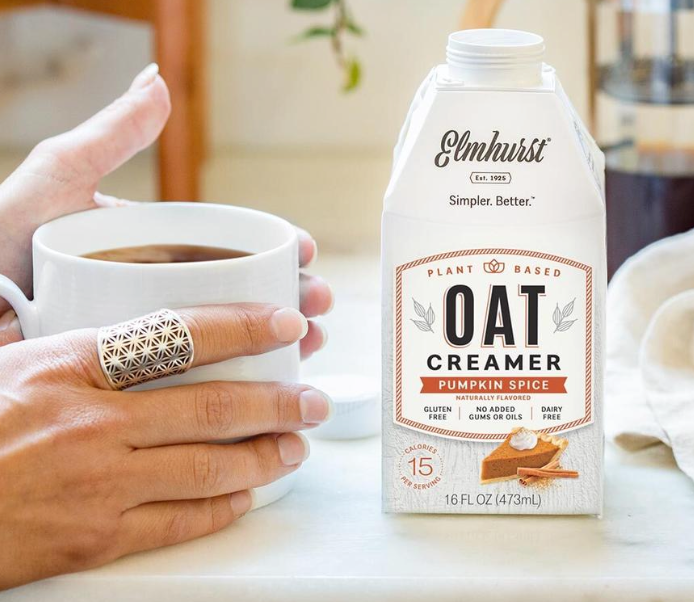 Elmhurst 1925 Pumpkin Spice Oat Creamer
You can make your own vegan pumpkin spice latte at home with Elmhurst 1925's pumpkin spice oat creamer. Made with oat milk, hemp cream and just a touch of cane sugar, this is a delightful, clean way to satisfy those pumpkin spice cravings, without any gums or oils. Try a splash of it in iced coffee or cold brew too on days that still feel more like summer. The limited edition flavor is new this year and available while supplies last online and at Sprouts.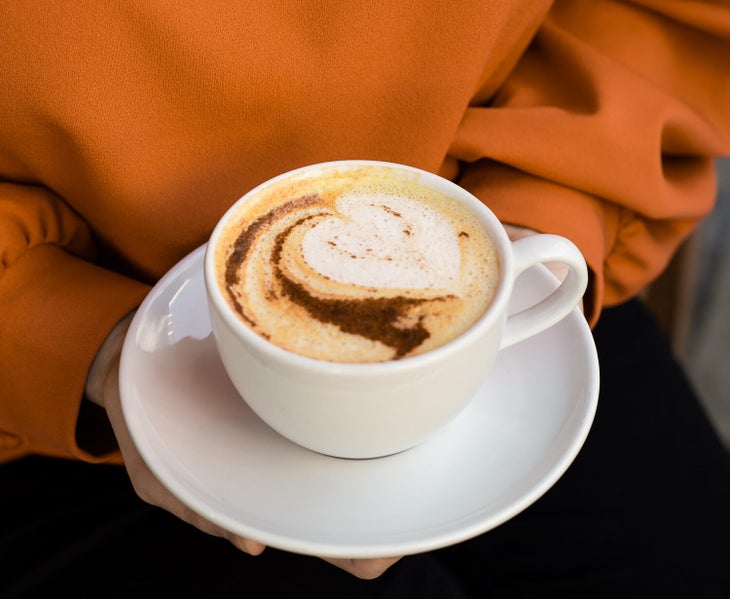 Café Gratitude 'I Am Spicy' Latte
If you're in California, the 'I am Spicy' pumpkin spice latte at Café Gratitude tastes like a bear hug from an old friend, chock full of fresh pumpkin purée and sweetened with maple syrup, available at all locations throughout October and November. The café is fully vegan, this latte included.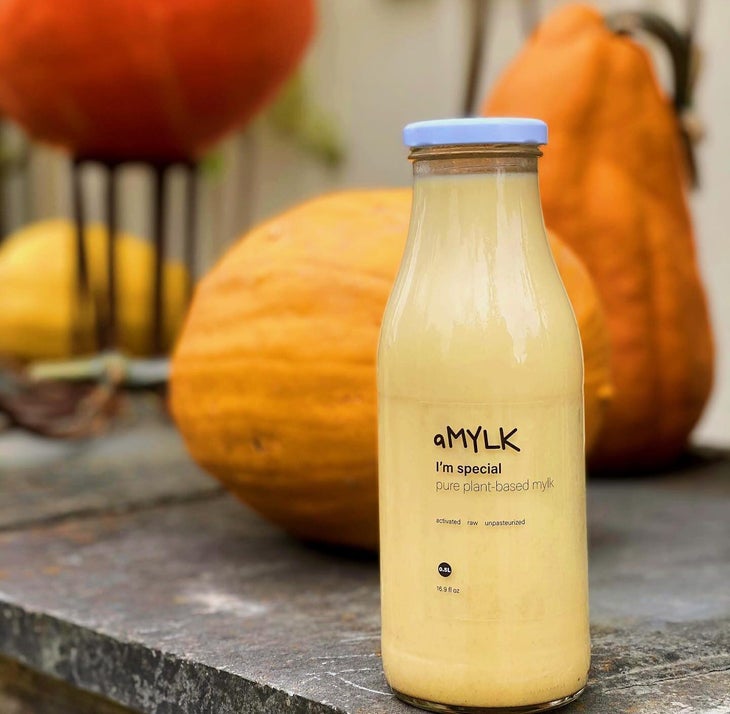 aMYLK Pumpkin Spice Almond Milk
For a pumpkin spice latte sans coffee, try aMYLK's new pumpkin spice almond mylk, unpasteurized and made in small batches in Portland, Oregon with activated, organically-grown raw nuts. Founder Amy Colville was inspired to create her version of the Starbucks cult favorite without refined sugar. aMYLK is much creamier than typical nut milks you'll find in grocery stores with a higher concentration of nuts by volume. Drink it cold right from the glass jar or heat it up for a comforting sipper. Feel free to add a shot of espresso for a morning pick-me-up too, or use it when making pancakes. Available for national shipping and locally in Portland through November.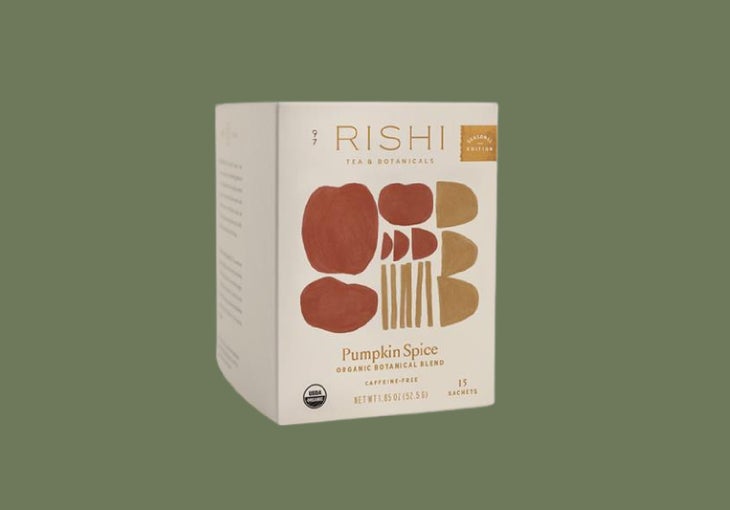 Rishi Botanicals Pumpkin-Saffron Chai
For tea drinkers, Rishi Tea has debuted a pumpkin spice blend in 2021, incorporating real pumpkin bits with a bounty of seasonal botanicals and saffron for a cheerful chai-like infusion. Rishi admits they were aiming for the PSL market, adding notes of sarsaparilla and vanilla, but also credits a Korean tradition of pumpkin-infused tea as inspiration.
---
…Or Try These Three Vegan Pumpkin Spice Latte and Other Fall Drinks Available at Starbucks
---
RELATED: This Is the Most-Googled Vegan Fast Food
---
Get more of what you love from VT. Follow us on Instagram, Facebook, and Twitter.