Cauliflower
From creamy soups to crunchy salad additions, cauliflower's the ultimate can-do vegetable
Heading out the door? Read this article on the new Outside+ app available now on iOS devices for members! Download the app.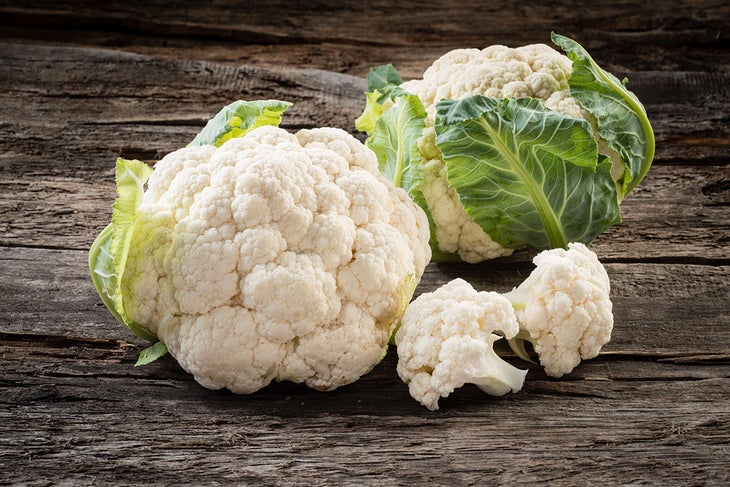 Cauliflower's a vegetable that's hard to categorize. Is it a soup ingredient? A salad fixing? A potato substitute? A mellower-flavored cousin of cabbage?
"Cauliflower can do anything you want it to," says chef Eric Tucker of San Francisco's Millennium restaurant. Tucker's favorite way to cook cauliflower defies categorization as well: rather than steaming or roasting the vegetable, he likes to sear it over high heat. "It caramelizes the sugars closest to the skin, and it's just a wonderful flavor," Tucker explains. Read on for more recipes that showcase the many uses of one-of-a-kind cauliflower.
Nutritional Profile

1/2 cup cooked cauliflower contains:
58 calories
28 mg vitamin C
88 mg potassium
27 mcg folate
1 g fiber
Flower Power

Scientists at the University of Pennsylvania School of Medicine showed that thiocyanate, an antioxidant found in cauliflower and broccoli florets, can protect the body's cells from inflammation-related damage. Research suggests that getting enough thiocyanate in your diet may reduce the risk of certain conditions, including cardiovascular disease, neuro-degeneration, and diabetes.
RECIPES:
Creamy Cauliflower Soup with Apple and Tarragon
Cauliflower Gratin with Tomatoes, Capers, and Feta
Cauliflower Mash with Miso and Sage
Marinated Cauliflower Salad (pictured)