Avocados
Any way you slice 'em, creamy, cholesterol-free avocados top the veggie charts
Heading out the door? Read this article on the new Outside+ app available now on iOS devices for members! Download the app.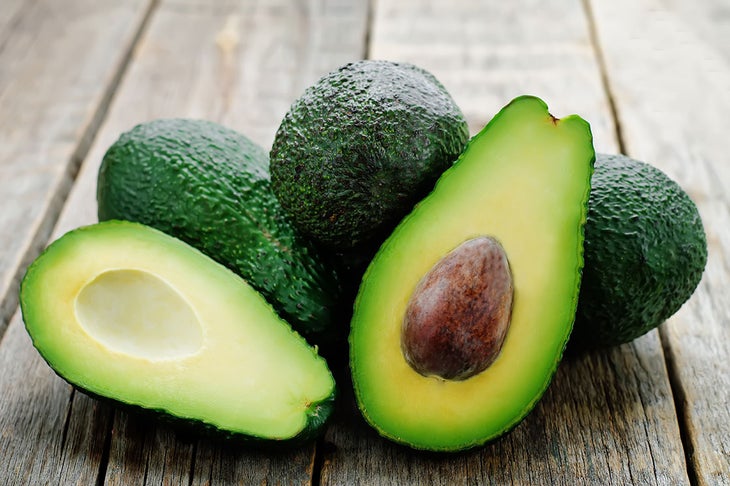 It may be dark and nubby on the outside, but what's beneath an avocado's skin makes up for its appearance. Cutting into an avocado reveals a creamy flesh that melts in your mouth. No wonder East Coast veggie guru "Produce Pete" Napolitano chooses it as the one food he'd want if stranded on a desert island.
Avocado's buttery taste and texture are due to the "good" fats it contains—mono-unsaturated fats that may lower cholesterol levels. Avocados are also rich in potassium, fiber, folate, and vitamin K.
And there's more you can do with avocados than mash them up for guacamole. Brazilians make avocado ice cream, and Filipinos blend them into a dessert drink. Diced avocados can be added to soups or used in place of eggs and butter in baked desserts. But when an avocado is ripe, simplicity is key: "Cut it in half, sprinkle with salt, and eat right out of the shell," recommends Carol Steed, vice chair of the California Avocado Commission. That way, the nubby exterior becomes a nifty serving bowl.


Is It Ripe?


Gently squeeze an avocado—if it yields, it's ripe. If it's hard, put it in a paper bag with an apple for two days. Choose Hass avocados for guacamole; varieties such as Fuerte and Bacon are firmer, so they're best sliced in salads or on sandwiches.


Avocado, Fennel, and Citrus Salad



Avocado Chimichurri Bruschetta



Avocado Tempura with Chile Sauce