DIY Dim Sum
Homemade taste meets ready-made simplicity with this delightful party menu
Heading out the door? Read this article on the new Outside+ app available now on iOS devices for members! Download the app.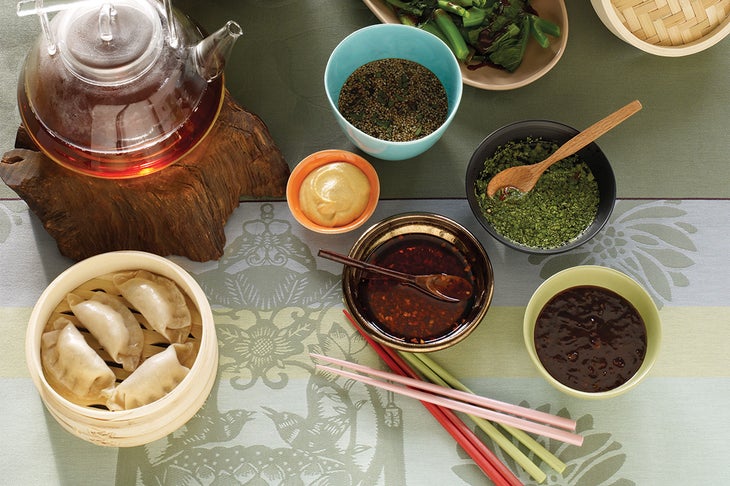 Here's a fresh twist on Chinese takeout: buy a bunch of dumplings, wontons, and spring rolls; whip up some homemade dipping sauces, veggie sides, and a dessert; and invite guests over for a dim sum dinner party. Cantonese for "heart's delight," dim sum revolves around bite-sized dumplings and small plates of savory food. The light bites are ideal for entertaining because they don't require much last-minute preparation (especially when you buy them pre-made) and they're meant to be shared with everyone at the table. And now that high-quality vegetarian dumplings are readily available in restaurants and supermarket freezers, assembling a flavorful feast is just a delivery phone call or a trip to the grocery store away.
What you'll need
•Steamer for warming dumplings •
Wok or skillet for cooking vegetables •
Small, shallow bowls for serving sauces •
Assortment of dumplings and dim sum offerings (see 'Dim Sum 101', below); plan on 6 to 10 pieces per person •
Chinese-style hot mustard •
Tea •
Chopsticks
Dim Sum 101
Don't know a shu mei from a pot sticker? This list of dim sum favorites will help you to choose well from the frozen food section (or take-out menu). Always check that the foods are 100 percent vegetarian and don't contain hidden ingredients such as fish sauce, seafood, lard, or ground meat.
Lotus leaf rice Seasoned sticky rice wrapped in a lotus leaf and steamed. The leaf is not eaten.
Pot stickers or gyoza Crescent-shaped dumplings that are steamed, then pan-fried on one or both sides until crispy.
Rice balls Deep-fried rounds of seasoned sticky rice with a vegetable filling.
Shu mei Steamed, pouch-shaped dumplings.
Spring rolls Smaller and lighter than egg rolls, spring rolls are filled with sautéed vegetables and fried until crispy.
Steamed buns Also called bao (pronounced "bow"), these pale, round steamed buns made with rice flour are filled with barbecued bean curd (tofu) or seitan.
Taro cake Starchy, savory pan-fried patties made with cooked and mashed taro root.
Wontons Ravioli-like dumplings made from flat pasta-like wrappers. Wontons can be served steamed, fried, or stirred into a brothy soup.