Heading out the door? Read this article on the new Outside+ app available now on iOS devices for members! Download the app.


November through December may be "the holidays" but the really serious party season starts in spring. Whether it's a wedding shower, a dad's or grad's celebration or a Mother's Day brunch, chances are good you'll be throwing one (or more) of these fair-weather fêtes.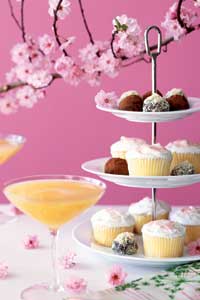 So, what to serve? Luckily for those of us who don't have a caterer on speed dial, what wows guests these days has never been so much fun to serve—or so easy to make. Casual hors d'oeuvres are still the "it" menu, say the four top caterers who share their tips below. Party food is all about luscious mouthfuls that have a touch of the exotic—such as demitasse cups of Moroccan-Spiced Carrot Soup—and gourmet takes on faves like puff pastries (see our Artichoke-Parmesan Turnovers).
To simplify the job further, we mixed and matched just 6 crowd-pleasing recipes to create every menu here. Round each one out with two or three pre-bought foods and you'll have an elegant spread with minimal effort. Each recipe serves 10 people, so adjusting quantities for any number of guests (20, 30, 50) is a snap. Which makes these tasty offerings a reason for celebration all by themselves.
Bridal Shower for 10
Pita Chips with Hummus
Cupcake Tower
Want to keep a shower from feeling prim and proper? Take a cue from Wendy Pashman of the Entertaining Company in Chicago and go exotic.
• Spread the table with a length of colorful Asian, Indian or Moroccan fabric instead of a tablecloth.
• Serve an exotic cocktail: Mix up batches of lychee martinis, mango cosmopolitans or minty mojitos.
• Tint cupcake icing with wedding colors and display on a tiered dessert tray for a hint of the event to come.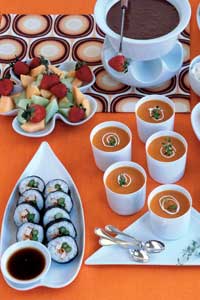 Birthday for 20
Assorted crackers and cheeses
Wasabi peas
Marcey Brownstein's secret to wowing the city folks she serves in New York are all-natural accents that are fast, fuss-free and full of spring color.
• Decorate the table with stacks of hot-hued lemons and oranges.
• Line a cutting board with leafy greens for a cheese platter.
• Serve chocolate fondue instead of ice cream. Dipping an assortment of fruit is a great icebreaker.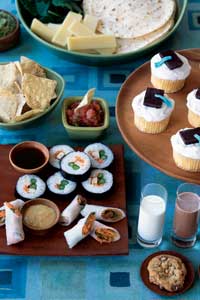 Graduation for 30
Quesadilla Bar
Chips with salsa and guacamole
Cap and Gown Cupcakes
Warm cookies and milk
Ruth Meric of Ruth Meric Catering is the magna cum laude party maven in Houston. Her suggestions:
• Set up a quesadilla bar with tortillas, sliced cheeses, chopped fresh spinach and sliced mushrooms. Add a burner, skillet and spatula; then recruit family members and friends to man the bar.
• Make "Cap and Gown Cupcakes": Top cupcakes with squares of chocolate and squiggles of icing.
• Have unbaked cookies ready to pop in the oven halfway through the festivities. Serve warm cookies with shot glasses of plain and chocolate milk.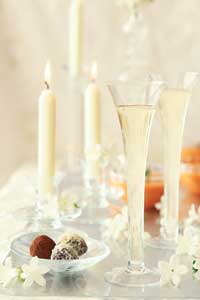 Wedding for 50
Crudités with Creamy Cilantro-Lime Dip
Herbed Pea Salad in Lettuce Cups
Cumin-laced Deviled Eggs
Cheese platter with crackers and crusty breads
Assorted marinated olives
Small Pleasures Catering—the name of Gisele Perez's company in Los Angeles—says it all: A few little touches can make a big impression. Her tips:
• Give everyday favorites exotic flavor with spices. Stir ground cumin, ground coriander or curry powder into the deviled egg filling (1/2 tsp. for 10 yolks); dust carrot soup with ground cardamom; and sprinkle seasoned sea salt over turnovers.
• Blend kitchen staples with prepared sauces for almost-instant dips. Try mixing sour cream or mayo with prepared pesto, flavored mustard or black olive tapenade.