Don't Let Summer Melt Away Without Making These Frozen Treat Recipes
Ice cream, popsicles, and other delights you can make (and yes, they're all vegan)
Heading out the door? Read this article on the new Outside+ app available now on iOS devices for members! Download the app.
Ice cream, popsicles, and other frozen treats are icons of summer living – but when they're homemade, they taste even sweeter. Making these desserts at home is a fun way to pass the long, light-filled days and build memories. As a bonus, your DIY sweets are likely to contain less sugar and more wholesome fruits, juices, and natural ingredients than many store-bought versions. To help you chill out, we've rounded up some of our favorite recipes from VT and around the web.
---
Mango Sunrise Ice Cream with Coconut Lime Dust (Vegan) – Vegetarian Times  A sunny-hued, tropical-flavored treat, the coconut-lime 'dust' on this dish elevates it to fancy party-worthy status. If you prefer, the same base mixture also works well in popsicle molds rather than spun as ice cream.
Basil Ice Cream (Vegan) – Vegetarian Times You might think of basil as a savory component, but this ice cream recipe lets the herb show off its sweet side. The cream is sweetened with maple syrup and rice syrup, rather than table sugar.
Vegan Salted Bourbon Caramel Ice Cream (Vegan) – Minimalist Baker One of several alluring ice cream recipes on Minimalist Baker's site, we're particularly drawn to this creamy dream.
Pineapple-Banana-Coconut 'Tropsicles' (Vegan) – Vegetarian Times It might be going to far to say these are a tropical vacation on a stick, but if you use your imagination, it could be true.
Dairy-Free Matcha Green Tea Ice Cream (Vegan) – Vegetarian Times Made with rice and coconut milks, this vegan matcha ice cream is delicately flavored and beautiful on its own or served with almond-based baked desserts.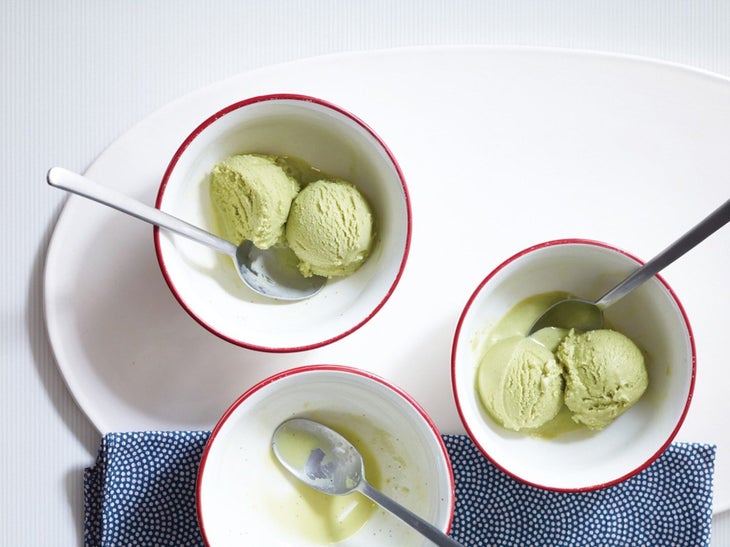 No-Churn Coconut-Lime Ice Cream (Vegan) – Vegetarian Times Another riff on our favorite flavor combo of summer, this frozen treat doesn't require an ice cream freezer or any other special equipment. A loaf pan and blender (and spoon!) are all you'll need.
Triple-Berry Popsicles (Vegan) – Vegetarian Times These frozen treat pops contain no additional sugar and are perfect for using up those baskets of gorgeous summer berries you bought at the farmers market without a plan.
Vegan Mango Lassi Popsicles (Vegan) – Choosing Chia Inspired by a mango lassi, these vegan pops are dairy-free, refined-sugar free, take only 10 minutes to prep, and look extremely cool with their orange-white marble pattern.
Peach Ice Cream (Vegan) – Vegetarian Times Peaches and cream are an iconic duo for a reason. This frozen treat uses coconut for the creamy element and gorgeous yellow summer peaches. Accompany with a splash of bourbon, perhaps.
Cookies and Cream Popsicles (Vegan) – VegKitchen Oreos are everyone's favorite "secretly vegan" snack; this recipe puts them to work in a creamy frozen treat. Swap them for a gluten-free cookie of your choice if you're GF, or experiment with different cookie flavors.
---
RELATED: All the Best Veggie Burger Recipes for Your Summer Cookout
---
Get more of what you love from VT. Follow us on Instagram, Facebook, and Twitter.