South Indian Supper
Spice up your next get-together with this little-known cuisine from the subcontinent
Heading out the door? Read this article on the new Outside+ app available now on iOS devices for members! Download the app.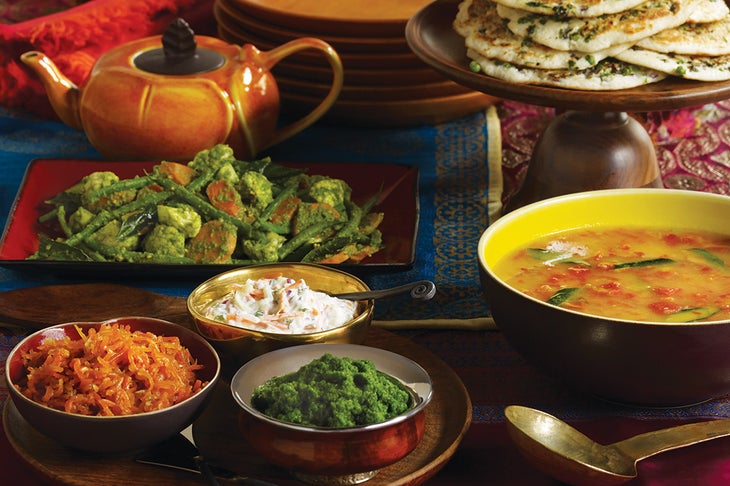 If you like the fragrant stews, rich curries, and nourishing dals of the Indian cuisine familiar to most Americans, then you'll love the lesser-known dishes perfected by cooks in southern India. "South Indian Tamil Brahmin cuisine is mainly vegetarian and is based on the concept that food shapes the personality, mood, and mind," explains Viji Varadarajan, author of Samayal: The Pleasures of South Indian Vegetarian Cooking. "Food is always cooked with a great deal of attention to the balancing of nutrition, flavor, texture, and variety." The spicy dishes on the following pages may require a little sleuthing in a natural foods market or a trip to an Indian grocery store. But once you've assembled the ingredients, the recipes come together quickly and easily—with spectacular results that'll wow any dinner crowd.
Ghee Whiz! Clarified butter, or ghee, is an Indian cooking staple. Because the milk solids are strained out, it can be kept at room temperature and used for higher-heat cooking than melted butter. Buy it in cans or jars from natural food stores or Indian groceries, or follow these easy steps to make your own.
1. To make 2 cups (32 Tbs.) ghee, melt 1 lb. unsalted butter in medium saucepan over medium heat until foam forms on top. Slowly bring melted butter to a boil, making sure it doesn't brown around sides of saucepan.
2. Reduce heat to medium-low; simmer 5 to 6 minutes, or until foam disappears, liquid turns golden, and small brown bits begin to appear in bottom of pan.
3. Strain through fine mesh strainer into heat-proof container to remove brown bits. Discard solids, and cool ghee. Store up to 1 month at room temperature.
Set the Scene •
Decorate the table with flowers floating in a bowl of water, an oil lamp or candles, and images of Ganesh or Buddha. • Serve food in earthenware bowls and platters that contrast the colors of the food. Set out small bowls to hold individual servings of sauces and chutneys. For an authentic meal, you can also serve the food on banana leaves. • Complement the main dish with basmati rice and prepared pappadams (crisp, wafer-thin bread), and serve hot, sweetened chai and coffee. • Set out a platter of bananas and mangoes for dessert.
Simple Substitutions
Can't get to an Indian grocery to stock up on ingredients? You can still prepare South Indian recipes by substituting the following for these items: • Red lentils for urad dal (ivory lentils) • Gold lentils for toor dal (split pigeon peas) • Vegetable oil for ghee (clarified butter) • Any dried red (spicy) chile for red Kashmiri chile • Turbinado or light brown sugar for jaggery • Onion powder for asafetida powder